Got a new email about a custom Honda VTX1300R Chopper from David Lamoureux of Lone Wolf Custom Cycles. This is a fully customized chopper from start to finish. Custom paint, front end, tank, bars, exhaust, you name it. Just hear it from the man himself.
I'm David Lamoureux and I grew up in the small town of Higganum, CT. I was the kind of kid that was always changing things up. My bicycle, I cut off the forks of another bike and added them to mine to make a chopper. When I could drive I was customizing my car, you know add a hood scoop, wider rear tires, jacking up the rear end and other modifications. The day I got my driver's license at the DMV, I went from one counter to the other and picked up my motorcycle permit. The person at the counter said, "this license is still warm". I have been driving motorcycles ever since.
I went to a tech school for auto body after high school and I've been working as a welder/fabricator for 28 years. I've done some fabricating for other bike shops and decided it was time to do a bike for myself. I'm looking to do custom fabrication such as tanks, fenders, handlebars, exhaust, etc. My dream is to start my own business, Lone Wolf Custom Cycles.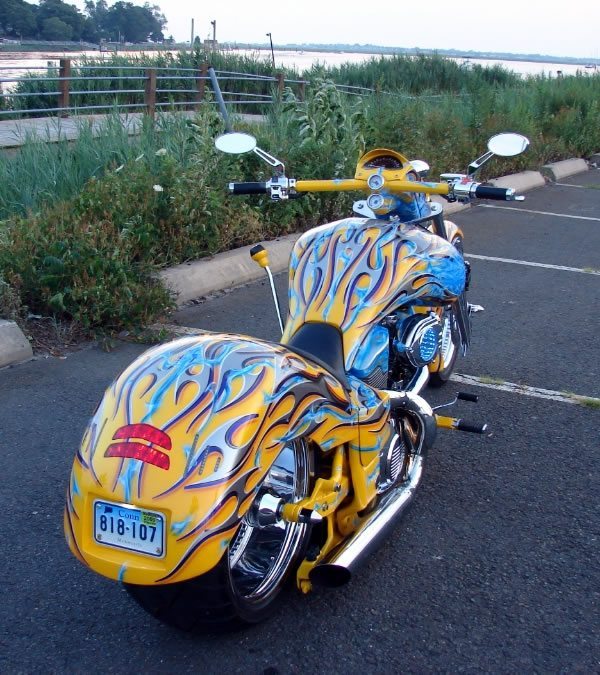 About the Build:
The Honda was bought used at Mickey Finn's Honda in Berlin CT. I had the idea of putting a 300 wide tire on the rear and setting the frame on the ground. I wanted the metric to look a lot like the custom Harley bikes so much so that you would have to look twice. I fabricated the bike myself starting with widening the rear end of the frame and swing arm to fit the large 300 tire with an R C Components rim. After that I cut off the neck goosing it out 4″ and up 2″ with 46 degrees of rake. I designed my own air springer front end. Put an air bag under the seat so it would be out of site for the rear suspension allowing the bike to sit on the frame without a kick stand. Bought two spun pans and made the front and rear fenders. I had Forrati Manufacturing & Tool LLC of Plantsville, CT machining a new shaft for the transmission to keep the shaft drive in line. I fabricated the side covers, engine cover, handle bars, seat pan, foot pegs, brake petal, clutch petal, jockey shifter, air tank, gas tank, exhaust, radiator cover, and grill. After all the metal work and fabrication was done I took the Honda VTX1300R Chopper to Explicit Airbrush of Southington CT for some bodywork, paint and artwork with my designs in mind.
There is a lot of detail to the bike such as twisted square bar on the clutch linkage and front fender locating bars. The front fender supports, rear brake on the drive side of rear wheel, hidden wires, hidden cables, and sequential rear signal lights. So it's hard to say what my favorite modification to the bike is. I am proud of all the changes. But if I had to pick one I would have to say the 8 gal tank, all fabricated from scratch. The most difficult to design and build was the air springer front end. I had to rebuild it twice to work properly. If anyone was to say it can't be done where there's passion, there's always a way. As much as I like the Beast (the nick name for the Honda VTX1300R Chopper) I will sell the one of a kind bike for the right price. I have 700 hours of fabrication time into the bike, 300 hours of bodywork and paint, a total of 1,000 hours. But if I sell the Beast I could start a new build. I have been doing a lot of bike shows and have come in first place more times than not.
I'm hoping to drum up some work and make some money so I continue my future endeavors in this occupation. If anyone would like some work done I am located in western CT. and can be reached at muddrat83@aol.com.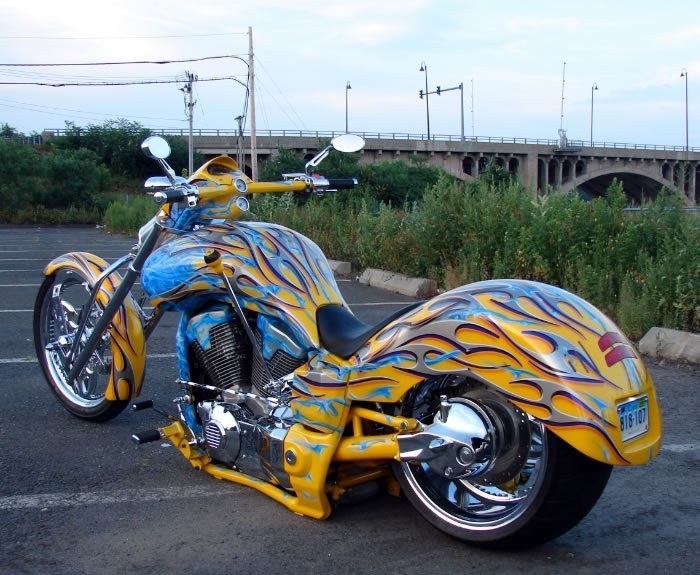 Honda VTX1300R Chopper Specs:
Model: VTX1300R
Design
: LWCC
Fabrication
: LWCC
Chroming
: Bar Plating
Engine
   Model: Honda VTX1300R
    Displacement: 1312cc
   Modifications: None
   Carb: Honda
    Exhaust: LWCC
Frame                                                 
      Builder: Honda
     Mods: Frame Widened
                      Air Suspension
Neck Goosed 4" out, 2" up
    Side Covers: LWCC
    Engine Cover: LWCC
     Rake: 46 degrees
    Wheels: RC Components
Front End
    Front Tire: Metzeler 90/ 90H-21
Type: Air Springer
    Rear Tire: Metzeler 300/ 35R18
   Builder: LWCC
Paint/ Artwork:
      Explicit Airbrush/ Jamie Chasse
Accessories
      Bars: LWCC
      Grips: Stock Honda
     Mirrors: Kuryakyn
      Head Light: Wave
      Tail Light: Honda "N" Model
Air Cleaner: Kuryakyn Hyper Charger
Front Fender: LWCC
Rear Fender: LWCC
    Tank: LWCC
    Radiator Cover/Grill: LWCC
     Seat: Eddie Barrett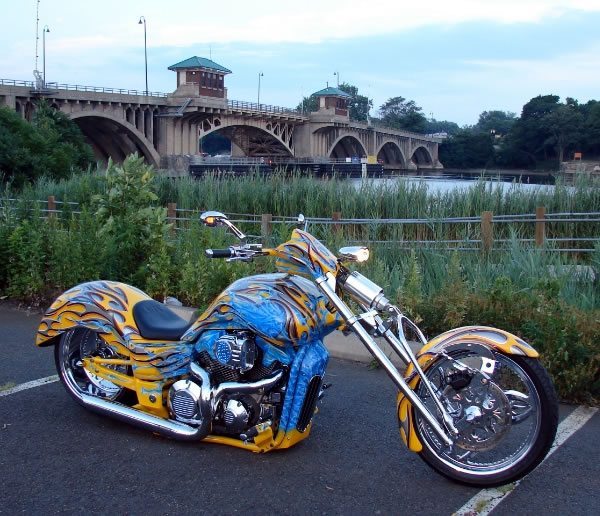 Get the best of

biker

Metric

directly in your inbox, once a week, every week.