Yesterday we got to talking with Pierre M. who wanted to send us some Yamaha V-Star 650 bobber love South Africa.
bM: Hey Pierre, why don't you hi and introduce yourself to the readers.
PM: My name is Pierre and I work as a code developer & designer for my own small business in Johannesburg South Africa, I have living in
South Africa my whole life, in fact haven't been to any other country besides Zimbabwe and Swaziland which is basically a 3 hours flight and everything still looks the same..
bM: You fancy yourself quite the cool cat. What makes you @#$%ing rock?
PM: Everything Old School from Music to Motorcycles! I am a huge fan of backyard builds and always feel that the builders have so much invested in their project; even if it is a basic chop rat bike build with screwdriver, cable ties and duct tape. The Times cringing to get that part to fit, brain freezes trying to figure out why it won't work at 3am on a work night, friends, finding the cash and the feeling you get when your pulling out the back and starting for the first time.
bM: How did this build come to be?
PM: Everything inspires me, I like to know what makes things tick and I don't stop till I know. I racked my brain over many, many pictures of custom, stock and once off bikes to get a list of the things I loved and then over a period of a year slowly narrowed down the pictures that had specific items I thought were just awesome. I started with a picture of the stock bike and modified it using Photoshop; changing colours, fender ideas, graphics and finally got to a overall that I liked. Then I had the task of sourcing and making what I needed to build it.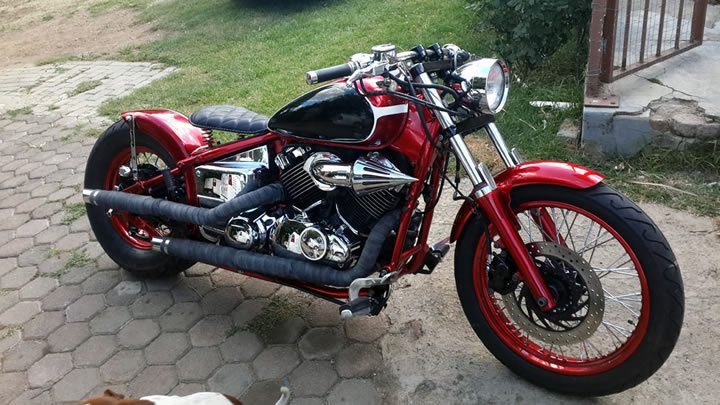 bM: How was the bike when you got it?
PM: I bought the bike from a dealership 100km from my home and instantly loved the look; I already had plans to modify before I bought it, which I hadn't even seen in flesh before I paid…The bike overall was in good shape and running except for the rear shaft being welded and having the splines break off the shaft 5 times in a year (dealership did what they could but eventually left it in my hands) ; it was a complete pain and many times I wanted to just say **** that I'm done and even posted it online for sale a few times at a really low price; as soon as I got any calls asking I just did not have the heart to let her go. It's really not anything special as far as a stock bike goes but I worked hard every day to own this bikes despite my parents not approving of a motorcycle; I guess it just makes you feel a little rebellious and that's just a cool feeling. *Pierre laughs*
The goal was to turn it into what I think looked great, something I could get on every day, feel comfortable and ride reliably. I knew instantly that I wanted to change the stock rear fender, I love fenders that wrap to the curvature of the rear wheel.
bM: Did you put much work into it?
PM: Nah, it was nothing, I just…
1. Painted the frame, tank, fenders, rims and seat pan and forks a brandy wine red with copper highlight. Paint was custom made for me by DNA Paints. Painted some parts black
2. Added graphics to the tank and rear fender
3. Added Harley switches, switch housing and wide blade levers in chrome; All New and Genuine
4. Added Billet Aluminium Indicators on from and back
5. Did the Virago 535 Drive swap
6. Chrome Drive shaft cover
7. Chrome Spike Air filter
8. Black Exhaust Wrap and Gutted pipes
9. Custom speedo face
10. Key Relocation to under seat – closed original barrel hole
11. Custom hand-made rear fender with Led break lighting under the fender
12. Custom made rear struts (chrome and black)
13. Six Sigma Stage 3 Jet kit – Made according to my altitude
14. Chromed Spokes
15. Custom seat pan and leather hand stitched seat
16. 1″ Kustom Chrome Drag Bar
17. Avon Grips
18. Worked stock forward control
19. Lowered the bike
20. Light switch on/off added (HD can't turn off their Lights)
21. Custom made telfon brake hoses with the option to extend them for Ape bars.
22. White walls on their way.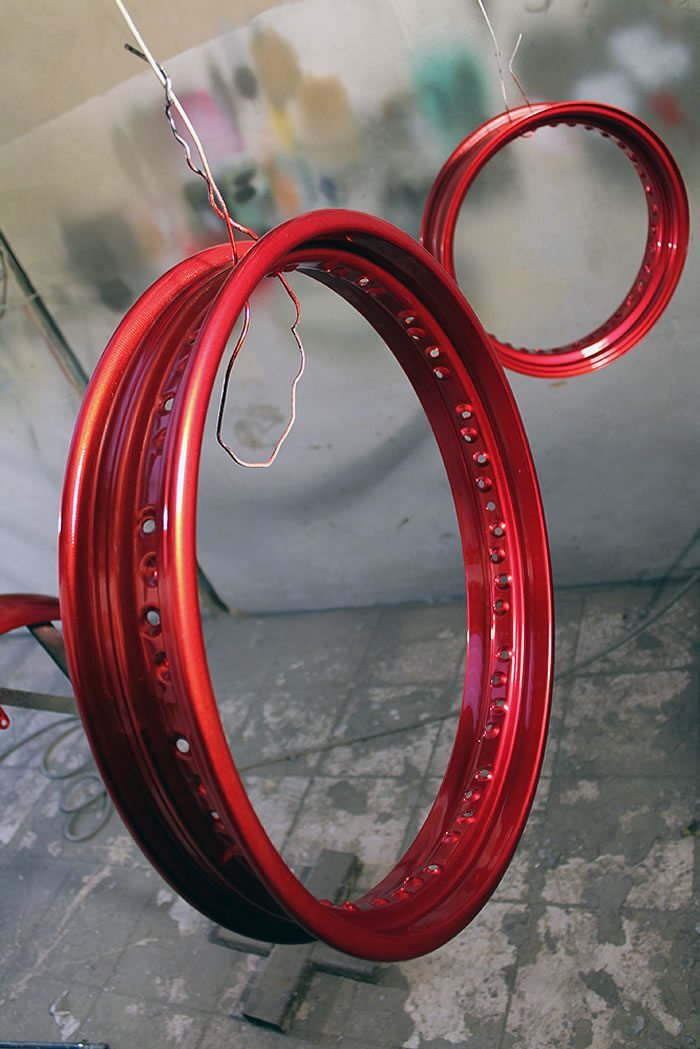 bM: Favorite and least favorite modification?
PM: Favorite mod has to be the rear fender. Least favorite was probably the Avon grips; they don't feel to great.
The fender was a huge amount of work since we had a grinder, hammer, bench vice and a welder to do the job. The wiring of the HD stuff was also a job and we blew a good few fuses doing it.
bM: What's something you like the end result of?
PM: The paint work and fender; although I had a bud do the work on the paint and it took him a few tries to get it right at the expense of the paint; Its still not 100% perfect but I'm cool with that; its' not supposed to be perfect; that's what makes me spend long hours looking at it.
bM: I heard there's a little mystery to your Yamaha V-Star 650 Bobber.
PM: Well I'm still stumped and maybe some readers can shed some light on this but the bike originally came with painted frame that matched the stock paintwork on the bike; at first I didn't think anything of it but when looking through 1000's of pictures I noticed that almost every bike of this model came with black frame. I thought that it would be some work done by a previous owner until I came across 2/3 of the exact bike with the same colours, graphic and painted frame but these were all in different countries and some pictures are dated while I had mine so no chance of it being the same bike. I have never seen another one with this stock paintwork anywhere in flesh and have been on multiple forums as well as the dealers and no one has answers. I know of a few model codes which I have researched and most of them have different spray jobs but not the frame. If I search my bikes code it comes up with a stock xvs650 custom. Would love to know if it was a limited edition or how this came about since I know it was production paint work.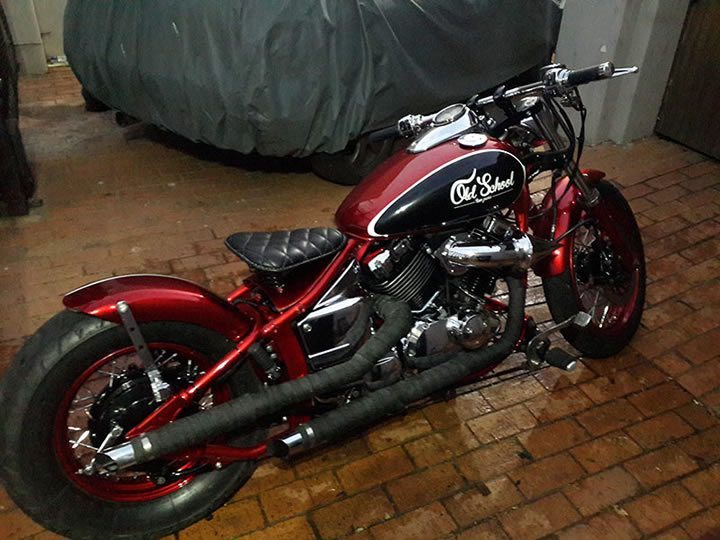 bM: And it's a bikerMetric exclusive, am I right?
PM: This will be the first and only feature for this bike; it's something very close to me and really didn't want to draw to much attention to it; but
for the sake of guys who enjoy modified metrics I'm happy to show it off.
bM: Too personal to sell?
PM: Nope, never. I have already made an agreement with my wife that it will be mounted on a wooden platform with a plaque when it finally takes its last rev.
bM: Coming up next…
PM: Since the build my wife has become really involved and I think it's fair to say the bug has bitten. So I will be getting a old Honda CD200 and chopping it into a cafè Racer for her; it will be a low budget build and low hp but I want her to get her hands dirty on this little project and have the achievement of building something that you can ride and enjoy. CD200 are everywhere here and parts are cheap and found all over. Can find a really neat one
for around R6000 – $520.
bM: Who do you want to say hi too?
PM: I'd like to thank all my mates for helping out; even if it was just bringing me a drink or lending me a socked. You are all my true friends and have helped me achieve something that I will enjoy and remember forever.
bM: Where can readers find you?
PM: Guys can give me a shout on the CCND650 (XV-bobber) forum.

Get the best of

biker

Metric

directly in your inbox, once a week, every week.