Droog Moto is a husband and wife custom motorcycle/lifestyle company. The two started dating at 15 years old and have been together ever since. They specialize in building bikes that are ready for the modern day apocalypse. Bringing a touch of modern meets industrial to all of our builds and giving them the abilities to get you anywhere, anytime. This is there custom Suzuki SV650 build, Moto 11.
bikerMetric: Hey guys! What's new since the last time we spoke?
Droog Moto: Since we spoke last, we have done a few more builds. We completed a Honda XR600r Scrambler that went to a customer in Israel and have had a few more commissioned and sold to the east coast. For 2018, we are really going to focus on what Droog Moto is all about. We are going to scale back on our amount of builds we release but make each one even more insane then what you have seen so far.
bikerMetric: Tell us about Droog.
Droog Moto: At Droog Moto, we are all about being "Not like the Others" from the bikes we build for clients to the apparel items we currently sell and will soon be releasing. We want our customers to feel that rad, bad *** attitude, even when it is time to put the side stand down.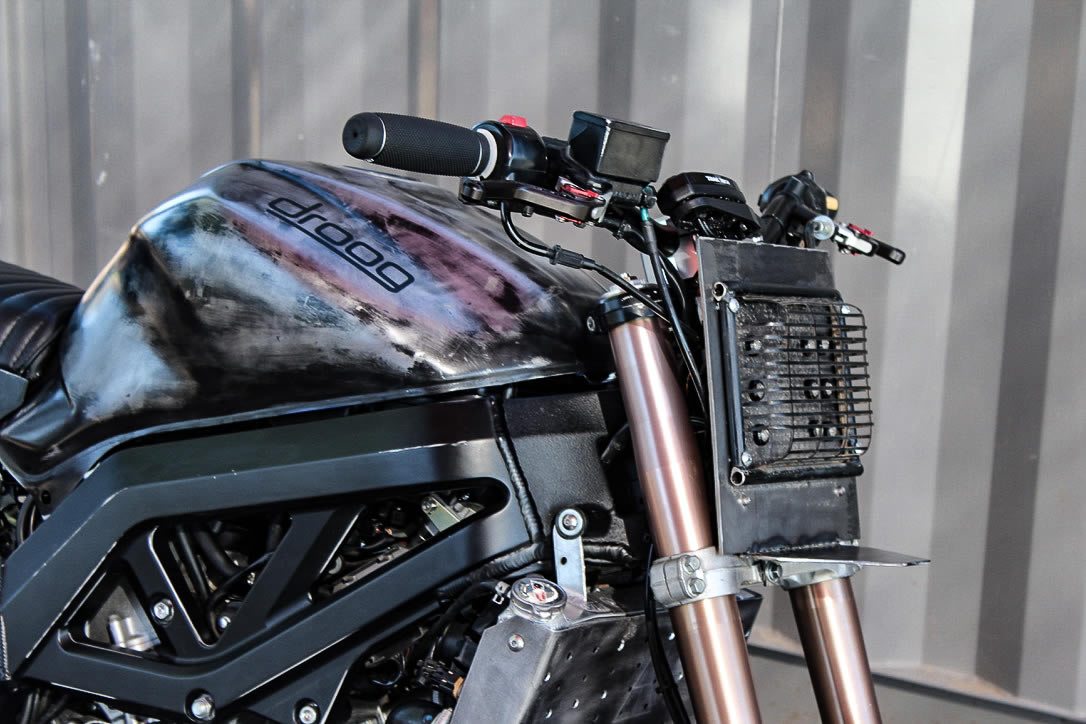 bikerMetric: Alright, let's get into the build now. What is it?
Droog Moto: The build started life as a stock Suzuki SV650. For a while now we have wanted to do a "V" twin and the SV had exactly what we were after. The motor is full of torque, it sounds amazing and is ultimately a bike that has a ton of potential for builders. The frame on the SV's are very unique and can be a bit of a challenge to work with but in the end we created one bad beast.
bikerMetric: What was the inspiration here? Why did you build it the way it is?
Droog Moto: We are all about aggressive, burly machines. We love for them to look like they are ready to take you down any path in any situation. We both wanted something that was truly unique to itself and stood out from the rest.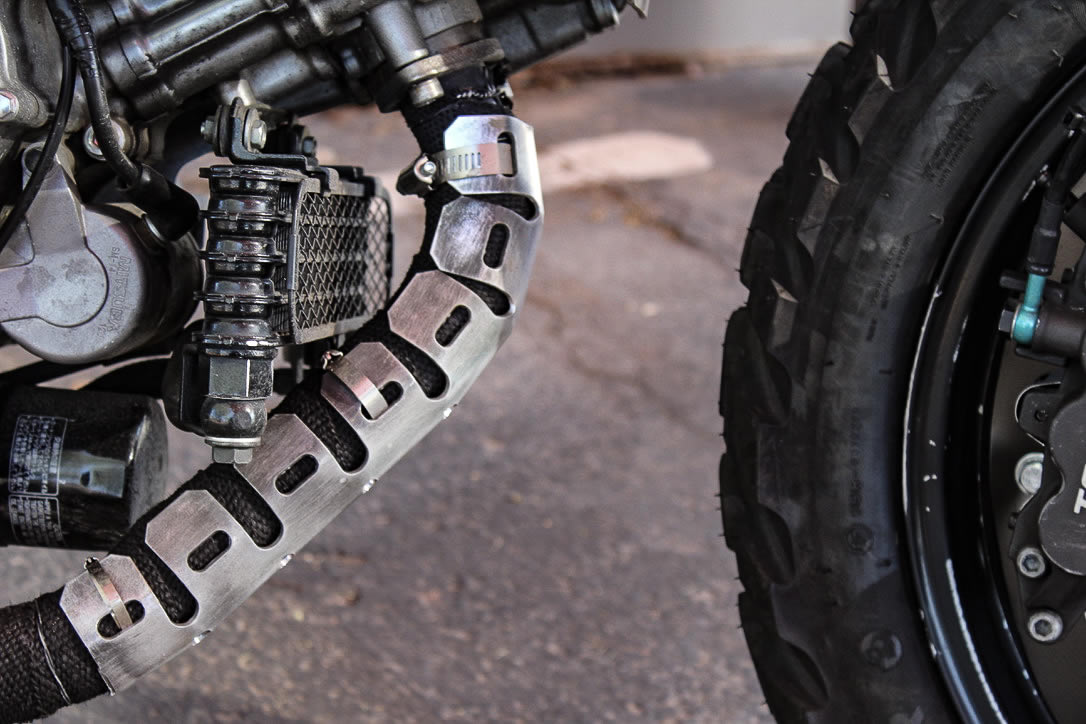 bikerMetric: What kinda shape was the bike in when you got it? Is this the first one you worked on?
Droog Moto: Our donor bike was in really good condition. The previous owner had taken great care of it and made sure all was kept up with. This is the first SV we have worked on. We have done other Suzukis in the past but this is our first V-twin model.
bikerMetric: What were some of the biggest changes, or the long list of changes, made to the bike?
Droog Moto: The entire Suzuki SV650 build was transformed from top to bottom. The front forks were swapped out from a Hayabusa. The subframe is a handmade 3 piece unit that is very stout and contains all of the electrical items. We wanted the subframe to flow evenly with the main frame but not make it look like it was just dropped onto the bike.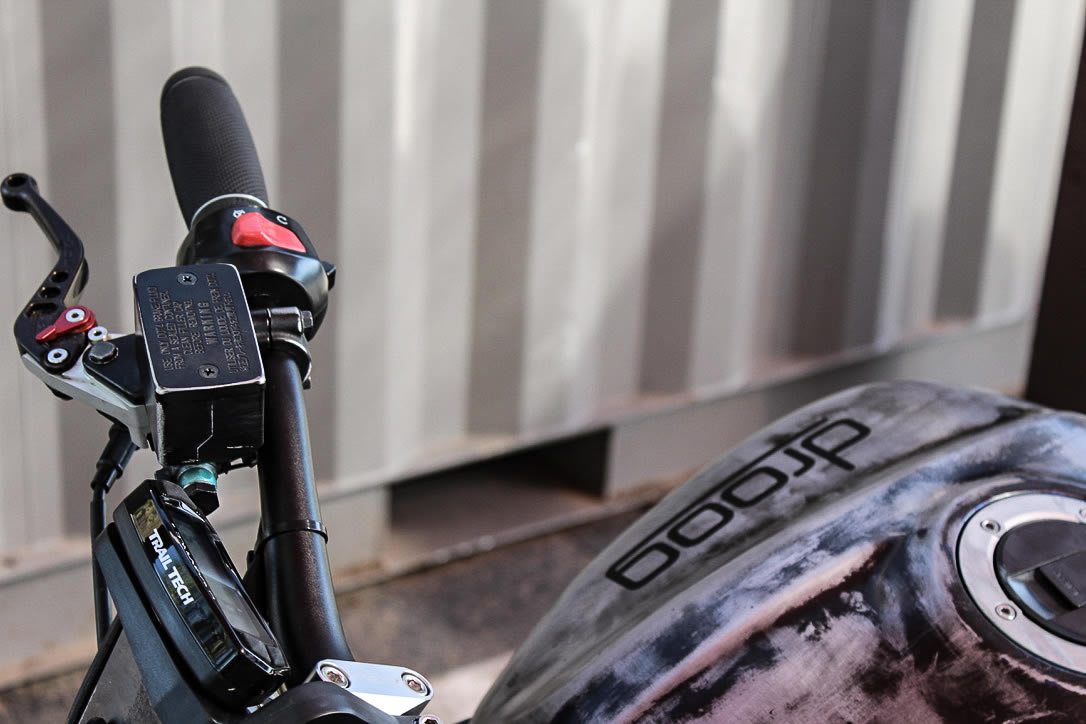 bikerMetric: And that's not the least of the work is it?
Droog Moto: We handmade aluminum wheel inserts and wrapped the wheels in Metzler Karoo 3 tires. The fuel tank was given the Droog Moto treatment. We constructed a steel plate style headlight with a burly light cage. New 1 1/8″ handlebars and kickass Biltwell grips. The radiator was replaced with a larger aluminum unit and the brakes received braided lines. The exhaust system was re-done and heat wrapped. We then covered the pipes with aluminum bash guards giving it an assault ready look.
bikerMetric: Do you guys have a favorite part of the build? Something you both agree on?
Droog Moto: Our favorite aspects of the build are the new subframe design and the new wheel setup. The giant Metzler tires paired up with the solid inserts look killer and give the bike that distinct look we were after. What is great about working together is we have the same eye for our builds. We both feed off of one another's ideas and designs to make it something unique.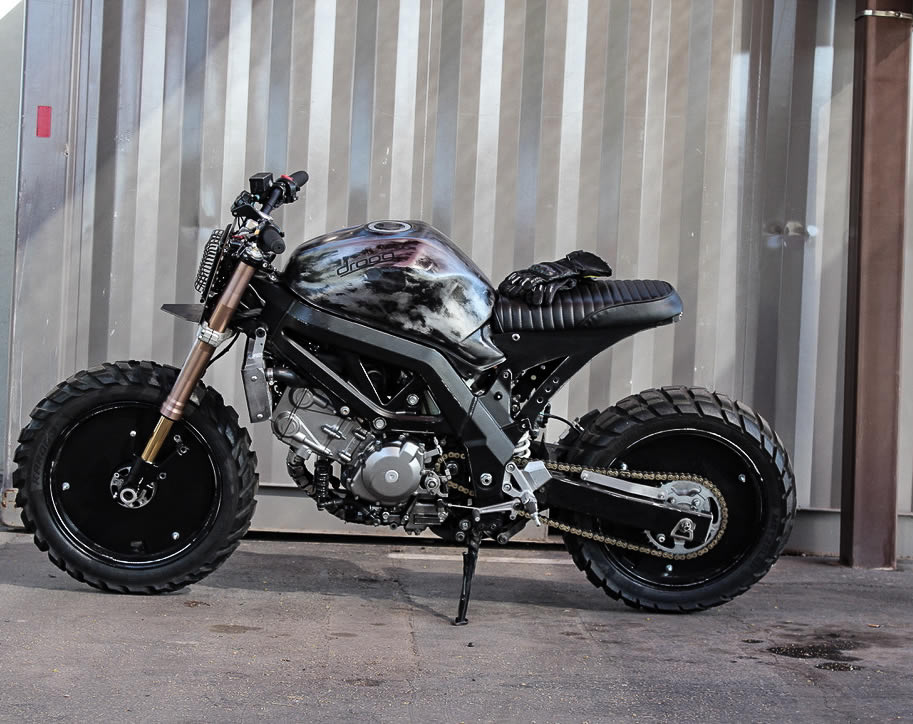 bikerMetric: What was the most difficult part of the job?
Droog Moto: The most difficult part of this build was definitely the Suzuki SV650 build subframe. Making sure all sides are equivalent and that everything sat straight. As you know with building, it is crucial to make sure your lines flow and nothing looks out of place or odd. So the subframe took some time to get everything to look like it flowed properly with our design.
bikerMetric: This bike definitely has some uniquely Droog touches.
Droog Moto: Definitely. It has the tracker plate style headlight. We do this now on all of our builds and it truly defines a Droog Moto. The fuel tank is given the unique Droog look as well.
bikerMetric: Fill in the blank: ________________ is priceless.
Droog Moto: As builders, we are always excited to see what our bikes will turn out to be, where they'll end up and who will buy them. It is a great feeling riding a bike that you built knowing that it is the only one in the world that has that exact look and touch. Seeing people's reactions to our builds as we are bombing down the street is always priceless.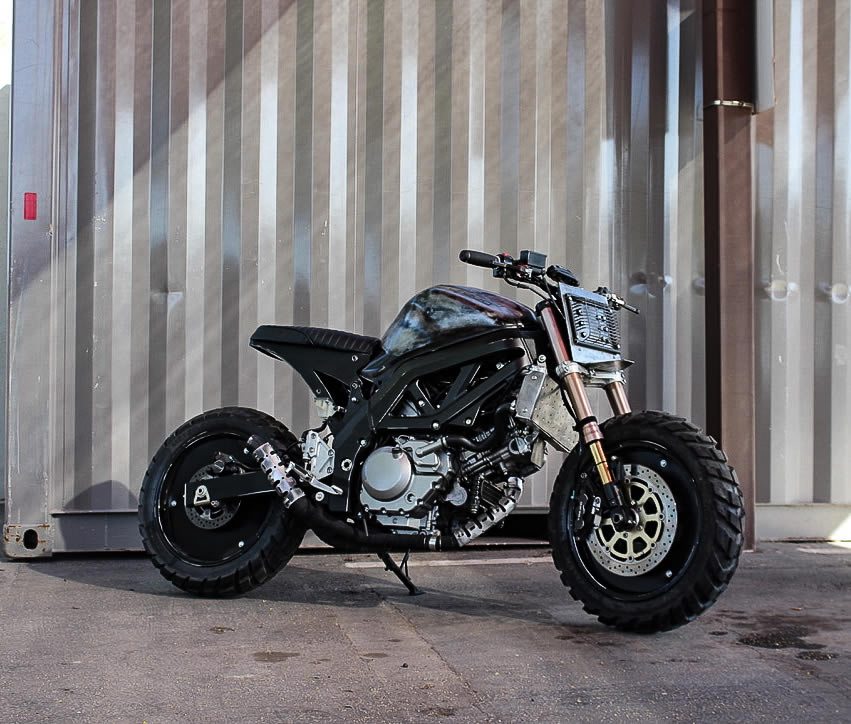 bikerMetric: Bike's up for sale?
Droog Moto: We are selling this bike currently for $13,000. We are also offering all of our US customers FREE SHIPPING and covering part of the costs for international buyers.
bikerMetric: Where can readers find you?
Droog Moto: Website: www.droogmoto.com
Instagram: @droogmoto
Facebook: facebook.com/droogmoto
Youtube: youtube.com/channel/UC7poBQwLFvKIrFeq10TUkDQ

Get the best of

biker

Metric

directly in your inbox, once a week, every week.