Bruce Peck of Backyard Bobbers is a builder from the one and only Sturgis, South Dakota. What started out as an old 2003 Yamaha V-Star Classic that was sitting and collecting dust, became a father, son, and friend Yamaha V-Star Classic bobber project.
bikerMetric: Hey Bruce, tell the readers a little about yourself.
Bruce: My name is Bruce I'm from Sturgis South Dakota currently living in Belle Fourche, 25 miles from Sturgis, and this whole thing was my son's idea.
bikerMetric: What was the idea, anyway?
Bruce: I've always wanted to build a bobber but doing so was never practical for me. As for looks, I've always been a fan of the old school far tire look, but not a huge fan of drag bars. Comfort is always something I keep in the back of my mind, because when I go ride I never put a time on when I'll be home. Hence the seat design.
bikerMetric: So what's the story of the Yamaha V-Star Classic bobber build? You traded for it?
Bruce: The bike was in great shape when I got it, but just a plain old V star classic. And yeah, I had two Rx8 cars at the time (rotary motor) and found a guy who was looking to build a car like that. My previous bike was a V Star Classic and I thoroughly enjoyed that bike, so yeah, we talked, and the trade was on.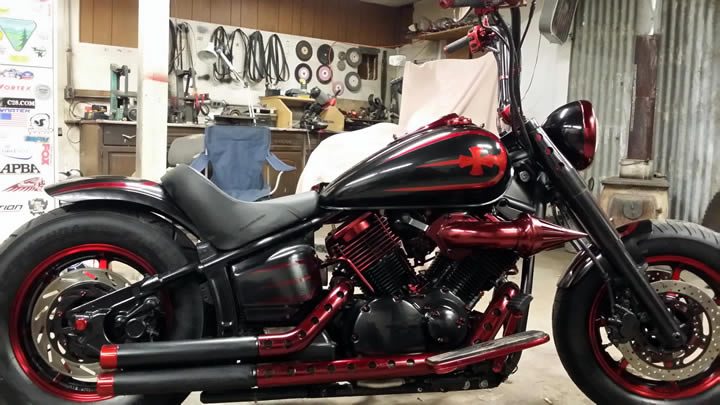 bikerMetric: But it was all bagged up at the time and you were ripping around like that for a while?
Bruce: When I get on and ride, I like to put on some miles. So it was rocking the bagger look. That's what was practical at the time. My last big ride on her was from Sturgis SD to Biloxi MS, to visit my son who is in the navy. Shortly after that trip I bought a Kawasaki Vulcan Nomad. So the V-Star got parked for quite some time after that.
bikerMetric: Do you guys go riding together?
Bruce: My son came home for Christmas and we just happened to have a nice day, so we got the V-Star out and he rode her. This is before we bobbed her out. That was the first time he and I had ever rode together. It was also his first ride on a street bike. He was raised on dirt bikes, and I had him racing motocross since the age of 4.
bikerMetric: So after that ride you guys decided to get bobbin'. What'd ya do?
Bruce: The hardest part of the build was just taking those first cuts on the fender. No turning back at that point! Then we did a three inch drop in the back, a strutless rear fender that can still carry a passenger. My partner's design, a big air and 12 inch apes. The rear fender is really cool: two bolts and it can be removed. I like the way the whole thing came out.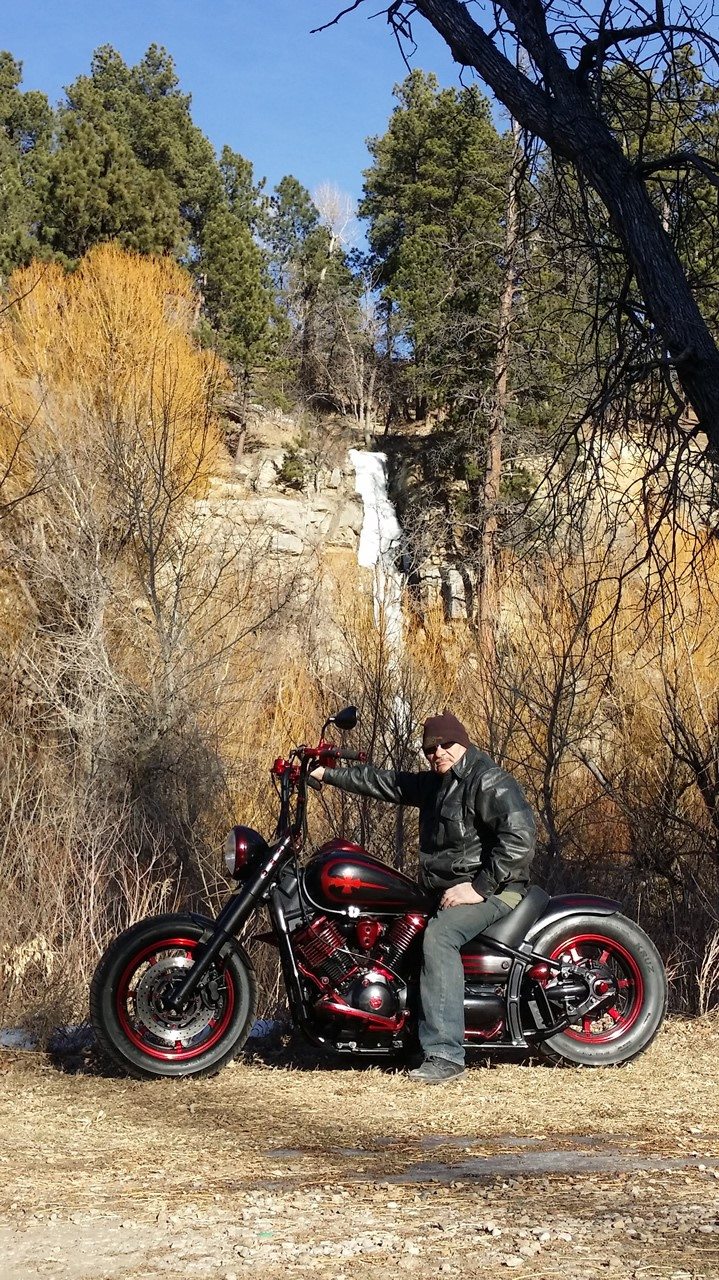 bikerMetric: What was your favorite part of the build?
Bruce: The coolest thing about the build was really the time leading up to the build. It's just been my son and I since he was four years old. I had my motorcycles when he was younger, but I gladly gave them up when he started riding and racing. So that first ride together we picked up my best friend since high school, and he rode with us. Now here is the kicker: our destination on that ride was to the tattoo artist shop to design my son's first tattoo that talks in line with one of mine for father-and-son relationship. That's what he wanted for Christmas. Since that day it hasn't stopped.
bikerMetric: And then what happened?
Bruce: We built it and took it out and had such a response that we just decided to keep on going. We are now building the sister bike to her. That will be a Yamaha V-Star as well, but a Custom, not a classic. We have three bikes registered to be in the motorcycle show next month. The consensus around us is keep going. We have been asked to do builds for others, so we've been buying them, building them, and selling them. BACKYARD BOBBERS is officially open. Look us up if you make it to the Sturgis rally this year.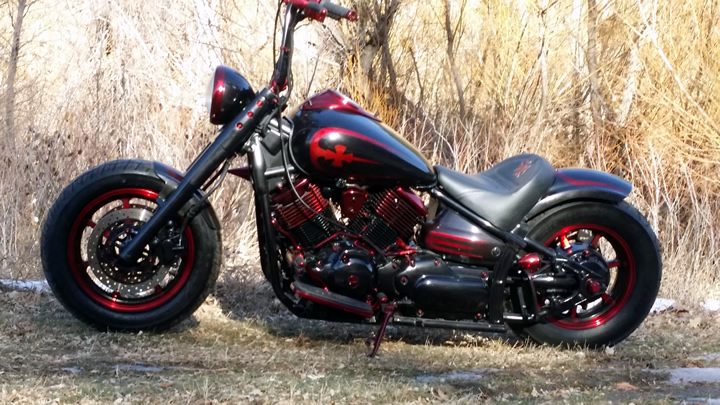 bikerMetric: Shout out time. Go!
Bruce: Gotta give a huge shout out to my son and to my best friend Kenny. This wouldn't have happened any other way nor with anyone else. Love you both.
bikerMetric: Are you selling the bike?
Bruce: The bike will be for sale after the bike show next month. Kind of hard to let the first one go. The one that brought us three together. I'm gonna let her go for $5,895. That's about right where we want to keep our prices. We want to keep them affordable to those that can't do the higher costs of a lot of the bikes around. Bikes should never be a burden they should be enjoyed. I don't care what you ride, I care that you ride. Now keep up.

Get the best of

biker

Metric

directly in your inbox, once a week, every week.