A custom Honda CB650 isn't anything new, but we haven't had one made by a couple before. Max and Erica Droog are a husband and wife build team. A lot of couples say they've known each other forever, but these guys aren't kidding. They started dating when they were 15 years old and have been together ever since.
Since then these two lovers have been turning motorcycles into works of art for over a dozen builds. Check it out.
bikerMetric: Let's hear a bit more about you guys. You guys met, you started dating, and then what happened?
Droog Moto: Well, Max went to the Motorcycle Mechanics Institute and then worked in the industry for around 5 years.  I (Max) was beginning to get burned out of the industry working at a dealership. It totally took the drive and fun out of motorcycles. At the time, Erica owned an online clothing store. She didn't have any plans of being in the motorcycle industry however quickly came to realize that bikes and wrenching would become an obsession of hers as well. We were building what is now Moto 1 at the time for fun and decided to enter it into the International Motorcycle Show.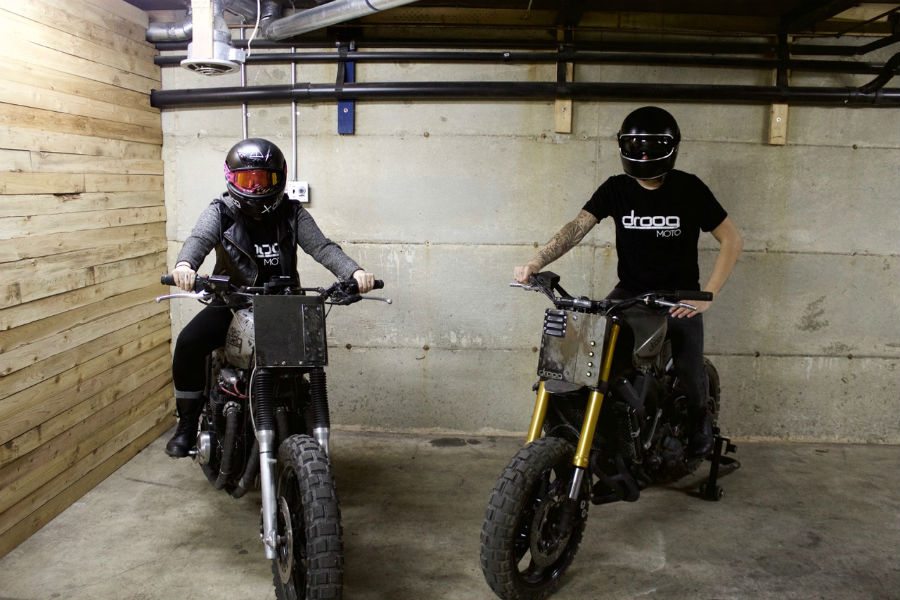 bikerMetric: How'd it go?
Droog Moto: The build ended up taking first place in the Retro Mod class and we knew we were onto something unique. Erica made me quit my job (she was sick of hearing me complain about it everyday) and we started Droog Moto full time with around $5,000 of savings. It was one of the most difficult things we have ever done, but there's nothing else we would rather do.
bikerMetric: Amazing. So now you're here with sweet builds like this custom Honda CB650. What are you guys doing with Droog, and what are you all about?
Droog Moto: So we are now coming up on our two year mark in January and will soon be starting Moto 10 or X, not sure what we will call it yet :) At this point in the company we really have a grasp on what we are about and the styling of our builds. We have been building back to back and pushing out more one of a kind builds.  Droog Moto has become our lives and we want to be able to share it with others that dig what we are about and the direction that the company is moving towards.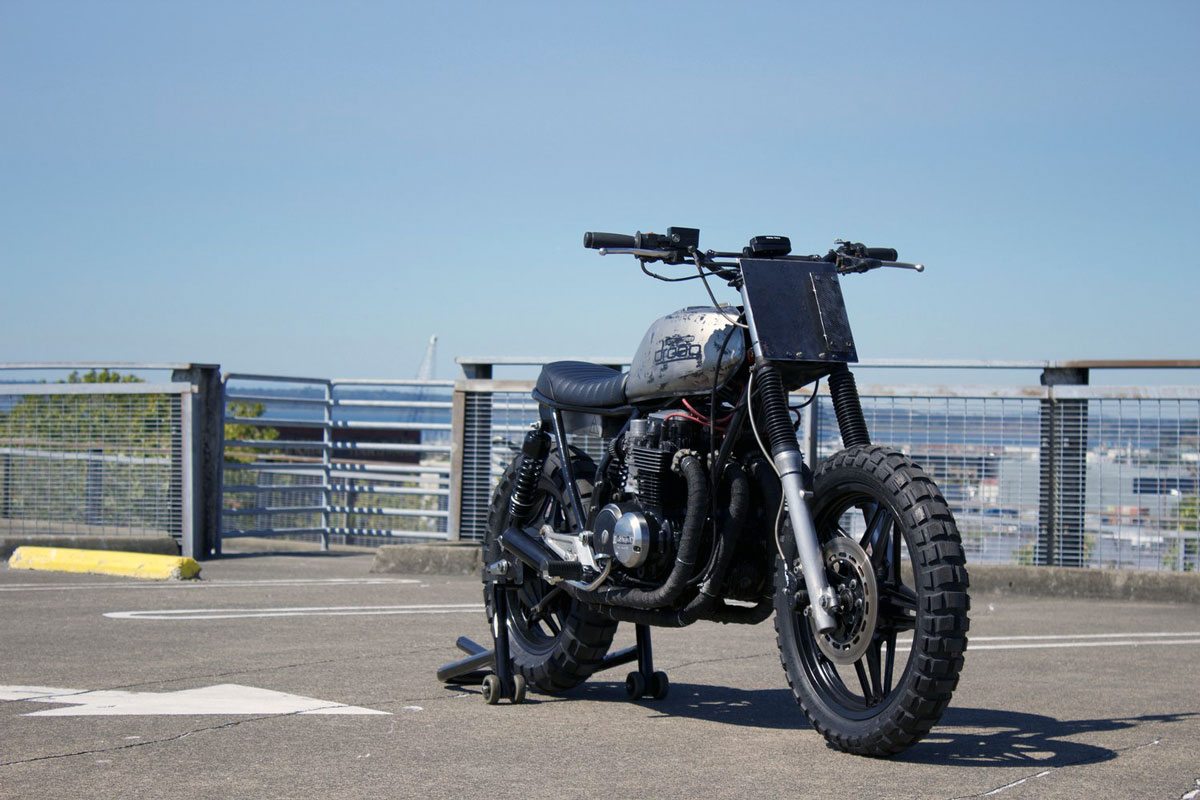 bikerMetric: You're pushing the message that you're not like the others – what does that really mean to you? What's it all about?
Droog Moto: Being not like the others is our way to stand out in a heavily saturated industry. We give every builder and company out there a ton of credit because we know what its like to build full time, however we are really trying to make our bikes and the company recognizable with our signature look. We like to make our bikes look purposely rough you could say but still having a sleek and minimal characteristic to them. They are our works of art that can be ridden hard! We are definitely more of the outsiders in the industry and we are completely ok with that! We get that our style is not for everyone but it's what we like and what we enjoy to build and ride, which is what we feel the roots of riding and wrenching is all about. We get a TON of hate on our builds which just means we are doing something right, because when you are different not everyone is going to like it.
The "not like the others started" with Moto 1 and the IMS show as our build was completely different from anything there. It stood out but in the best way possible. When we were getting setup the bike was parked in the builders area and as the other bikes were showing up they wouldn't park there builds near ours. We took a picture and had joked around about how it is not like the others and that is how it started! We don't like to really characterize the builds as a certain genre. They are a mix that turns them into a beast of their own.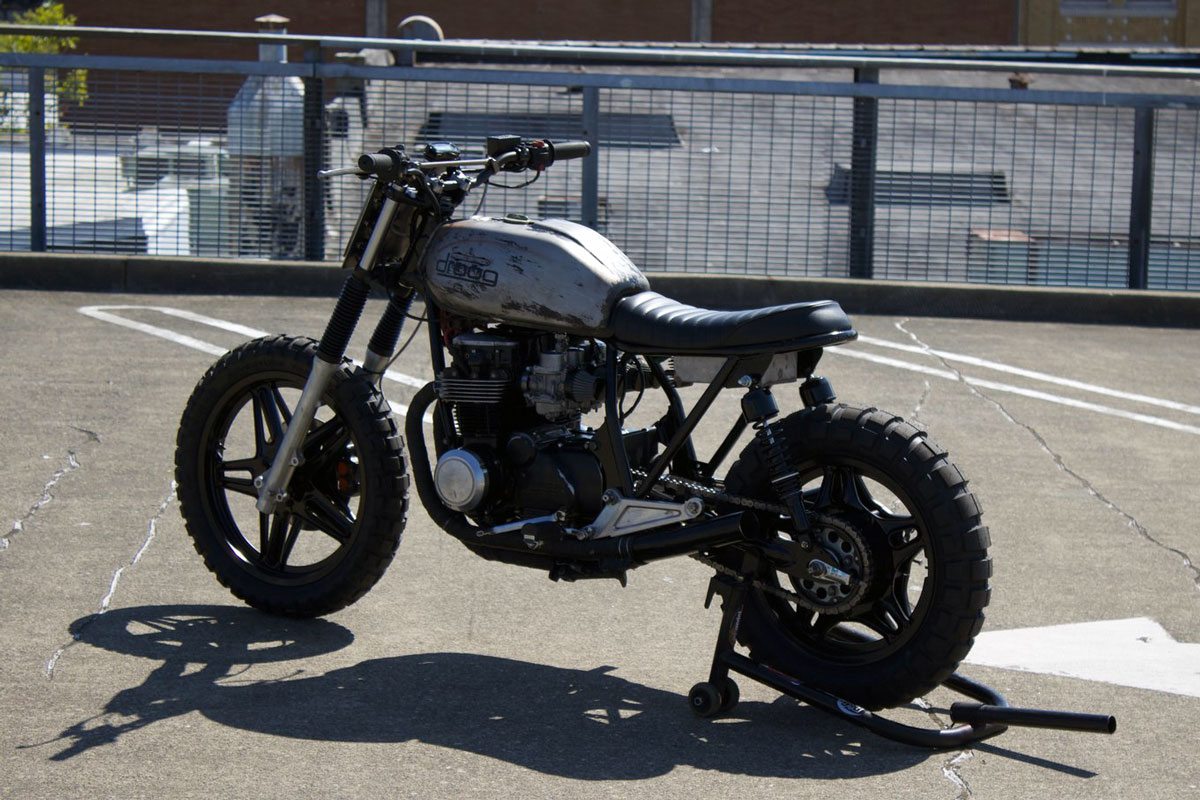 bikerMetric: Alright, let's get into the build now. The CB650 is a classic machine, and they must have made these by the zillion, but yours has a pretty unique look. What inspired you?
Droog Moto: On our Moto 7 (custom Honda CB650) we wanted to take an everyday CB and turn it into a go anywhere anytime type of build. Being the custom Honda CB650 is a bit on the bigger side, we chose to give it the best of both worlds. With the 650cc inline 4 you have plenty of power to hit the highway and get out of the city and at the same time not be too underpowered or overly heavy to take it down some fun service roads! Even though some may not look capable for off road use, we like to push the limits on them when we ride them to really make sure the bike is ready for anything.
bikerMetric: You know the story of my CB, but what kinda shape was yours in when you got it?
Droog Moto: Well as you know, most builders try and find the most immaculate bike we can to cut up and destroy (haha, wish that was the case!)…..but really, our donor bike was completely beat up.  Pretty much all gaskets leaking, hadn't been running in a very long time either but it had pretty low miles and was a Honda so you do the math :)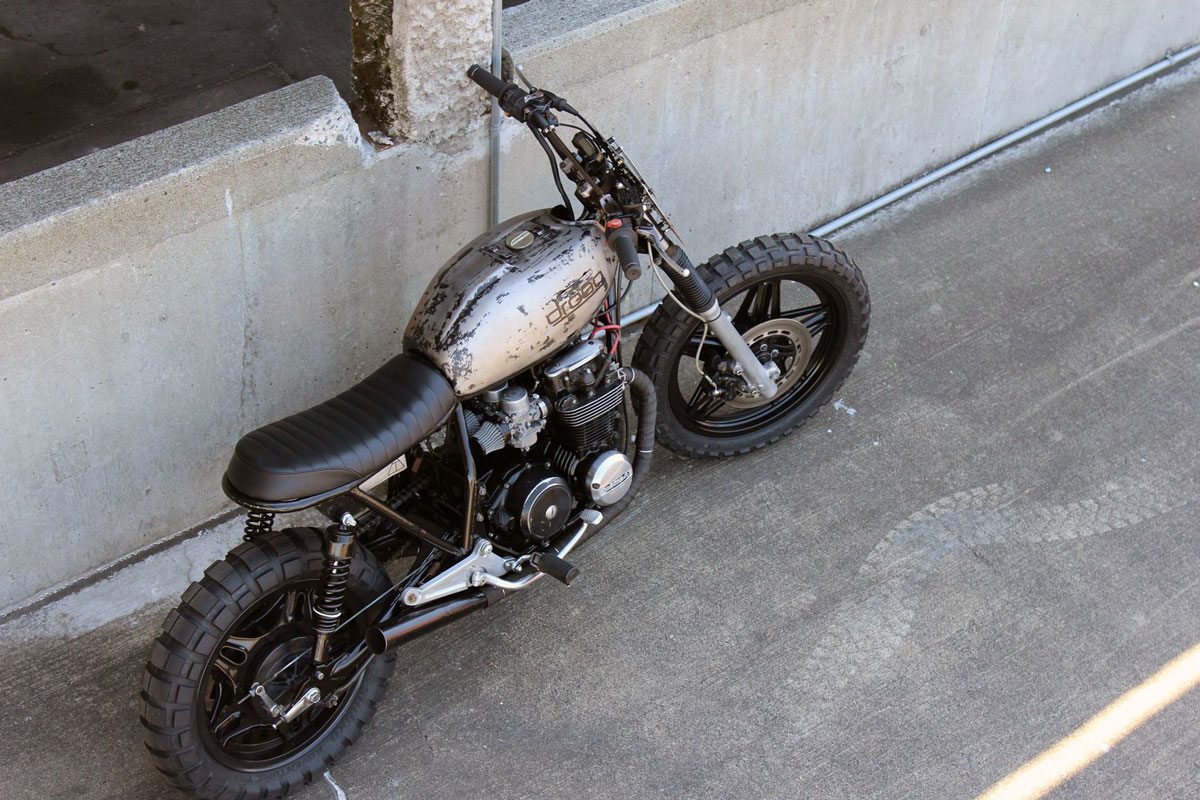 bikerMetric: What were some of the biggest changes, or the long list of changes, made to the bike?
Droog Moto: Pretty much everything was touched on this custom Honda CB650. We tore the motor down to ensure all was good and replaced what needed replacing and adjusting things back to specs. The frame was also modified. We fabricated a new subframe and rear shock mounts which also allowed us to lift the bike a few inches to gain some more ground clearance. The original gas tank was swapped out with one we stole from one of Erica's personal builds and fabricated new tank mounts and seat mounts.  The front end was gone through and serviced. We made a retro beefy looking steel tracker plate that housed 6 super bright Spot style LED bulbs and micro LED signals. The wire harness was gone through and cleaned up.
The CB650SC series uses a unique style upper triple tree that clamps two separate bars for your handlebars so that was swapped out with a different model and year to allow us to use 7/8 dirt bike bars and upgraded steering head bearings. We then fabricated a custom 4-2 exhaust which was heat wrapped along with POD filters and proper jetting.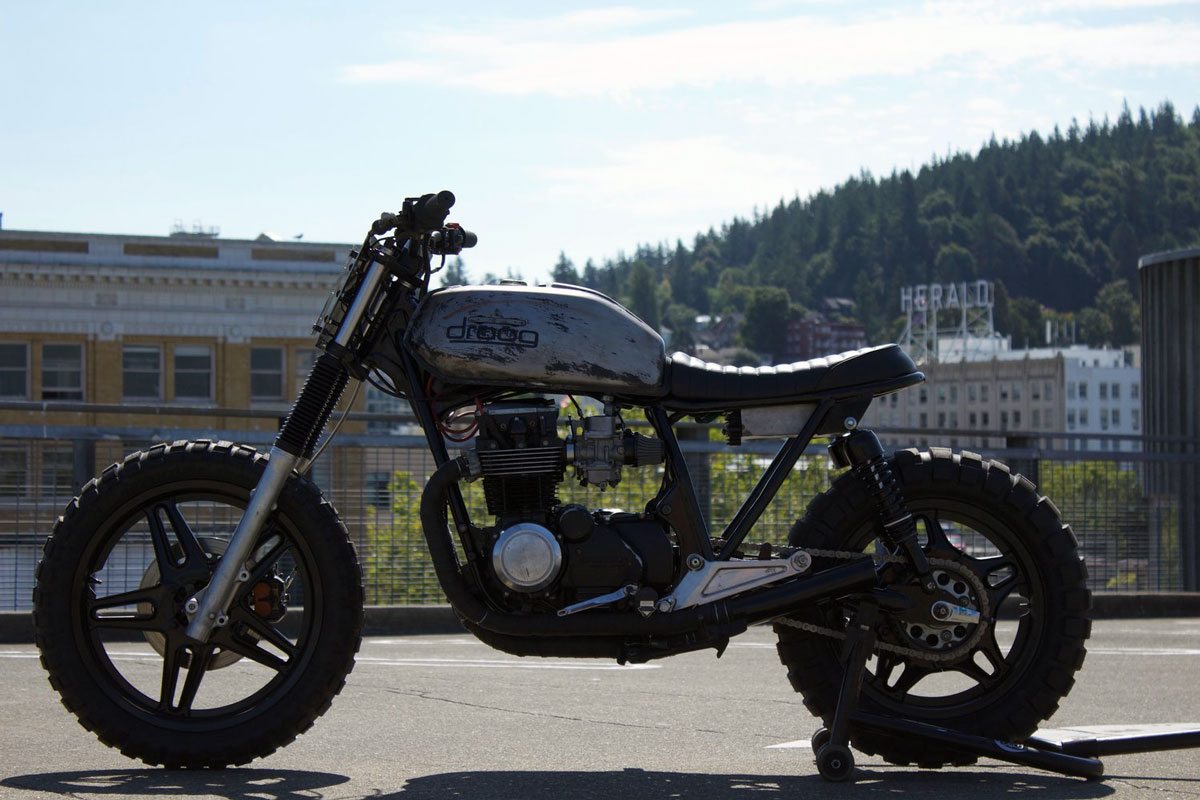 bikerMetric: Is there something that you guys really agree or disagree on in this build?
Droog Moto: Erica's favorite part of the build is the headlight and tracker plate. Max's favorite part of the build is the back end, with the fat knobby tire and the swooped rear seat. On most builds, if we are not both completely satisfied on a section of the build we completely start over until it's good enough for both of us :) We are both extremely stubborn but for aesthetics we are usually on the same page.
bikerMetric: Tell us more about the headlight on this custom Honda CB650, because I totally couldn't find one in the pics.
Droog Moto: The headlight on this build is definitely something different. We chose to run 6 small LED pod style lights that feature a HI/LO option. They are insanely bright spot style that really light up the road even with the perforated aluminum plate in front of it. The concept was to make it look like there are no lights until they are on.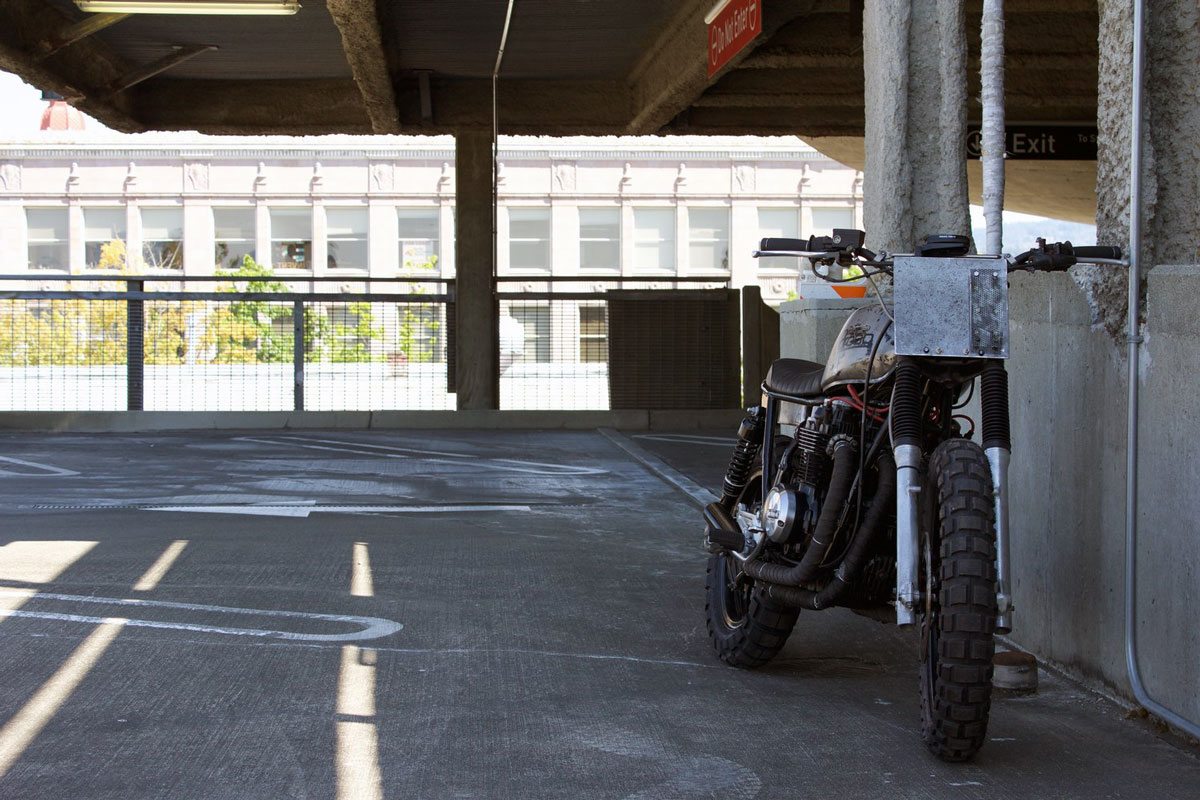 bikerMetric: Are you selling the bike?
Droog Moto: Heck ya! The custom Honda CB650 is currently up for sale on our website and we are asking $8000 USD
bikerMetric: What's your next build going to be?
Droog Moto: Our next build is going to be rad! It is for a customer out of Israel and is also our 10th Moto series build so we are going to go a little crazy on this one.
bikerMetric: Where can readers find you?
Droog Moto: Website: www.droogmoto.com
Instagram: @droogmoto
Facebook: facebook.com/droogmoto
Youtube: youtube.com/channel/UC7poBQwLFvKIrFeq10TUkDQ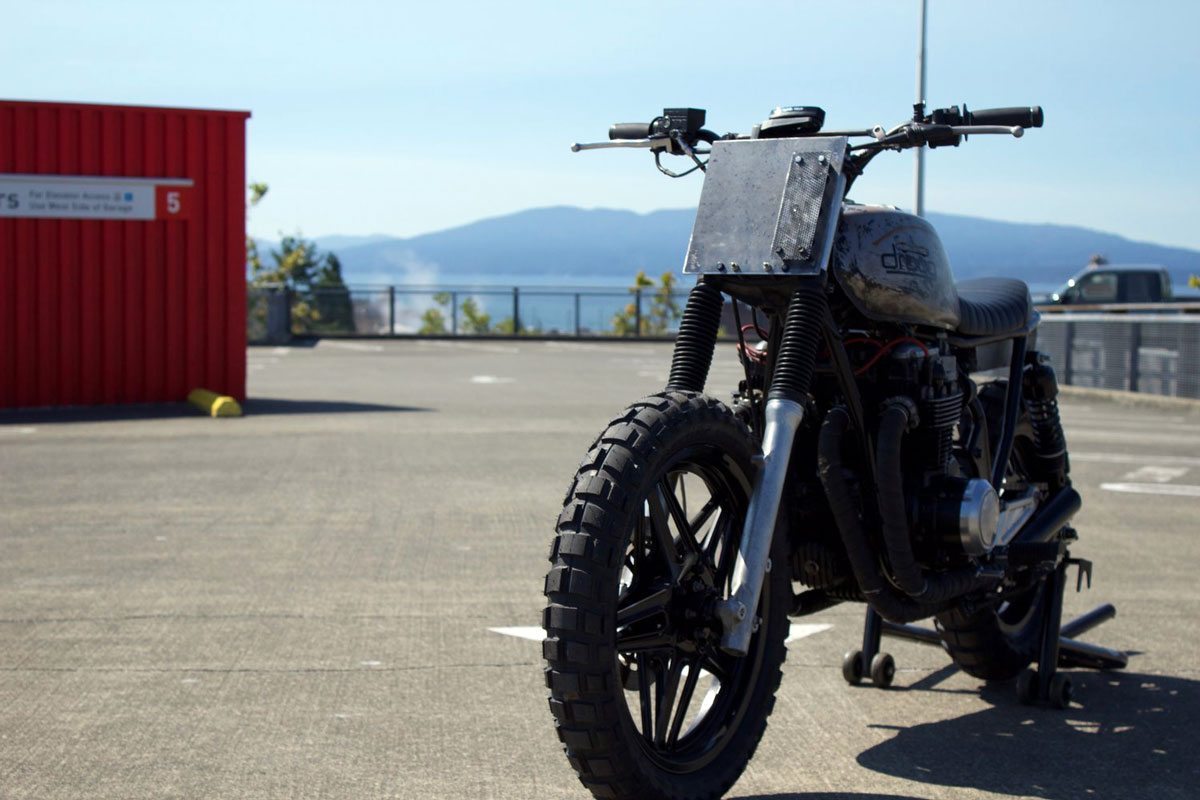 Get the best of

biker

Metric

directly in your inbox, once a week, every week.