Jakub Beker is an IT Specialist, a father of two, and the husband of a beautiful wife. He also builds rad motorcycles like this Yamaha Virago XV920 cafe racer under the name Ugly Motors. He lives in the small town of Lewin Brzeski, population < 6,000, in Poland.
Jakub's shop is what he calls semi-professional, but he keeps it as a side gig and maintains the 9-to-5 to pay the bills. Like most builders featured on bikerMetric, the custom motorcycle thing comes from a place of love, and Ugly Motors has been pumpin' out pretty bikes for four years now. Their tagline is: "We make motorcycles. Ugly motorcycles" – but don't let that fool you.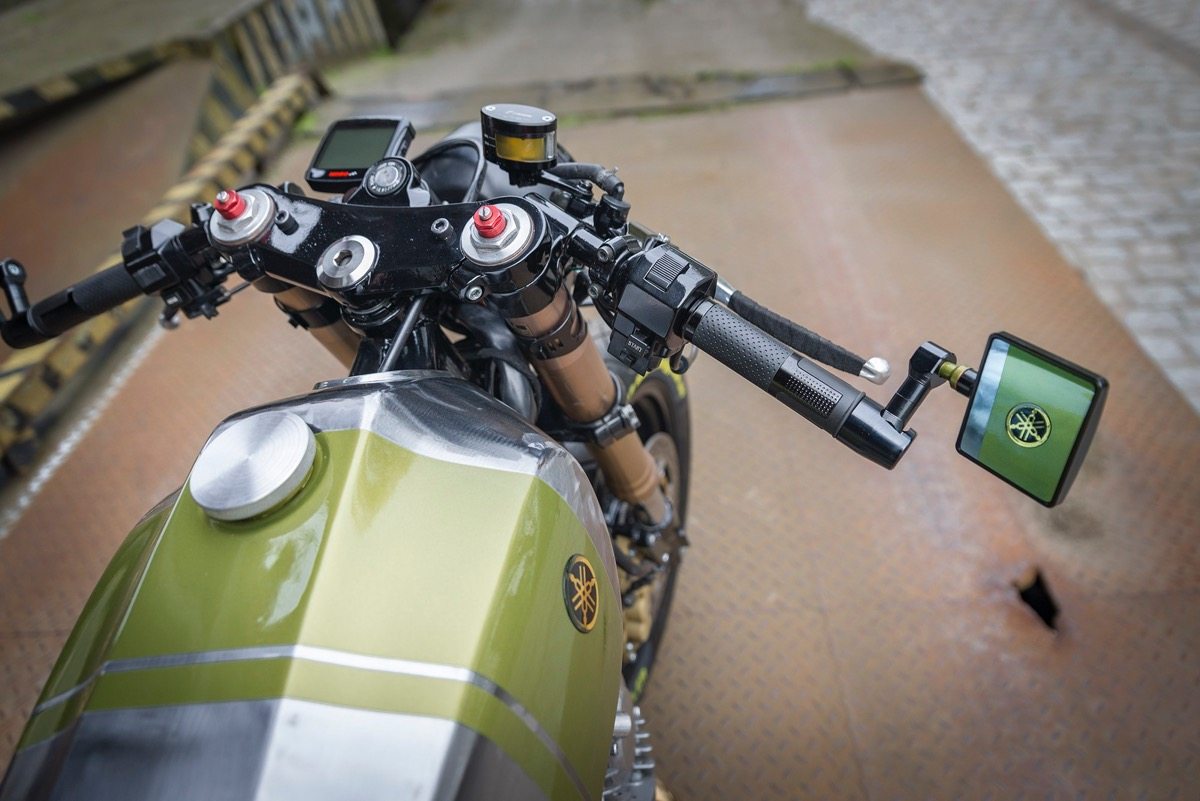 bikerMetric: This isn't your typical cafe racer, it's not even your typical Yamaha Virago XV920 custom build either. How did you dream it up?
Ugly Motors: I've rolled over all of Pinterest, Instagram, and so on, in search of a perfect Virago and can't find one that can fit a tight budget. There were gems for lots of money, and some unhealthy looking things for less. I thought, "Let's take all the best things from several different projects, and make a relatively cheap and glorious looking Yamaha Virago XV920 cafe racer."
bikerMetric: How did you feel about the Virago XV920 going into the build?
Ugly Motors: To be honest I really hate the Yamaha Virago for it's reliability. So I needed my donor bike to be in mint condition.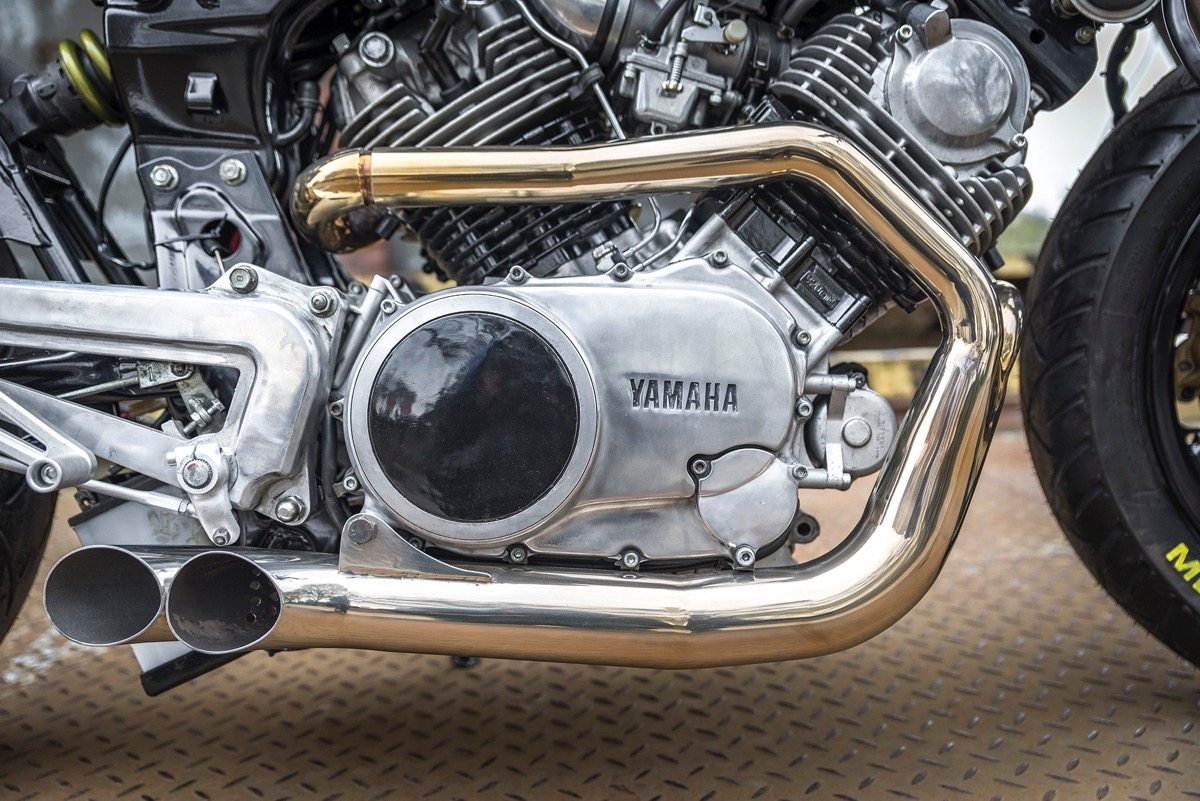 bikerMetric: You did all of the work yourself, correct?
Ugly Motors: One exception. My friend made the exhaust. He's a talented welder so he did the job. Everything else was my labour.
bikerMetric: In picture, this looks like a really sweet Yamaha Virago XV920 cafe racer. Sometimes pictures lie. Is there anything about the build that you aren't crazy about?
Ugly Motors: I don't like the motorcycle headlamp. It's a bit cheap and Chinese for the build, but hey, like I said, budget was short! What I like is that rear subframe though. It's light and delicate by design, with rear light mounted inside. At the same time it's quite comfy and really rigid, really nice.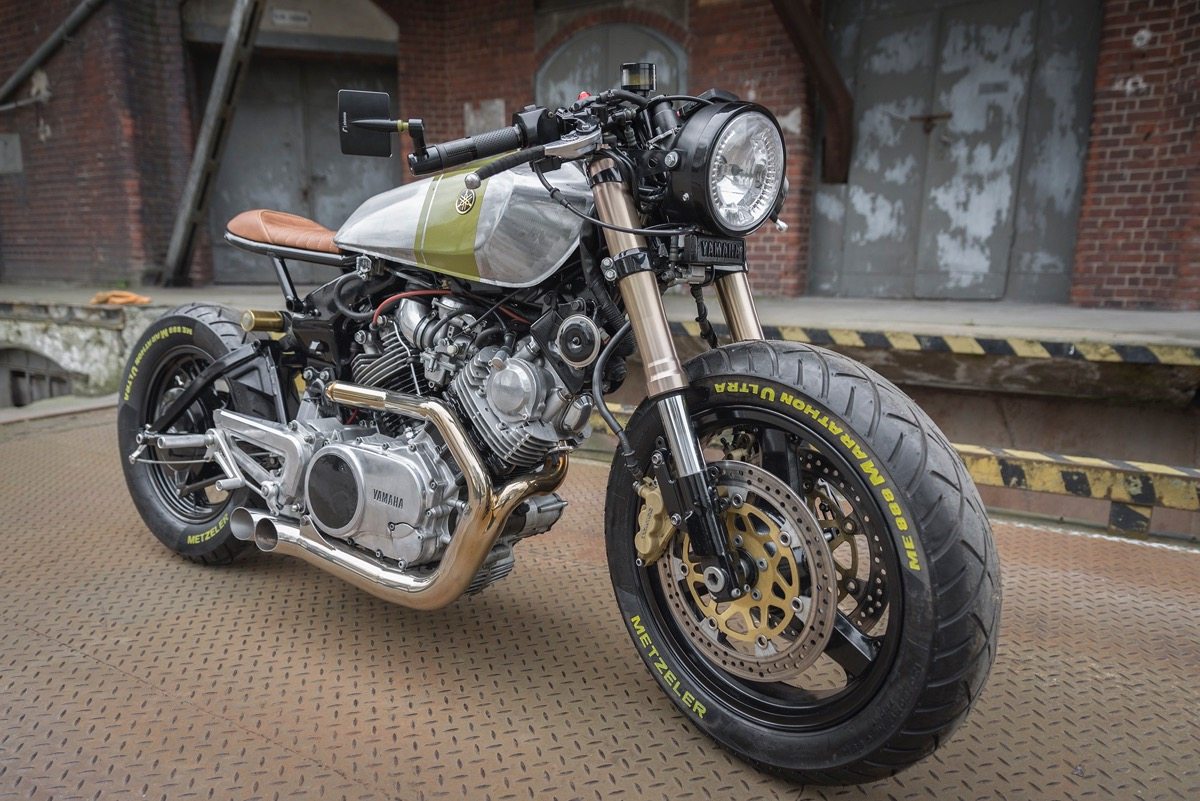 bikerMetric: What was the hardest part of the build?
Ugly Motors: Just making the **** thing work. Even though the Virago was in good condition, it needed a full OEM starter rebuild and it had some bad carburettor problems. Design mods were fairly easy because I've made an XV750 a year ago and it was similar project.
bikerMetric: The tank really adds character to the bike.
Ugly Motors: I like it. It was a really nice idea to strip it down, then to use zinc to cover it up and make it shine with wire brush. Then clear coat. The effect in the sun is stunning.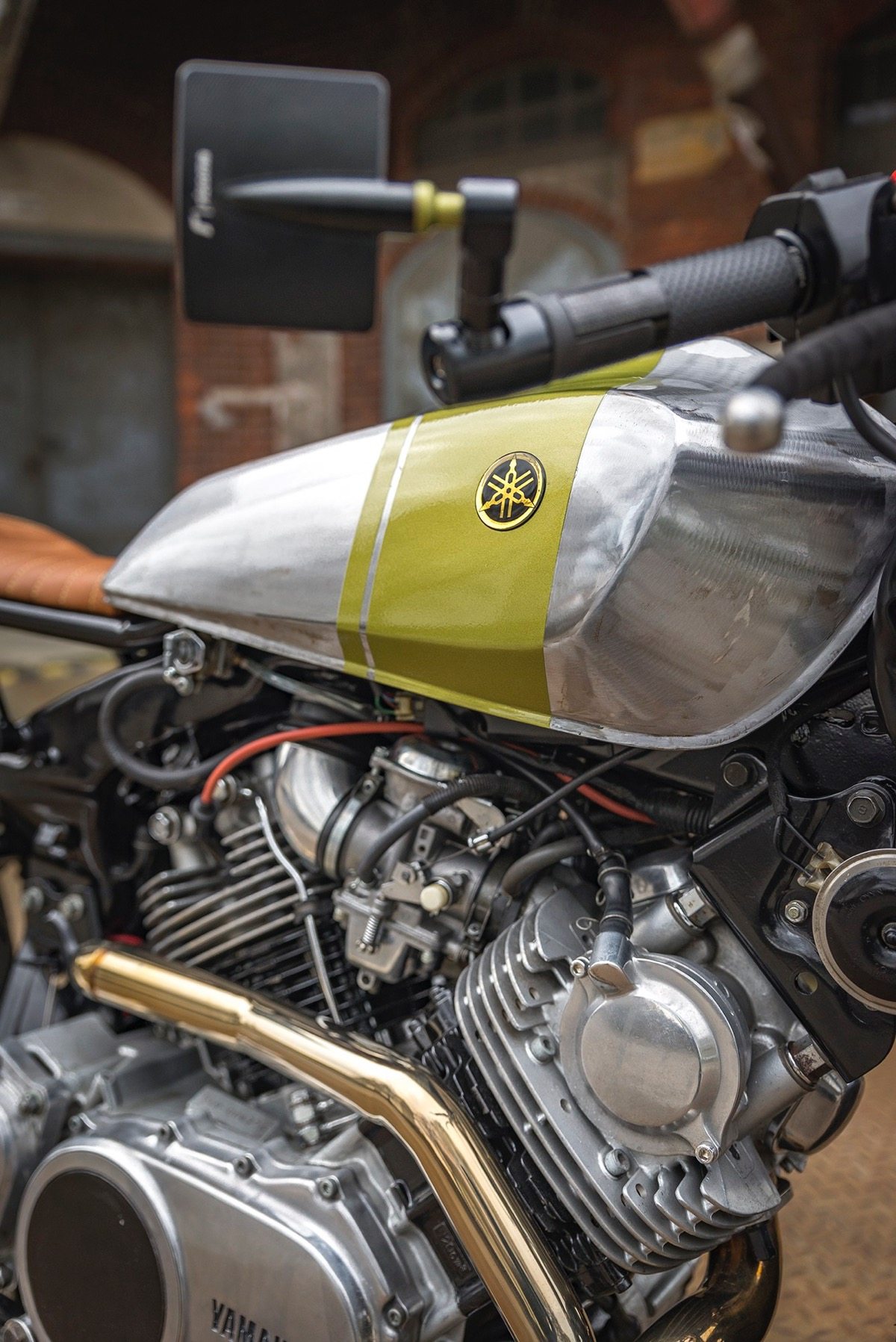 bikerMetric: You defined your shop space as semi professional. What's it like?
Ugly Motors: Well, all of my builds are made in my workshop which is placed on the 1st floor in an industrial building. Which means motorcycles need to be dragged up the stairs (not a good idea with a 250kg Virago) or… I lift them through the window via a self-made crane system.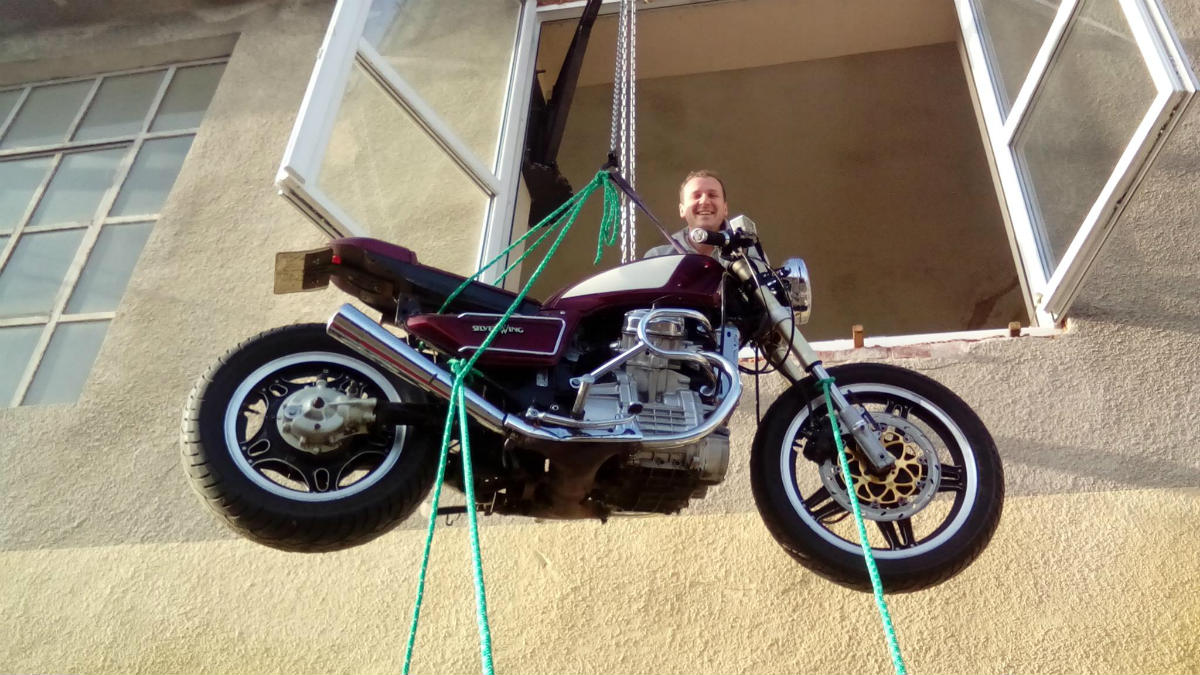 bikerMetric: I heard you've wrecked a bike or two. Care to share?
Ugly Motors: Where to start? I've locked the rear wheel on a Ducati 900ss at 140km/h because the engine jammed. I've totaled a Honda CBR 954RR because some dumb *** forced into my lane while talking on a cell phone. I've dropped my custom bike one week before client giveaway. It was a lot of stories but they are what we love the most about old bikes. It's all about the ride not about destination.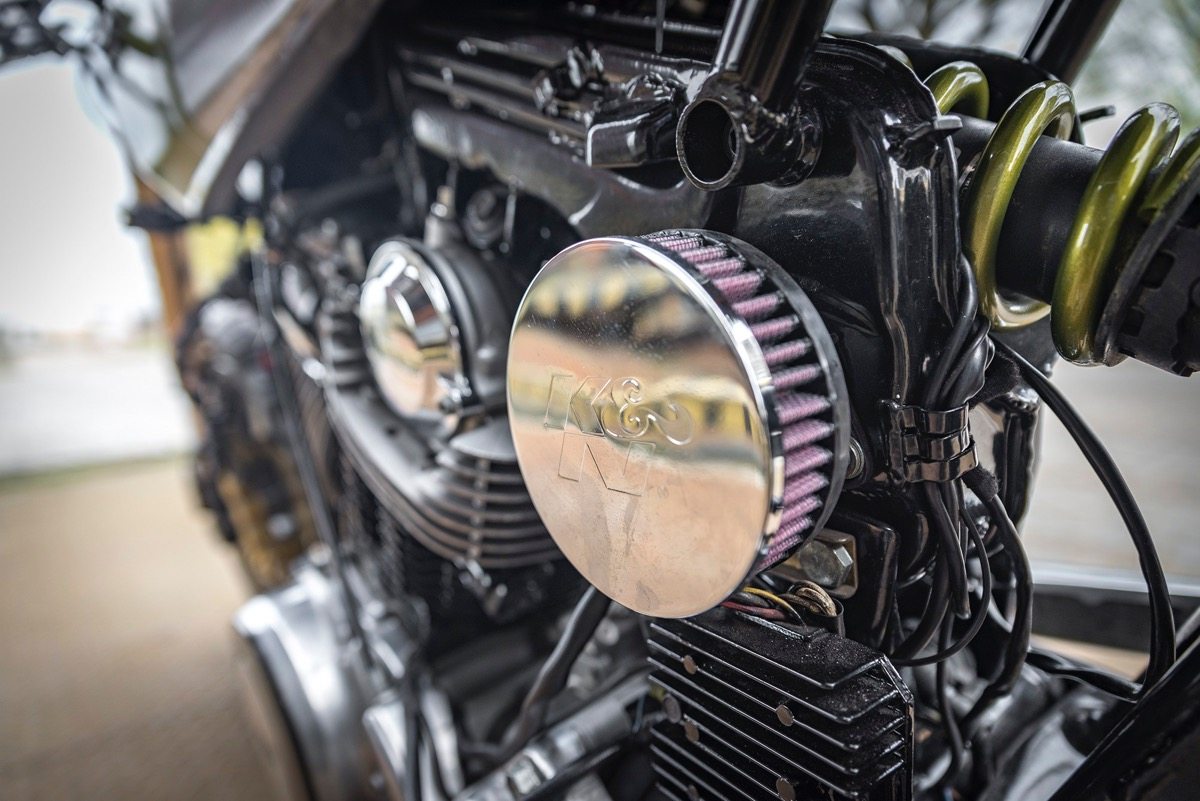 bikerMetric: Glad you're alright brother! Quick, before you drop this one, is it for sale?
Ugly Motors: The bike was made for order, but my client wants to try to sell it now, so someone might get lucky!
bikerMetric: Now that the Yamaha Virago XV920 cafe racer is done, what's your next build going to be?
Ugly Motors: I've made a GSX1200 Inazuma which is a glorious motorcycle both by the way it rides and in looks. It's for sale on BikeShed at the moment. Now I want to work on something really hard. It will be a BMW K1200RS. My biggest challenge yet.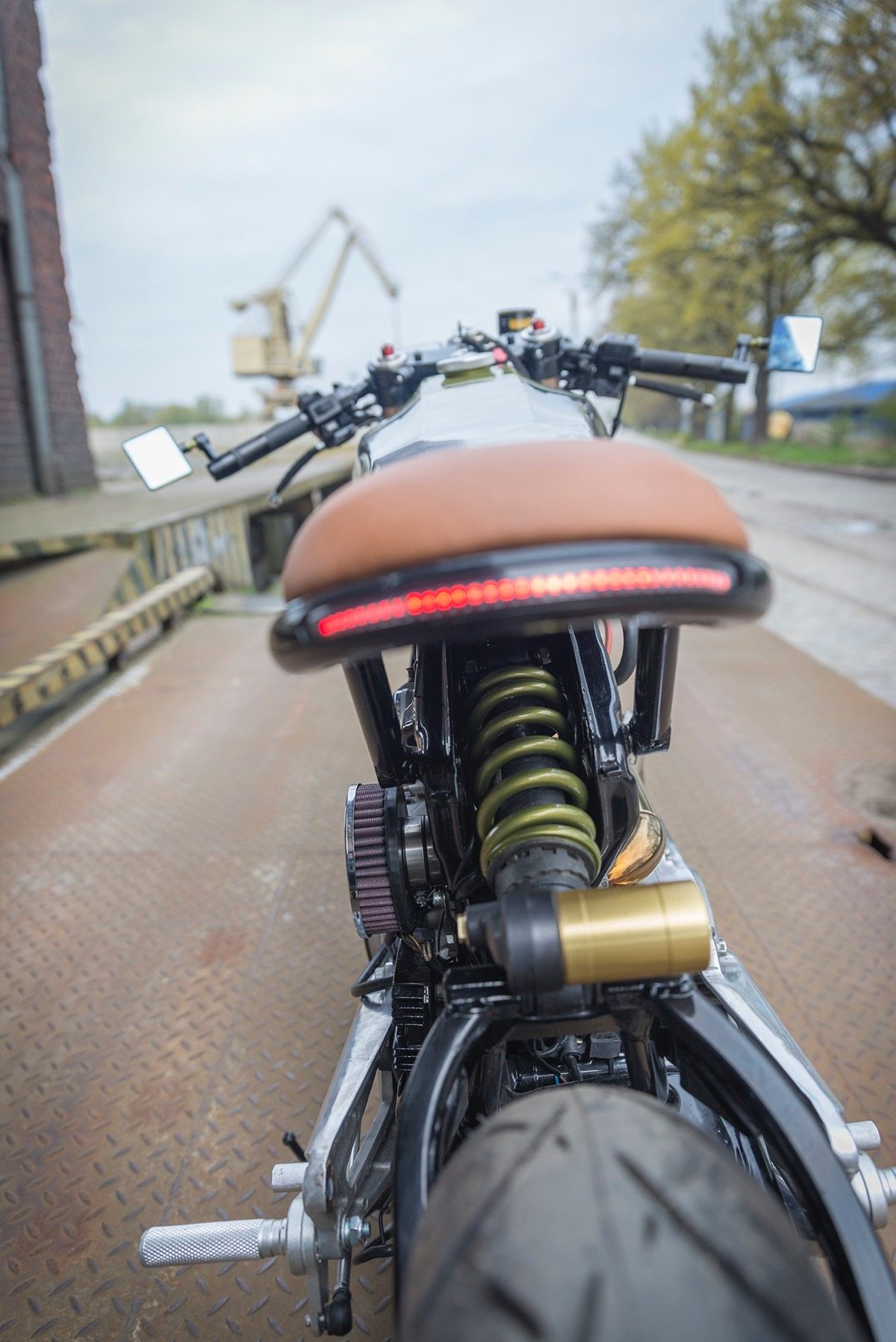 bikerMetric: Shout out time. Is there anyone we haven't already mentioned that you want to give a shout out to?
Ugly Motors: Yes, please take notice to my wonderful photographer Bartosz Mokrzycki who is passionate about motorcycles and made those stunning photos in the city of Wrocław, Poland. Here is the Instagram of this talented man: https://www.instagram.com/mokrzyckibartosz/
bikerMetric: Awesome. And where can readers find you?
Ugly Motors: You can find me online at UglyMotors.com, on Instagram @UglyMotors, on Facebook @UglyMotors, and of course, in my garage in Poland.

Get the best of

biker

Metric

directly in your inbox, once a week, every week.