We've shared a bunch of stuff from Chappell Customs in the past, but we haven't really touched on a sub-division of the business, called TUFFSIDE. This week, TUFFSIDE shared a pretty kick *** video on the making of one of their custom motorcycle seats on YouTube. It was time to get them featured on bikerMetric.
bikerMetric: Hey Chris, welcome back. Let's hear the story in your own words. How'd Tuffside come to be?
TUFFSIDE: Tuffside Seats all started with my SR500 build 'Devil' about 4 years ago. I really didn't like the look, or fit of all the other Cafe seats on the market, and couldn't imagine putting all that effort into a bike and then just plopping on some generic cheap seat. After all, its the details that can make or break a great bike.
bikerMetric: That's why you don't put a $1 bumper sticker on a $100,000 car. I get it.
TUFFSIDE: The seat of all things is one of the most important parts of a "cafe" style bike. So what did I do? I bought a bunch of metal and got to work fabricating a large thermal forming machine.
bikerMetric: Didn't realize that you fabricated the machine yourself. Sweet.
TUFFSIDE: Several modifications have been done to the original vacuum forming machine, but that machine is still in production today and has formed over 2,500 seat pans! It took several moulds and a bunch of scrap in the process, but I finally had something that I liked and that fit the SR500 build properly.
bikerMetric: And then it hit the internet.
TUFFSIDE: And I was overwhelmed with all the emails and questions on "Where did you get the seat?" and "Can you make me one?" – That is the moment TUFFSIDE actually began.
bikerMetric: And it's been growing.
TUFFSIDE: Yeah. I think I now have 14 or 15 different seat designs, with several variations on each, so we can probably accommodate most bikes at this point. I'm always working on new seat ideas and new designs. We also offer re-covers, and custom work that can be done on the customer's own seat pan.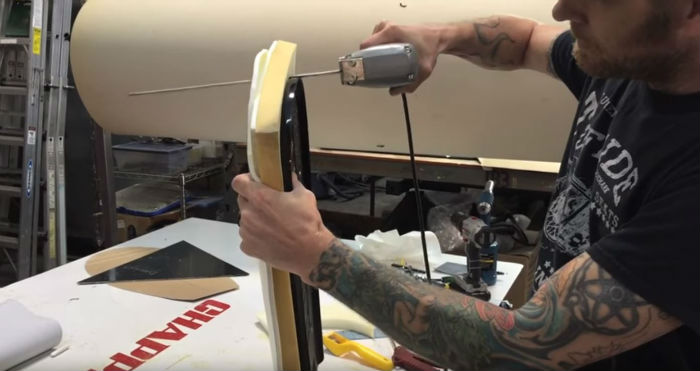 bikerMetric: How long have you been doing this?
TUFFSIDE: About 4 years now, but I had never even used an industrial sewing machine before that, so I had a ton of learning to do. I used a couple of outside upholsterers at the beginning but needed to keep it all in-house for quality and time management so I had to learn how to do everything myself.
bikerMetric: And that's what it comes down to. You put your name on something, and it doesn't just make you a buck, it represents you. The quality reflects who you are, what you do, and what you're all about. Totally.
TUFFSIDE: Tuffside and Chappell Customs are basically just me, a one-man show, but I do now have a couple of amazing upholsterers that work part time at my shop for those super busy times.
bikerMetric: And they're all made in the US?
TUFFSIDE: Every seat I make is made from scratch right here in Las Vegas! Please don't be fooled by the cheap seats you may see on other sites, keep in mind they come from places like Vietnam and China and are simply re-covered in the US if they are re-covered at all. Try picking up the phone and calling them asking if you can have some custom stitch pattern, custom foam shape, or some custom color materials and see what they say :)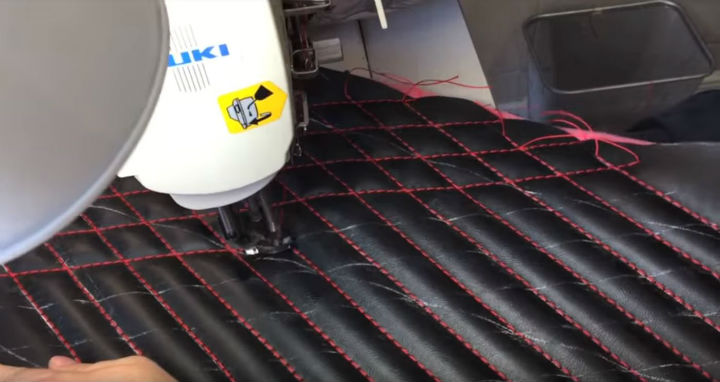 bikerMetric: I know all creations are beautiful and all that ****, but level with me, you have a favorite, right?
TUFFSIDE: Our best-selling seat and still my favorite is the original style seat from my SR500, its our 23″ Universal Cafe seat, now available in both fully upholstered and with the paintable back option! Paintable back is basically the raw seat pan that is left un-upholstered and exposed. This cowl area can be sanded and painted to match your bike.
bikerMetric: There's one shameless plug. Let's do another. I heard you have a brother up in Canada. What's he doing up there?
TUFFSIDE: You may know myself and my brother as Chappell Customs, but my brother has always had his own thing going as well. He's been killing it with some awesome bikes lately and all of them are sporting some seriously custom TUFFSIDE seats. His site is origin8or.com
Check out Chris and his brother Rob's builds at Chappell Customs and Origin8or, and then get your *** on some TUFFSIDE handmade motorcycle seats. Before you go, don't forget to watch the video on how they're made.

Get the best of

biker

Metric

directly in your inbox, once a week, every week.