Mauricio Mora wasn't born on the back of a motorcycle, but close enough. As a young Costa Rican Tico, Mauricio's been around bikes forever. Sneaking out of the house to go the motorcycle shop across the street was a part of growing up. These days Costa Rica's far off in the rear view mirrors, and Mauricio's got a son of his own, who took a special part of this build.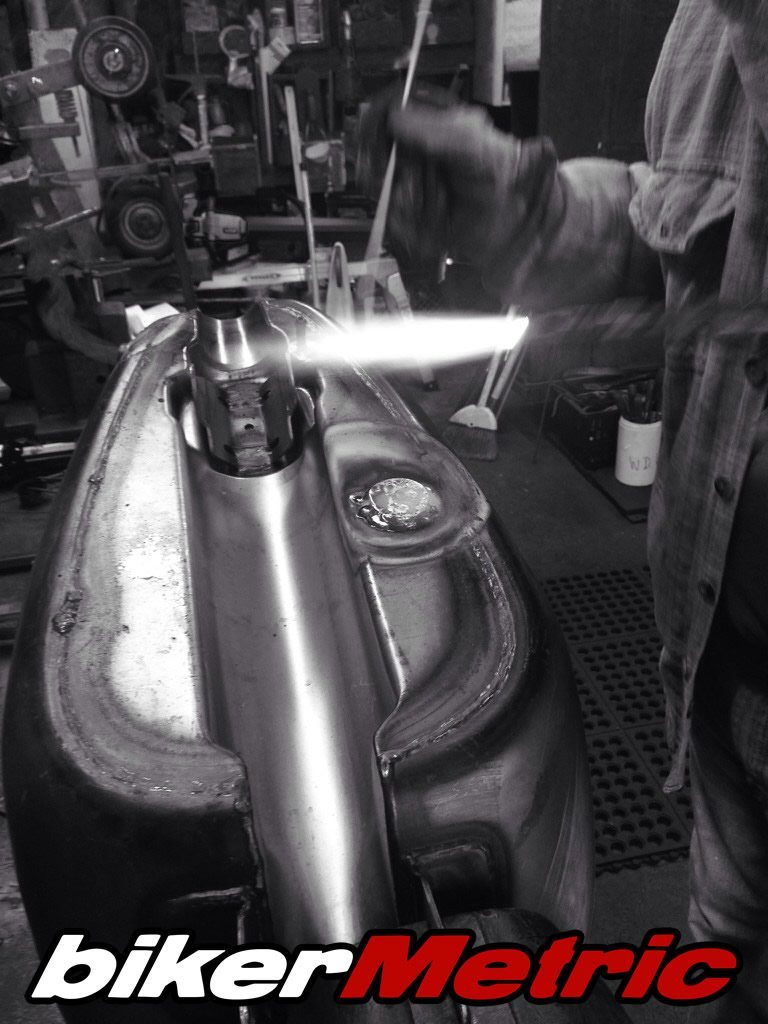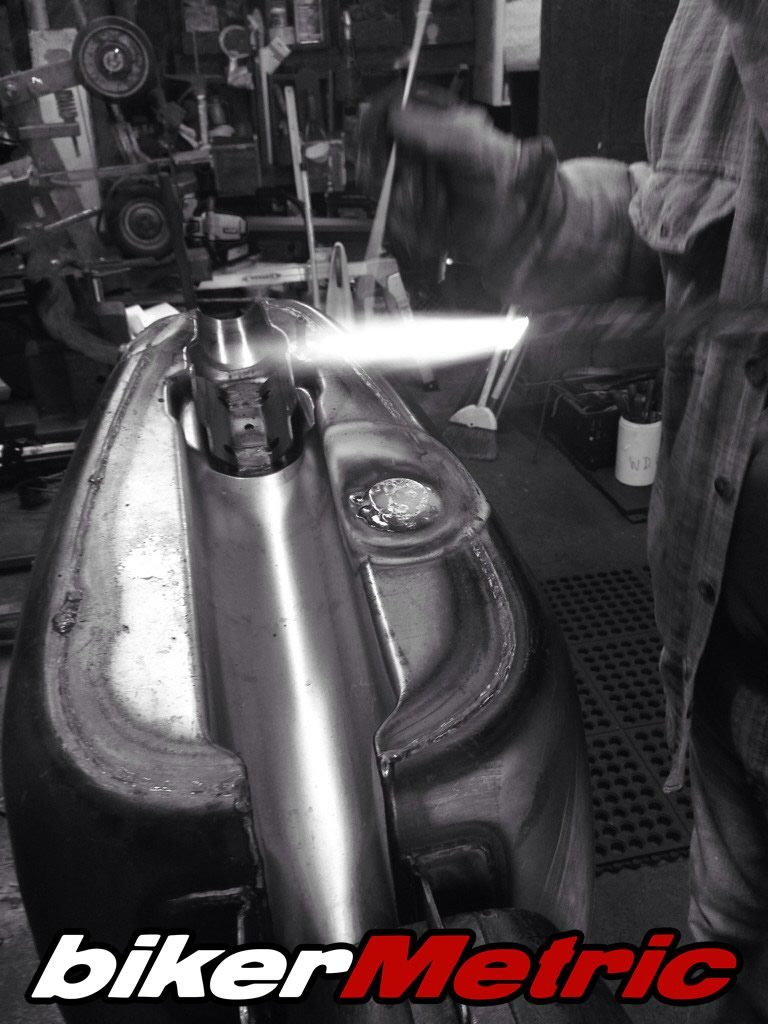 As soon as I took a look at what Mauricio sent me back in September of 2013 I could tell this guy had talent. He sent in teaser pics of his Yamaha V-Star project, leading to the building of Dead Man's Hand: one **** of a first step into the custom motorcycle scene. Check out that build here.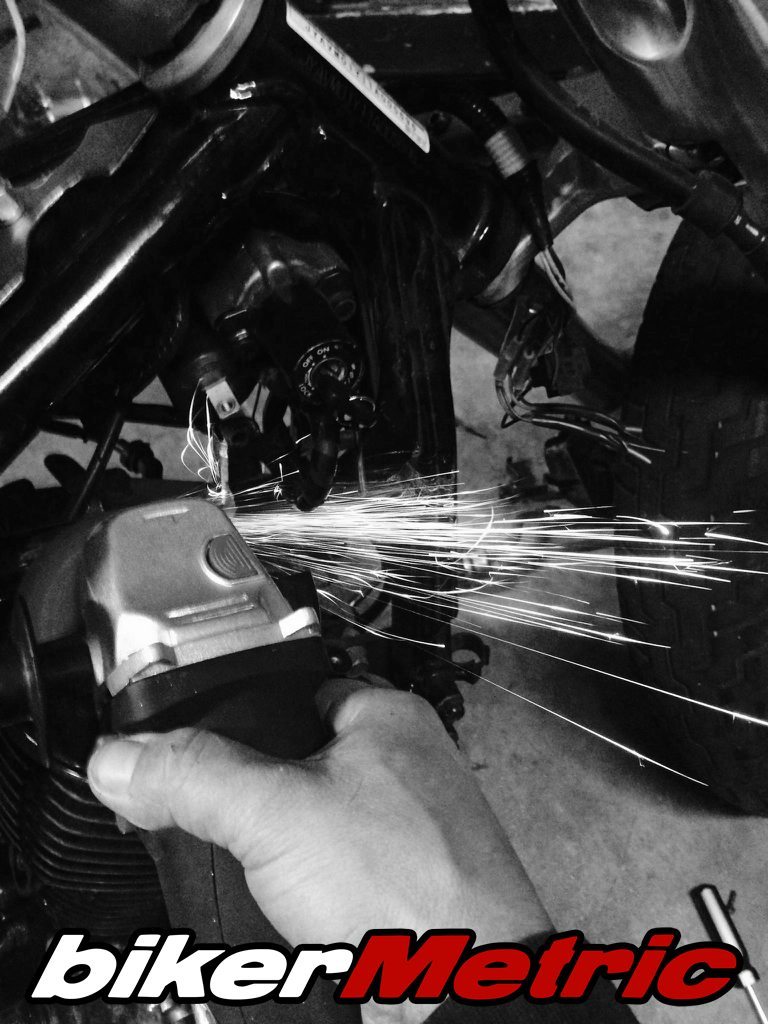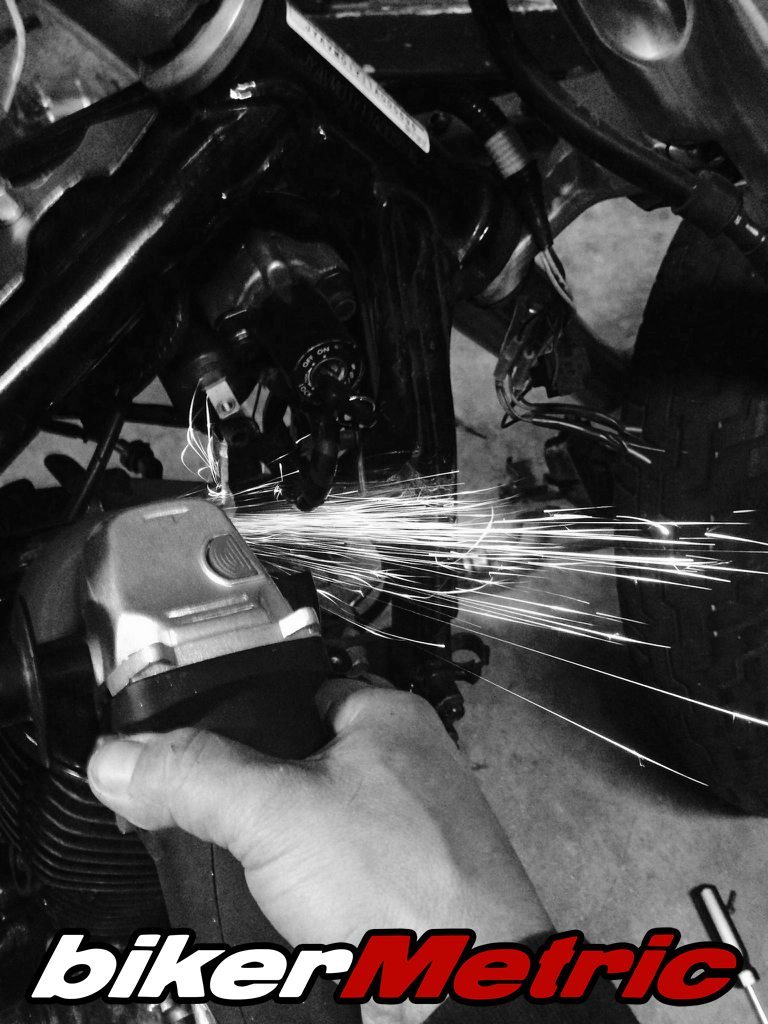 Beauty though she may be, Dead Man's Hand is old news now. Tico Designs has a new baby.
Yamaha V-Star 650 Bobber – Purple Death by Tico Designs
bikerMetric: Tell us a little about the build. Is there a story here?
Tico Designs: Yes, this is another of those stories. I picked up this bike about 5 months ago from a guy who had it in his backyard under a tarp for over 4 years.
It did not look good but I negotiated a fair deal that made me ignore all of the rust that was building up on it. The guy had one of those fairy tale stories that was hard to believe and had taken some things apart but he had all of the paperwork for it and that was good for me.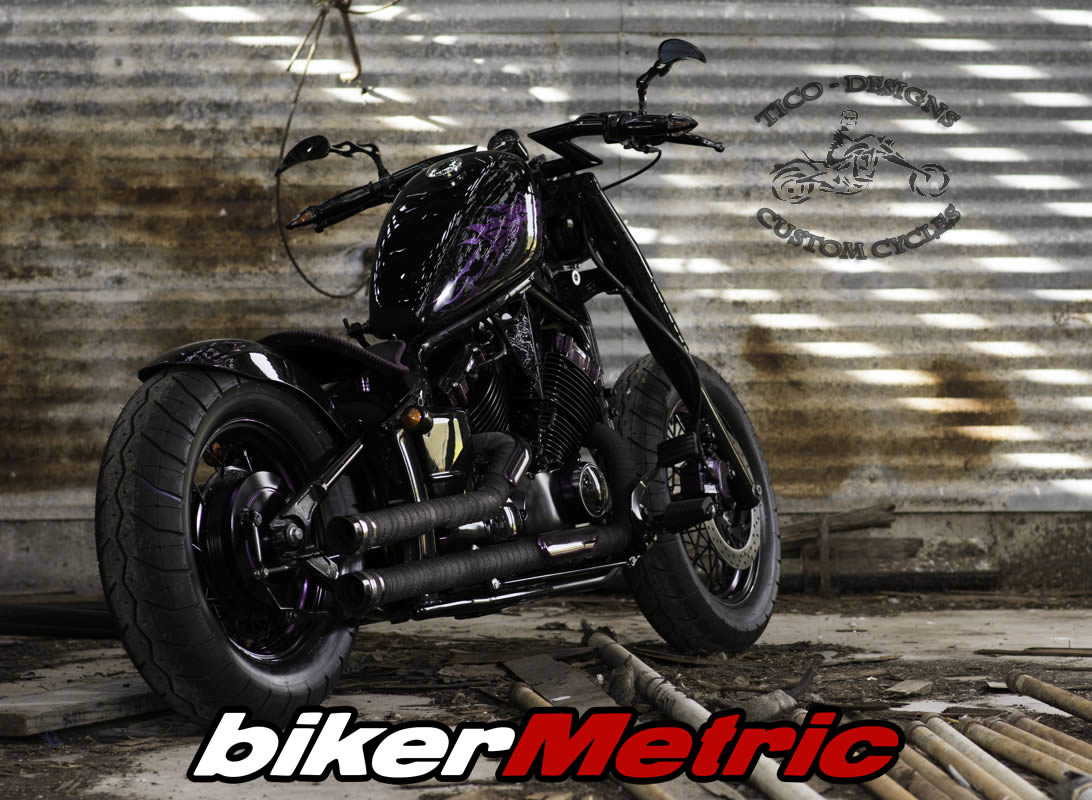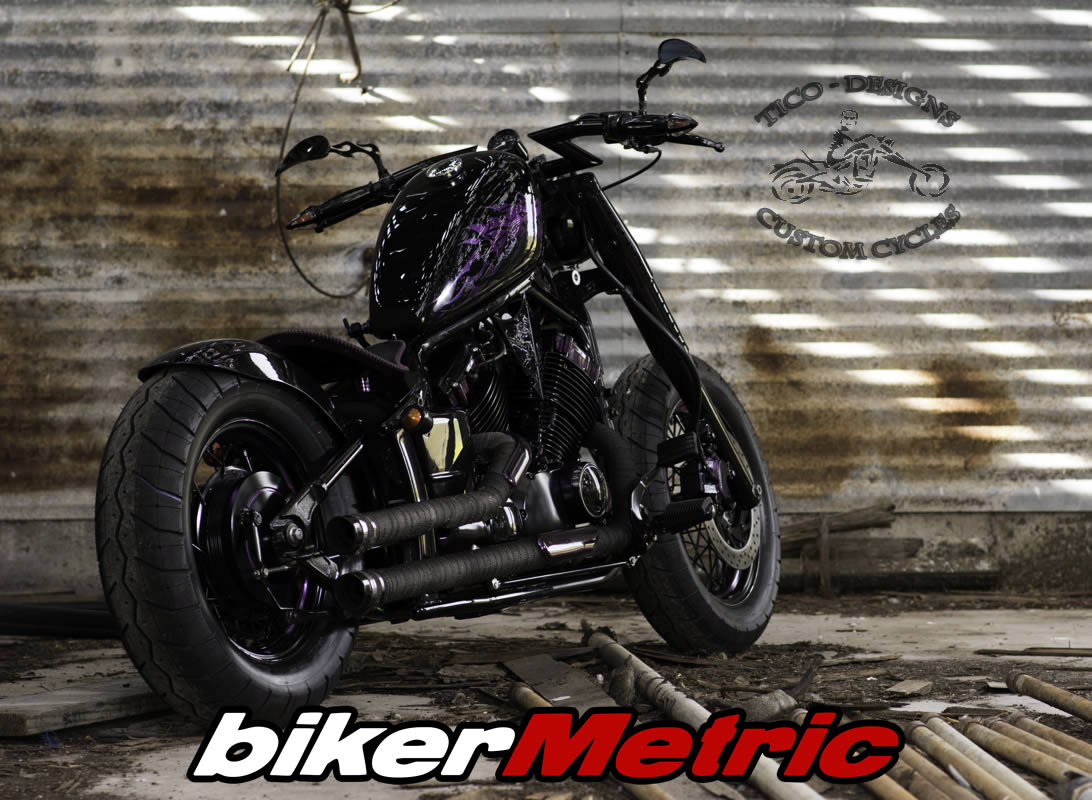 bM: Another V-Star 650 Classic bobber project. Are you starting to like these?
Tico Designs: This is a Vstar-650 Classic.
After my last project I really liked how this motorcycle offers a good canvas to start with and I was happy to find another V-Star, but this time I wanted to take it to a totally different level and did a lot more fabrication and modification to it.
bM: So just what exactly did you do?
Tico Designs: I guess the question should be what wasn't done to it? That being said, here is a good try to enumerate the work done. Absolutely all work from Metal Fabrication to Leather work and Custom Paint was done by yours truly.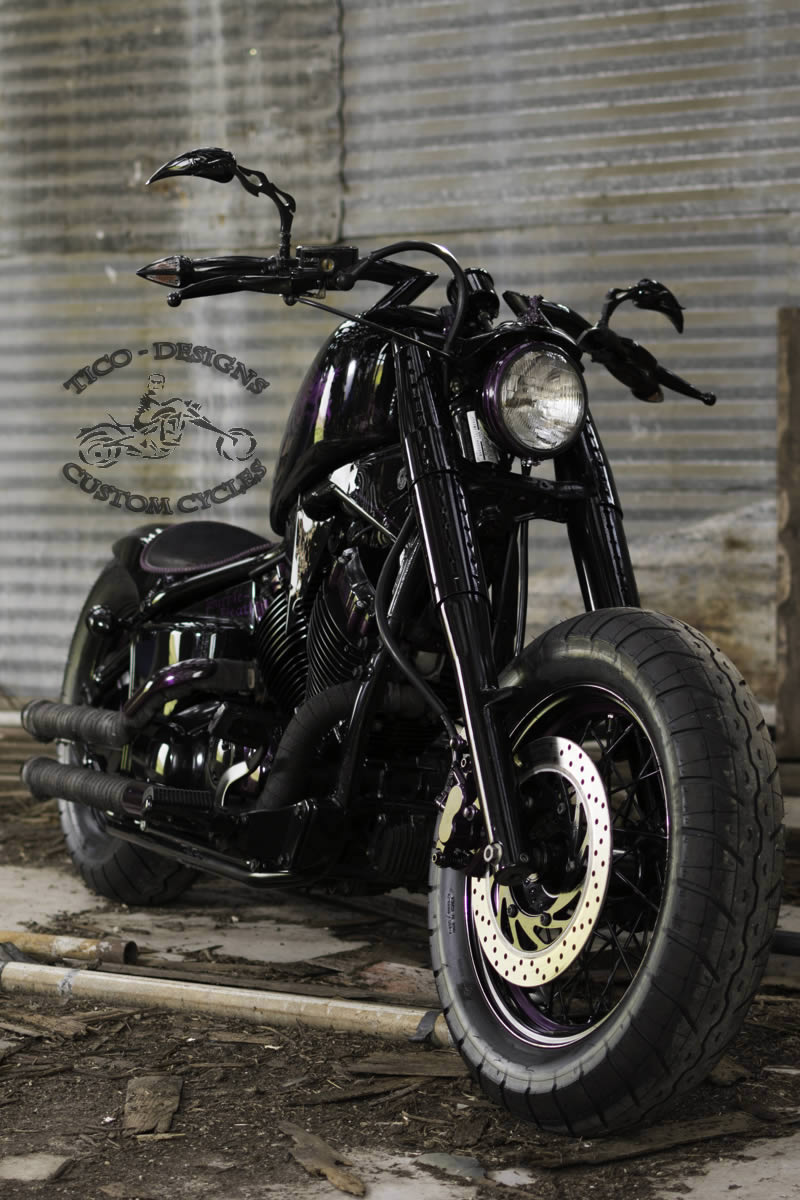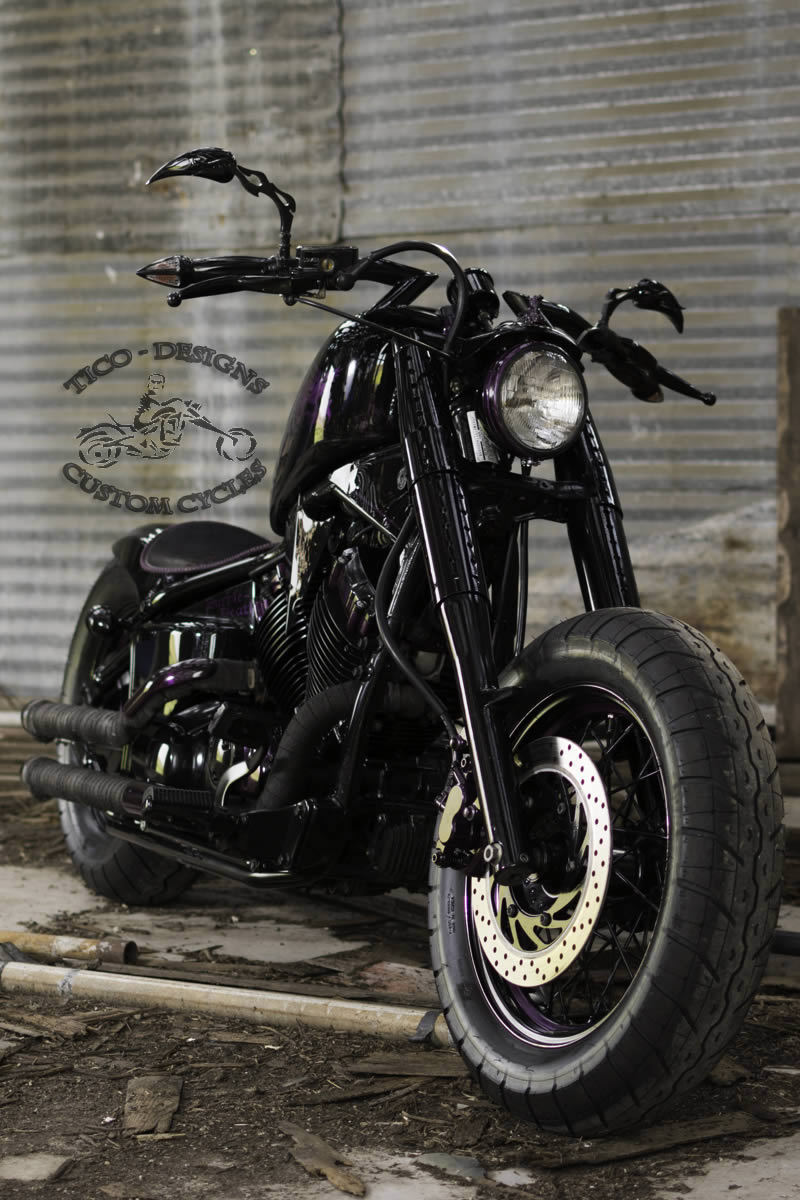 *Extended forks with drilled covers.
*Lowered 7″ in the back.
*Eliminated AIS and emissions system for a cleaner look.
*Fabricated and wrapped up pipes.
*Relocated fuel pump.
*Z bars with internal wiring for brake sensor and clutch sensor.
*Relocation of all control switches for a full handlebar clean up.
*Single throttle housing.
*Front turn-signals integrated to the handlebar grips.(internally wired)
*Customized HD fuel tank to fit over the double bone frame.
*Modified front fender to fit as rear bobber fender.
*Side mounted license plate with a custom taillight internally wired in the swing arm.
*Air intake modification using pods under that tank tunnel.
*Re-jetted carbs with 130 main jets and .25 slow jets.
*Home made Carb/side cover with an Arlen-Ness style.
*Hand tooled Leather solo seat.
*Replaced floorboards with foot pegs
*Relocated side stand and replaced it with a modified XVS1100 side stand.
*Mini speedometer mounted to the handlebars.
*Modified 1974 Harley AMF headlight.
*Flame Mirrors
*Brand new tires
*Blacked out all chrome from engine etc.
*Custom airbrush paint job *Jet Black & Candy Purple
bM: Purple Death? What up with that?
Tico Designs: LOL. That was my 4 year old son named it… After a mean Dragon out of one of his books called The Purple Death. I liked the idea and started to work from there. Five months later the Purple Death Bobber was born.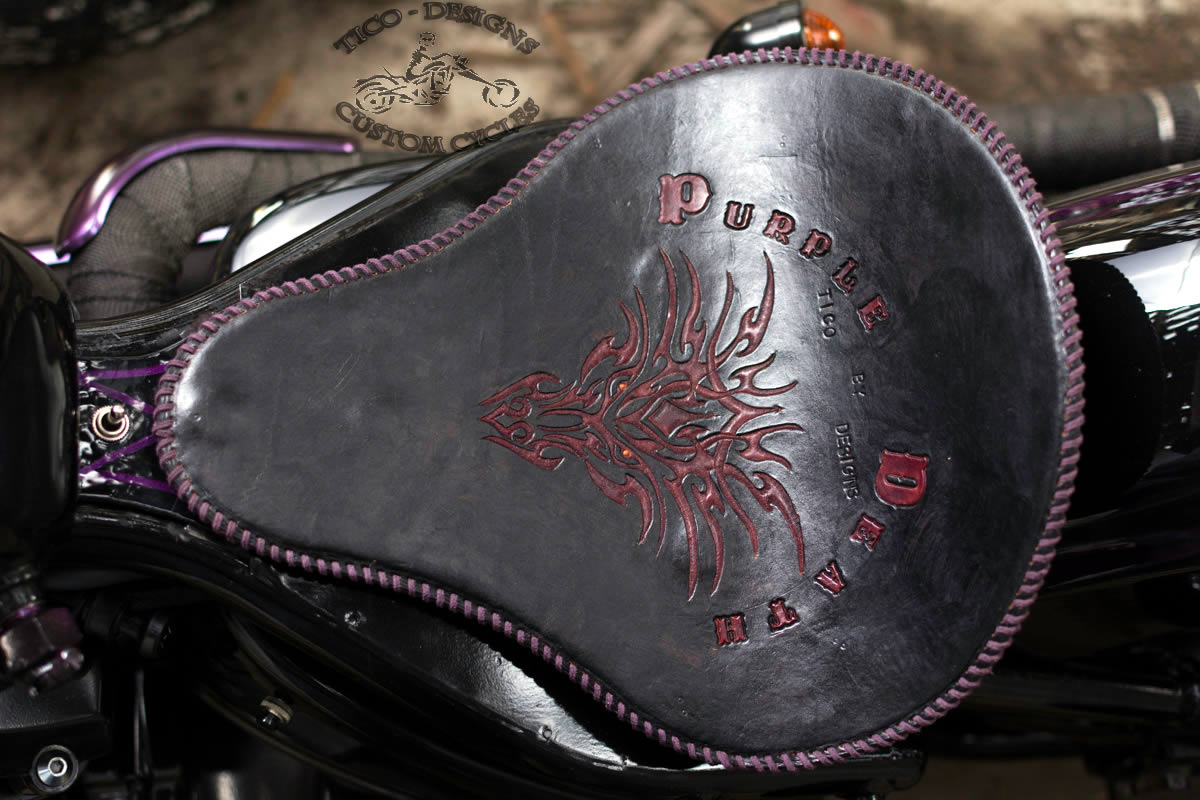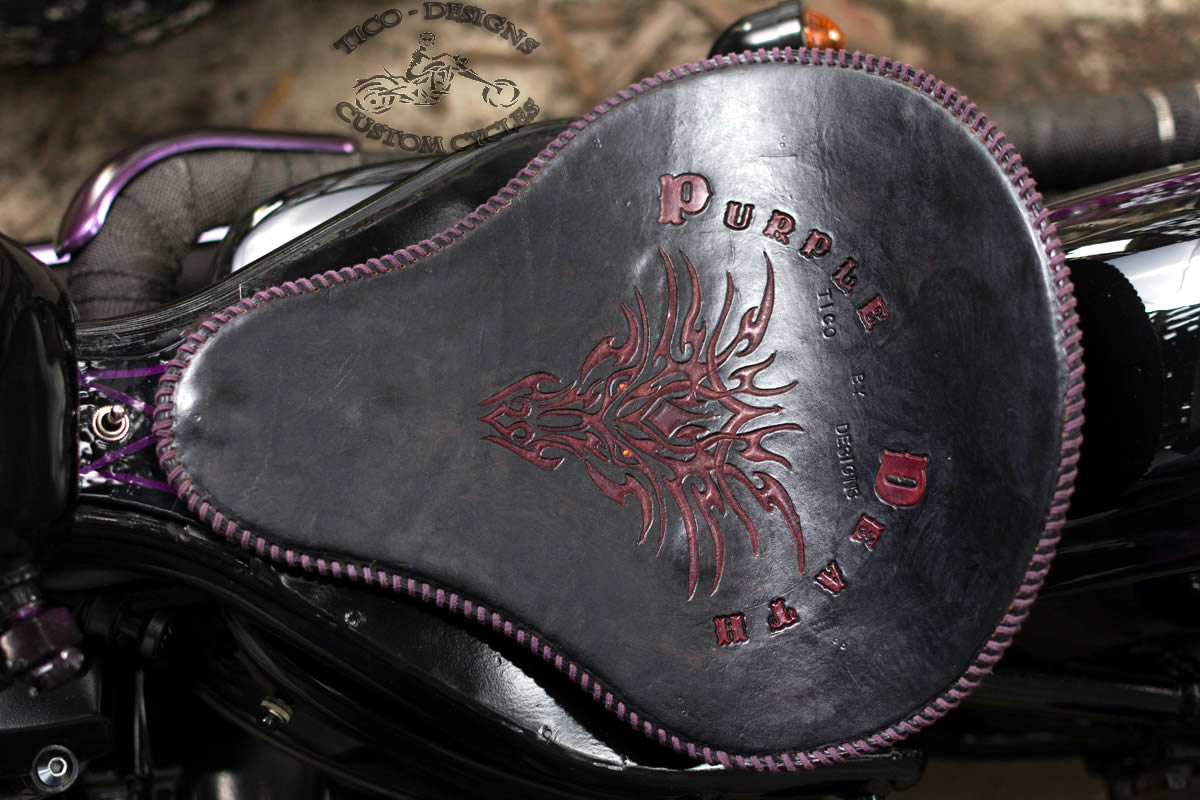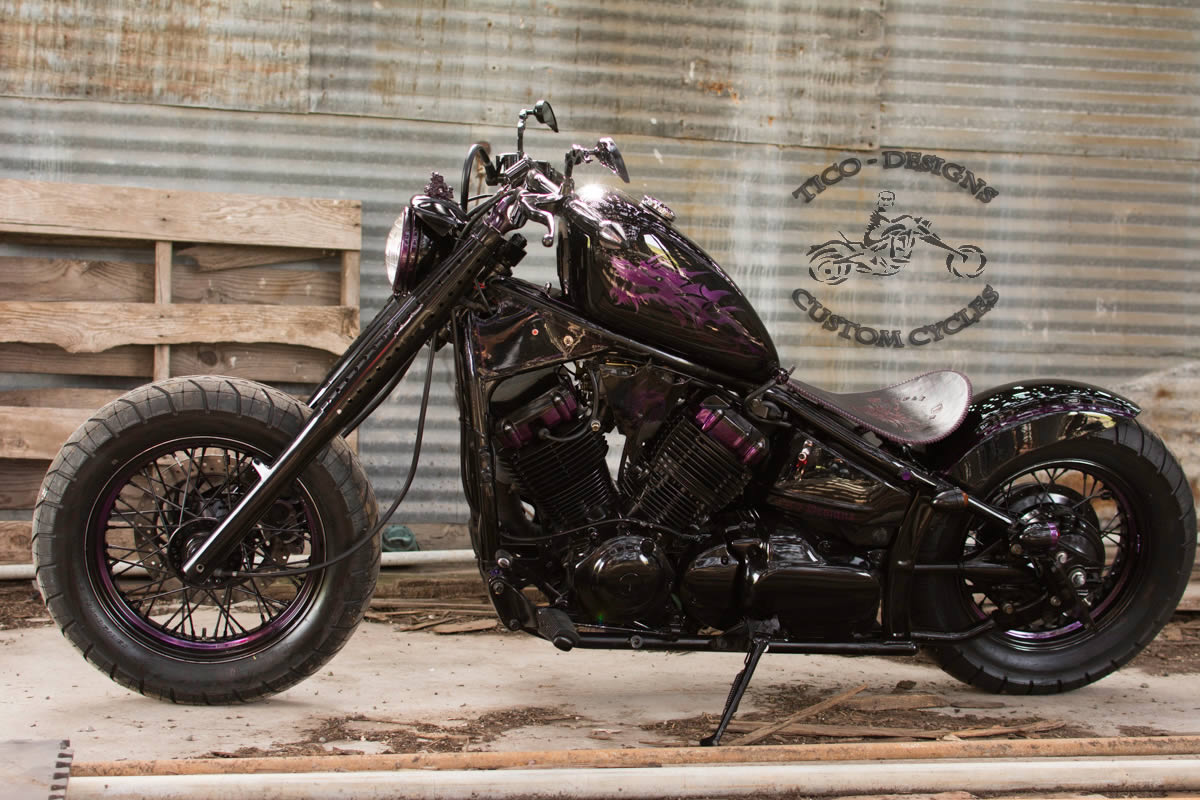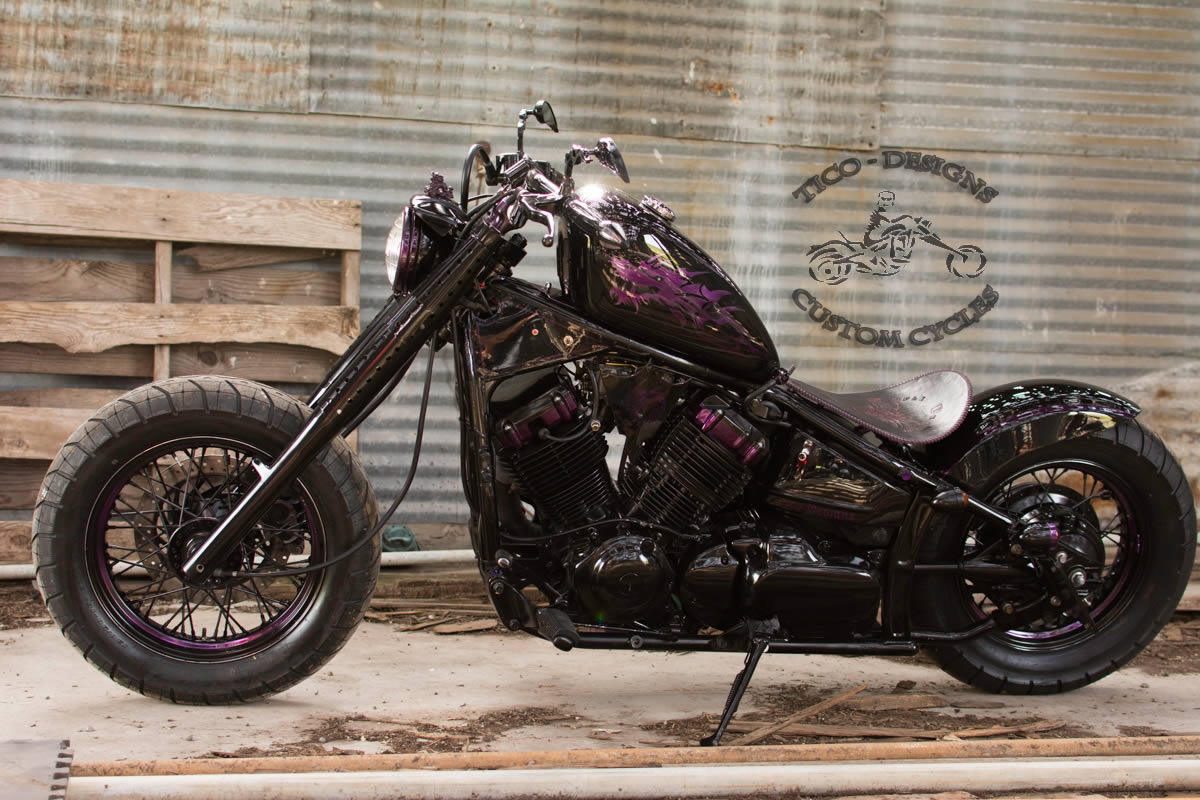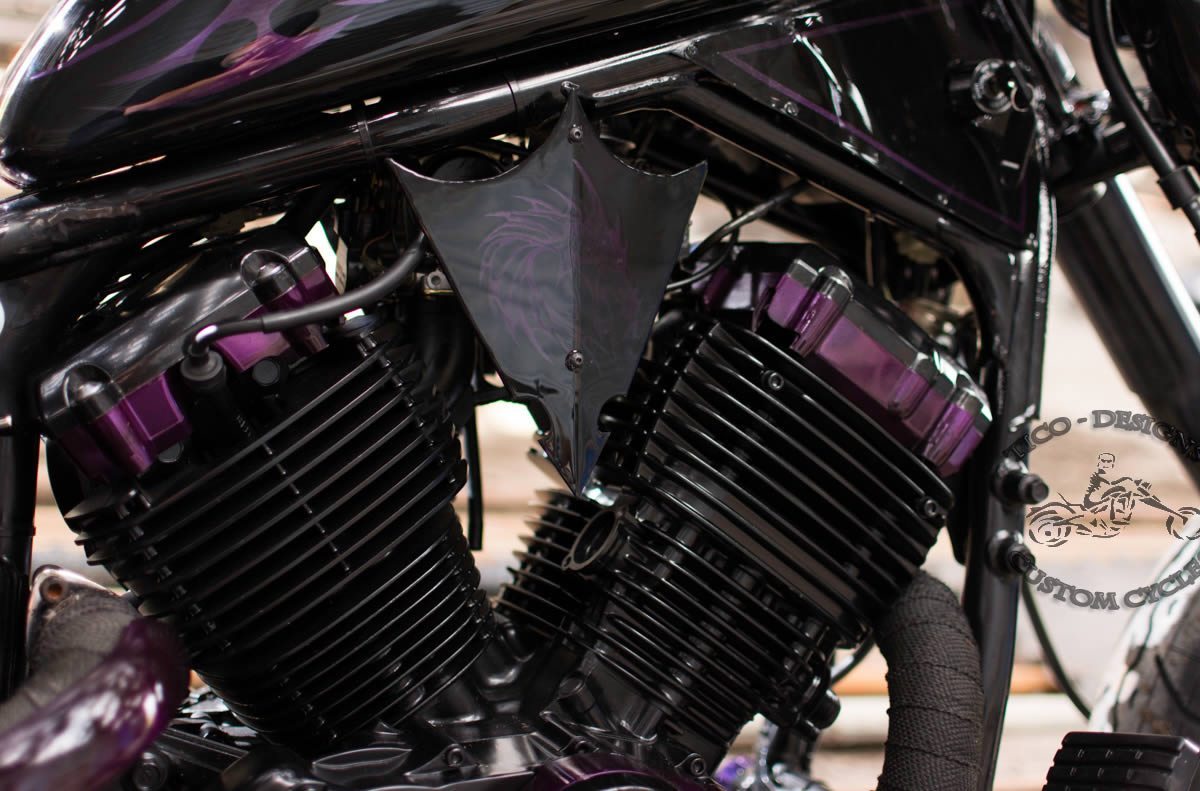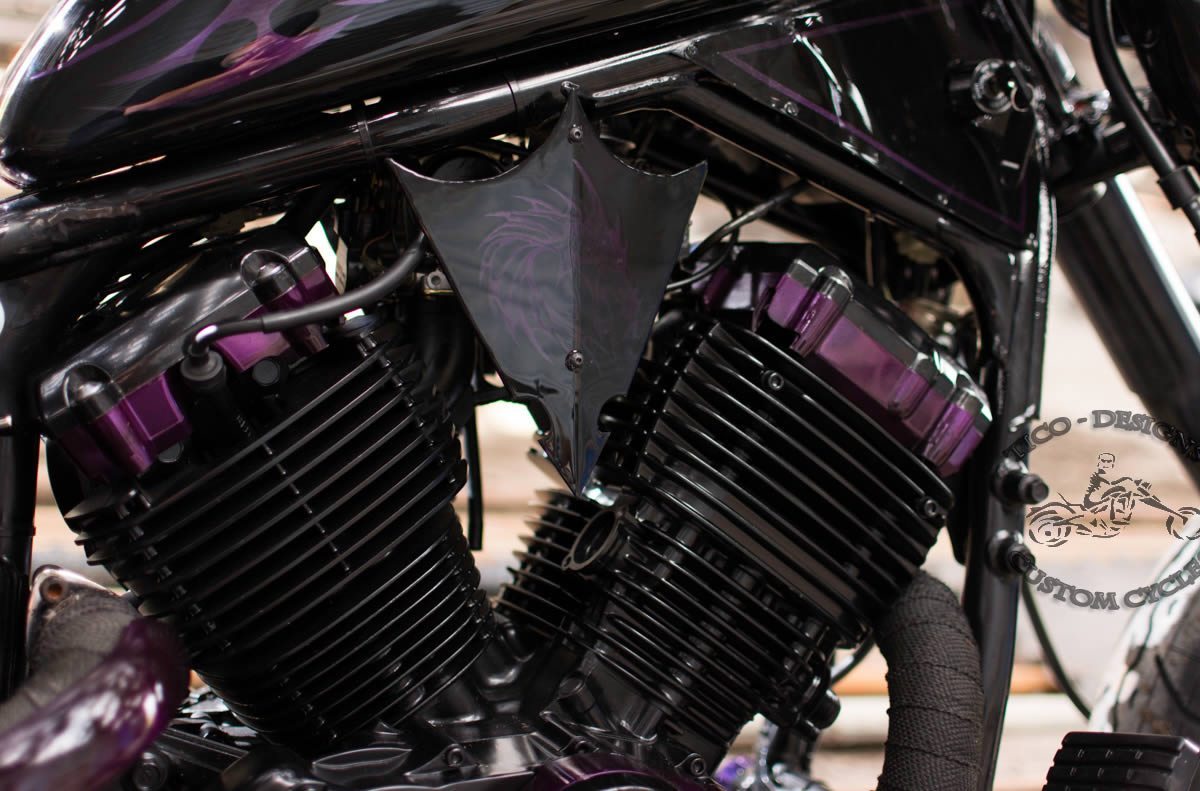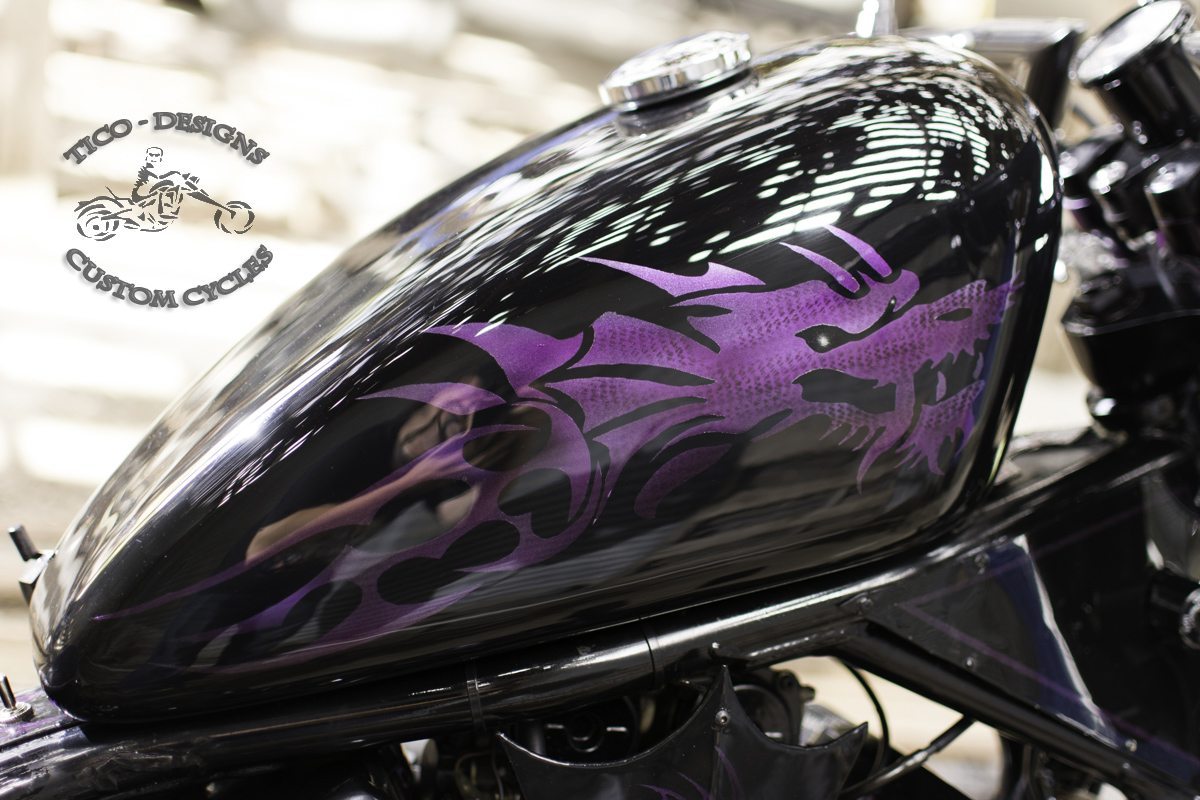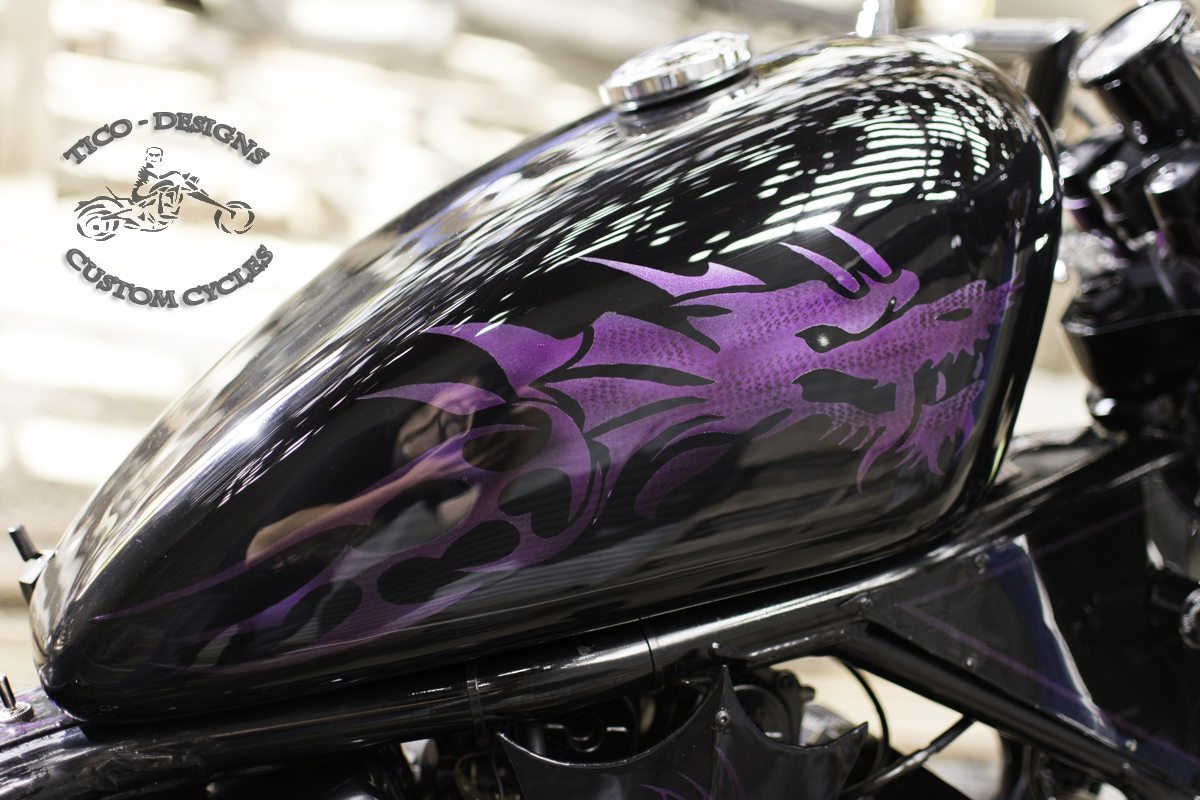 bM: What's next?
Tico Designs: I've done the bobber deal and I loved it but now I want to go to the other extreme and build a mean Bagger out of a regular metric.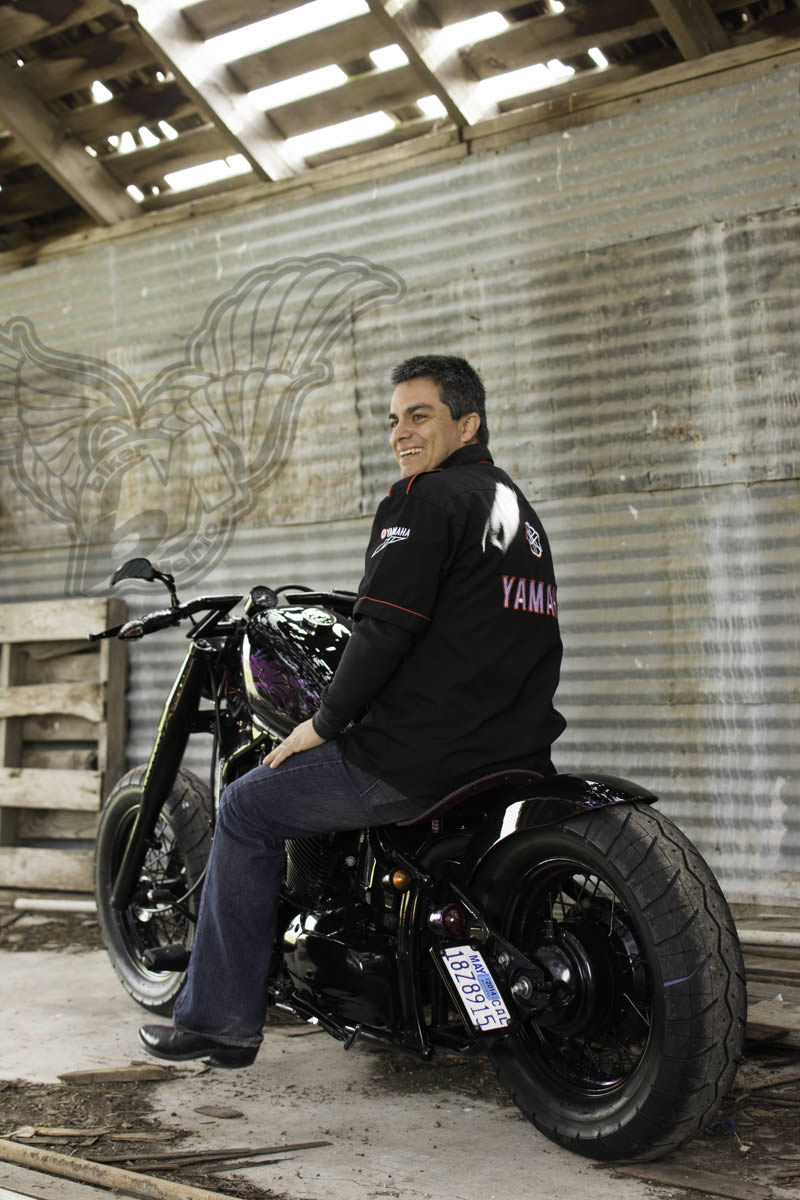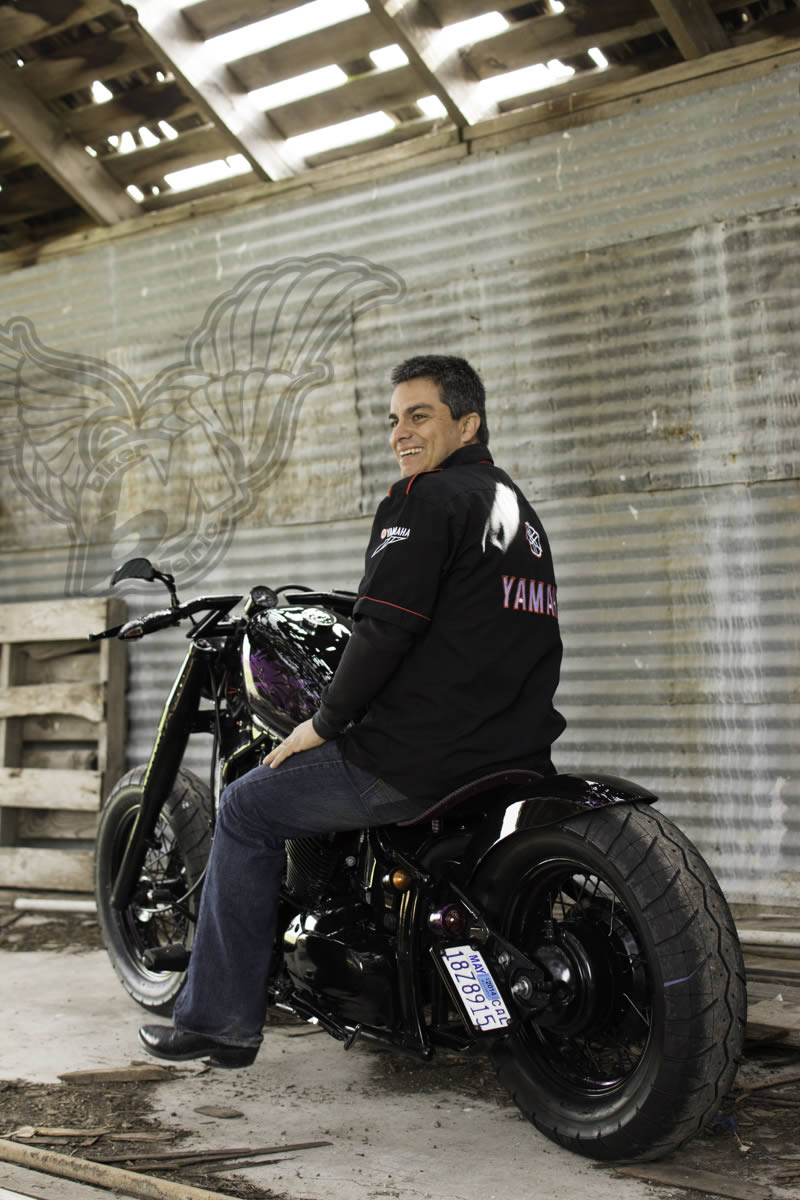 bM: Last chance on the microphone, what's on your mind?
Tico Designs: Thanks to Adrian & bikerMetric for the chance to show the Purple Death… Love the job you do!
Also thanks to Oscar Campos Photography at www.oscarcampos.com for the great pictures.
If you want to see more pics of this and other bikes check out www.tico-designs.com

Get the best of

biker

Metric

directly in your inbox, once a week, every week.