My name is Ryan Brannon I live in Friendswood, TX just outside of Houston. I am a Machinery Technician in the u.s. Coast Guard. I don't have any cool stories just a dude in his garage with a welder, grinder and a paint gun.
I wanted another motorcycle but was low on cash after me and the wife had a kid. I looked around and found some websites, bikerMetric and Chopcult mostly. I found a Yamaha V-Star that was someone's project and scored it cheap. The tank was missing paint and rusty, and the carbs were gel inside. I cleaned 'em up and got her running and then started tearing her down.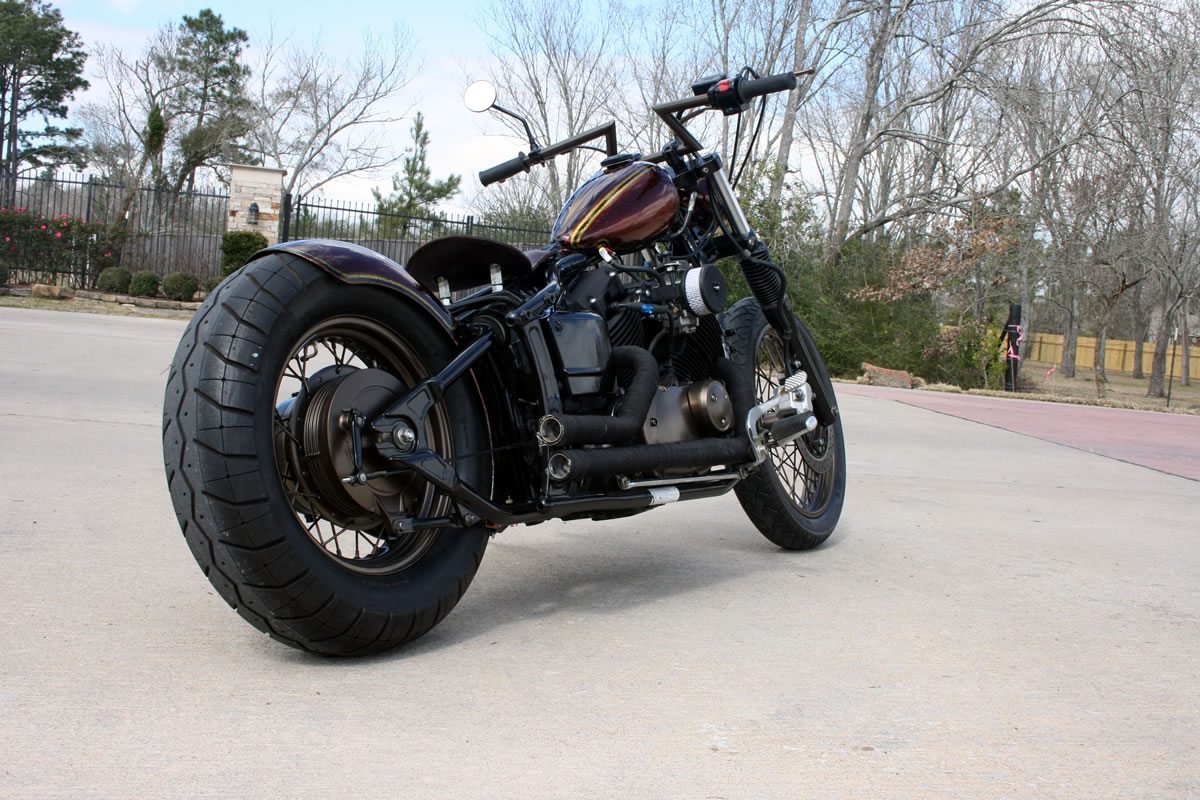 I came across pictures of Yamaha V-Star 650 bobbers with a single backbone and different tanks and knew that's what I wanted so I ordered up some tubing and cut out the stock backbones. I welded in a single backbone, made the 2 into 1 intake, put a single CV40 carb on it, built the exhaust, bars and coil mount. Ordered a contour fender from Led Sled (tank of a fender btw) and mounted it over the rear tire. Next up, installed an alien tank and had a bunch of stuff powder coated.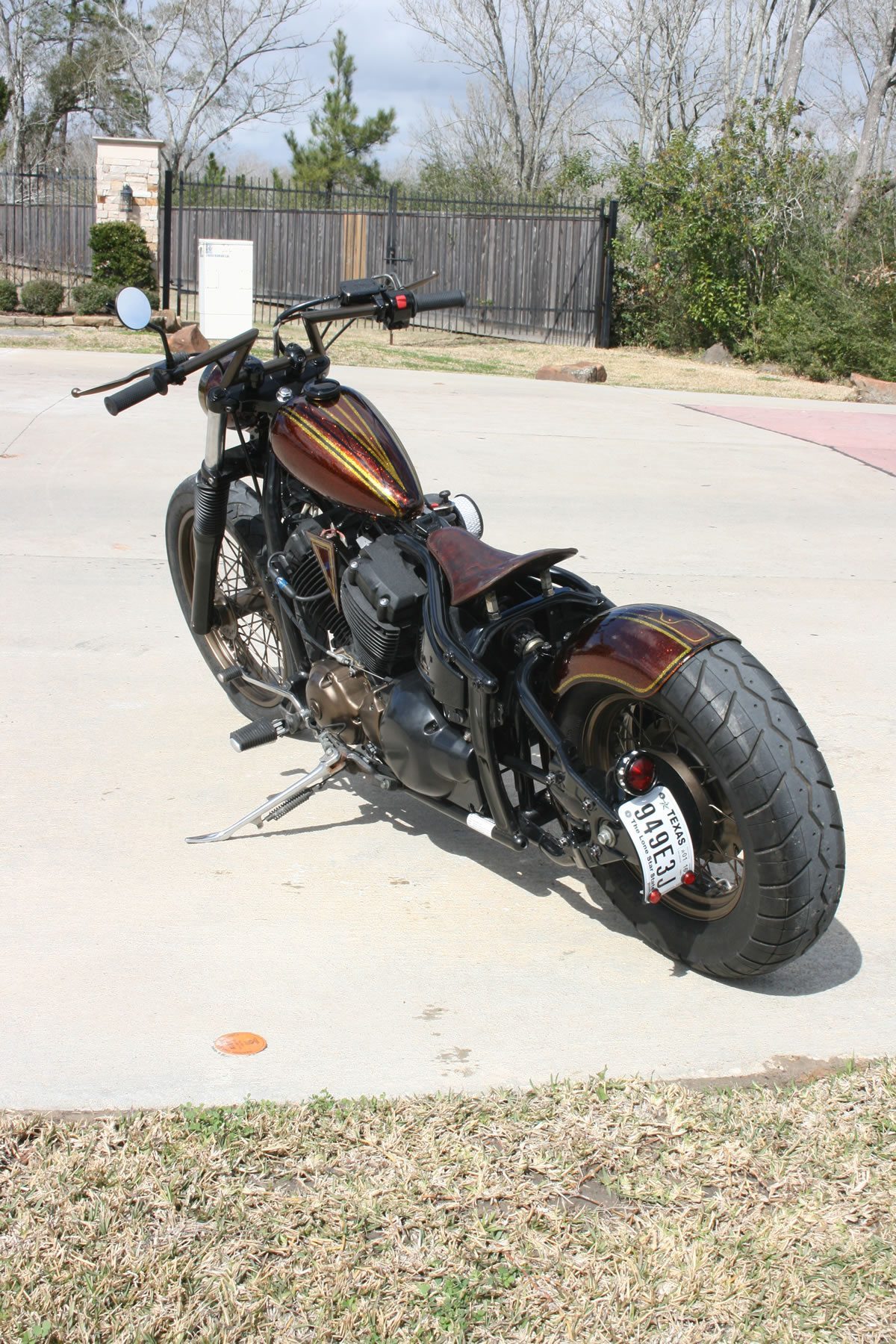 Then I went back to the websites and forums for paint ideas. I had painted a couple hoods and horse trailers before so had a little experience. I found some really cool ideas that used heavy metal flake and candy colors so I ordered some HOK root beer and pegan gold candy along with the flake and went to town. I think it came out really good for my first flake and candy job. While the paint was drying I cut out some leather and tried my hand at tooling leather. Then padded and wrapped the seat pan and glued the 2 sides together. I had a local shoe shop sew them together and then I dyed it and put it on the bike.
I think my favorite thing on the bike is the paint. It was a big PITA with all the different layers but it was worth it, the metal flake goes EVERYWHERE by the way.
It is for sale, I'm not advertising but if someone wants to give me $5,500 for it I will build another. Until then I'm going to enjoy it and ride the **** out of it.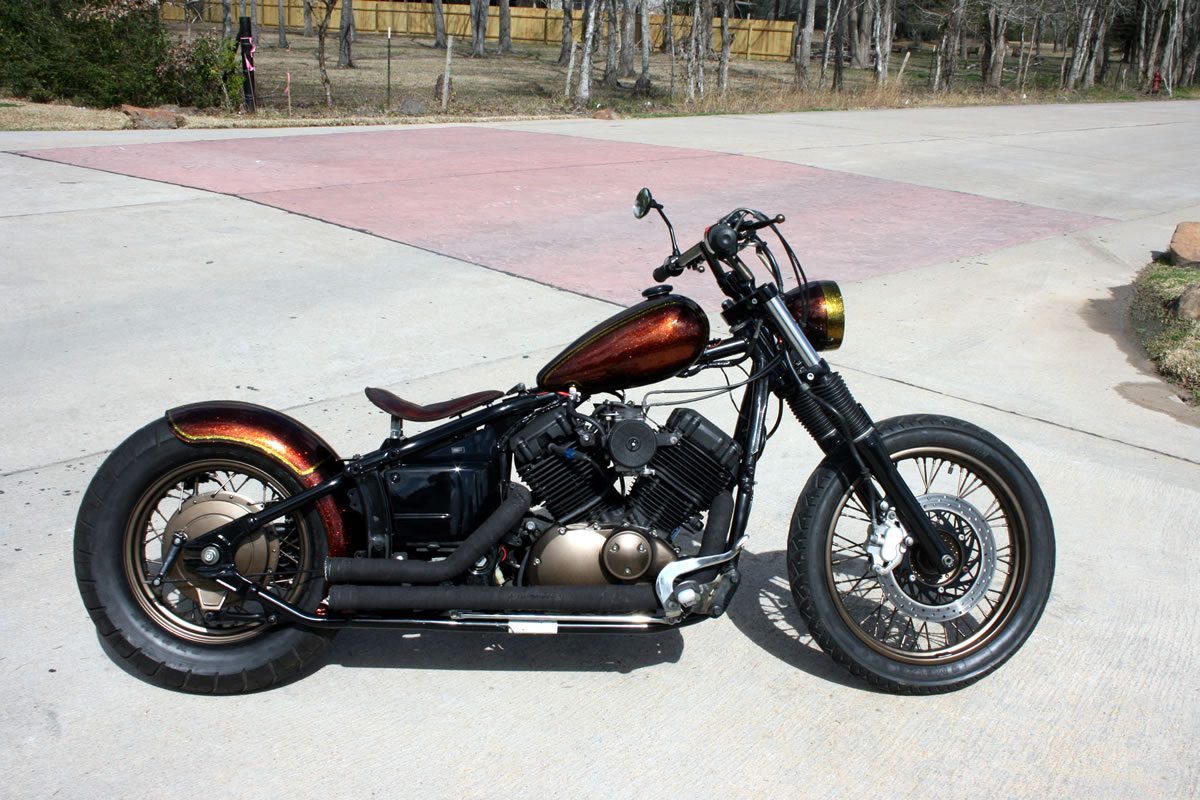 The next project I think will be something bigger maybe an 1,100 or even the 1700. I love power you can never have too much!

Get the best of

biker

Metric

directly in your inbox, once a week, every week.