Benjamin Hinkle spent six months of his free time in his garage. He bought a 2007 Yamaha V-Star 650 for $2,500. It wasn't running at the time, but has gotten the works ever since.
"I've never built a bike so I had watch tons of different videos and read tons of forums on different things to do." Benjamin said. "Most people in southeast Missouri build Harleys. So getting parts and opinions was a bit tough." But it all came out looking great.
bikerMetric: Tell us a little bit about yourself.
Benjamin Hinkle: I'm Benjamin, from Poplar Bluff Missouri. I'm a Department Manager 1st Assistant at Menards and a military veteran with a tour to Iraq under my belt.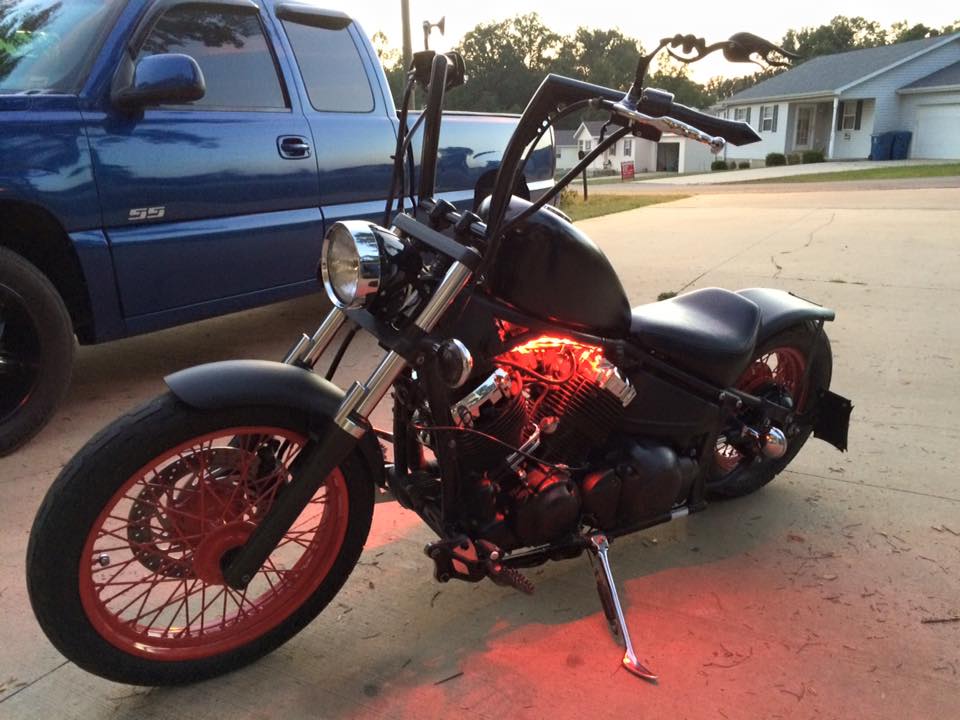 bikerMetric: That's awesome. Thank you for your time in service. What inspired you on the build?
Benjamin Hinkle: I wanted something completely different than anyone's bike around SEMO and I hate anything stock.  I researched the internet and youtube for months finding different ideas but couldn't find exactly want I wanted. Finally I decided to go with a bobber style and with a paint scheme of an old hot rod. I wanted to do it all myself and keep it under $1000.
bikerMetric: What kind of shape was the V-Star in when you got it?
Benjamin Hinkle: The bike had been sitting for years.  It had around 4,000 miles on it.  The carbs were shot and the tank was dented and from another bike so the paint didn't match.  I bought the bike for $2,500 and knew I wanted to change it up immediately but I had a budget so I had to do everything myself plus had to keep the girlfriend happy.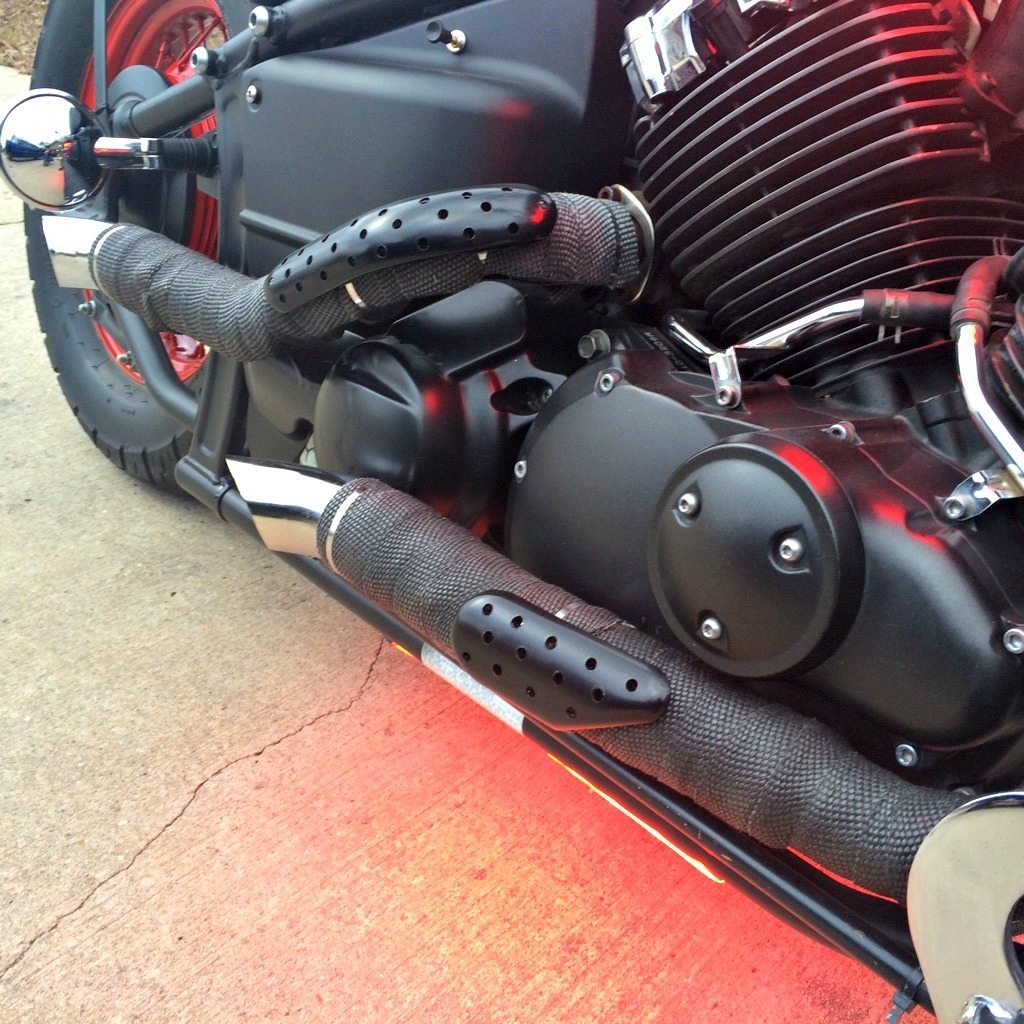 bikerMetric: You mentioned doing a metric custom build in the south was a little rough.
Benjamin Hinkle: The bad thing about buying a metric in Poplar Bluff is the simple fact no one carries parts.  During this build eBay became my best friend. First I got the bike running.  I purchased a set of carbs, cleaned the tank, changed the oil, new plugs, and a new battery. Once she ran good I tore her apart.  Took the rear fender off and replaced it with a new one.  Lowered the bike 4 inches by moving the shock mount. Removed the old tank and air box and put a sportster tank on. Added 4″ forward control extensions and dirt bike pegs. New handlebars, mirrors, levers, and grips. Relocated my rear turn signals and license plate.  Used LED strips for my rear brake light and running light. Smoked out my lenses. Cut my exhaust pipes and wrapped them. Re-jetted my carbs. Painted my rims, frame, engine, tank and fenders. Added LEDs under my tank. Now no one believes me when I tell them its a V Star. She runs, sounds, and rides great.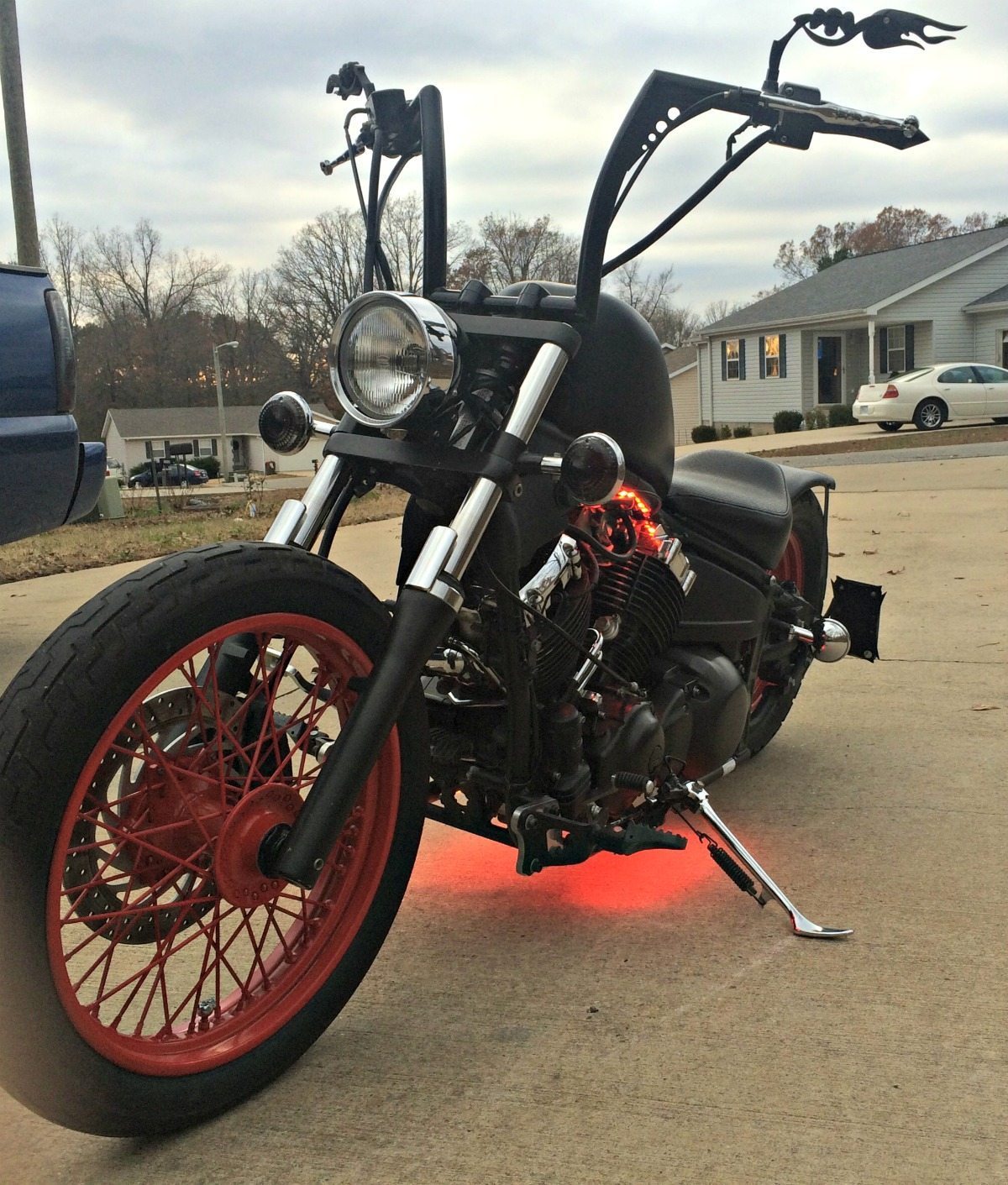 bikerMetric: You got really hands on with this build. What was your favorite?
Benjamin Hinkle: The paint scheme and the fact I only spent $800 on my build.
bikerMetric: Way to stretch a buck. What's your least favorite mod?
Benjamin Hinkle: Sharp pointed grips.  They tend to hurt when you run into them.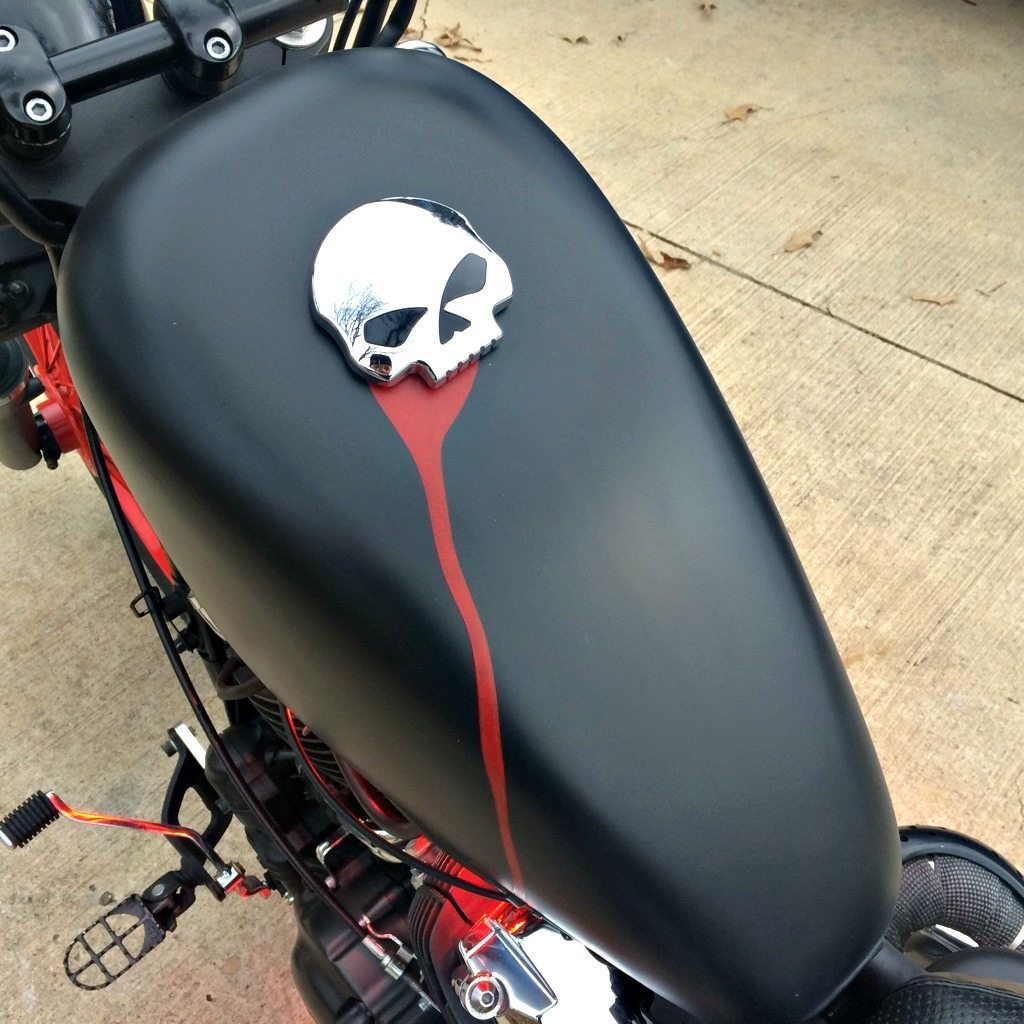 bikerMetric: Are you selling?
Benjamin Hinkle: No. Girlfriend won't let me.
bikerMetric: We like this one. She can stay. Any plans for a next build?
Benjamin Hinkle: I would like to build another metric… maybe a café racer.
bikerMetric: I heard you've picked up some awards.
Benjamin Hinkle: As of right now my bike has placed 1st twice in the metric class and 3rd in the custom class.  It's always fun beating $20,000+ bikes with a $3500 bike.
bikerMetric: 'Attaboy, Ben. Anyone you want to give a shout out too?
Benjamin Hinkle: Shout out to my girlfriend Shannon Sisson for letting me build this and use the garage while doing it and to Mark Tilley who pushed me into getting a bike.
bikerMetric: Where an readers find you?
Benjamin Hinkle: Readers can find me on Facebook, on Youtube where I have videos of my bike on there and will gladly tell anyone how I did my mods.  Also I attend every charity Car/Bike show I can in SEMO.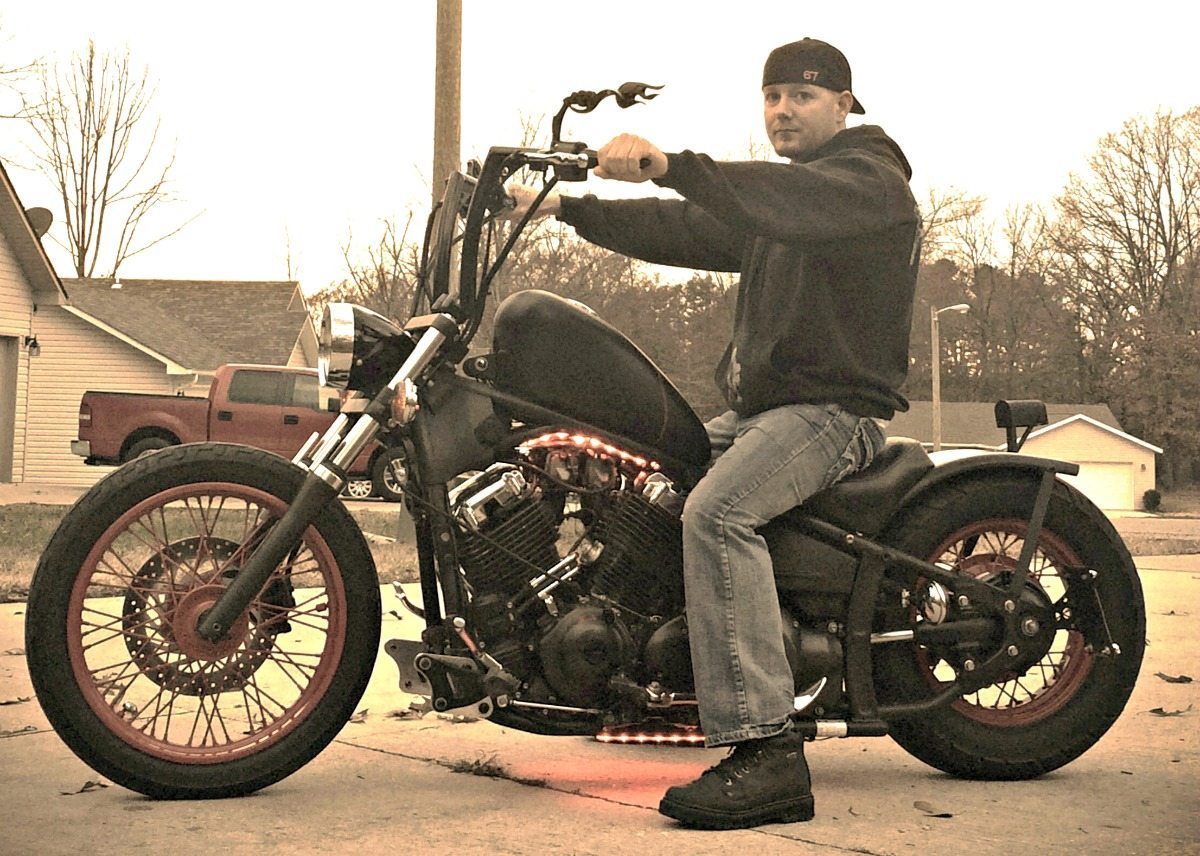 Get the best of

biker

Metric

directly in your inbox, once a week, every week.