In 1989 Matt Fuller was just a wee lad. At the tender age of 5 years old, his learned to ride a motorcycle. It was a Yamaha Y-Zinger 50 that his father borrowed from his work. He's loved bikes ever since. Before long Matt began taking things apart and putting them back together to see how it all worked. Soon after he started doing his own motorcycle maintenance before going away for weekend motorcycle trips.
Fast forward to 2008 and Matt was riding street daily to get around. Not long after he broke his leg in an accident and began racing supermoto in the southeast. Today he continues to race flattrack and a hare scramble for fun and sport.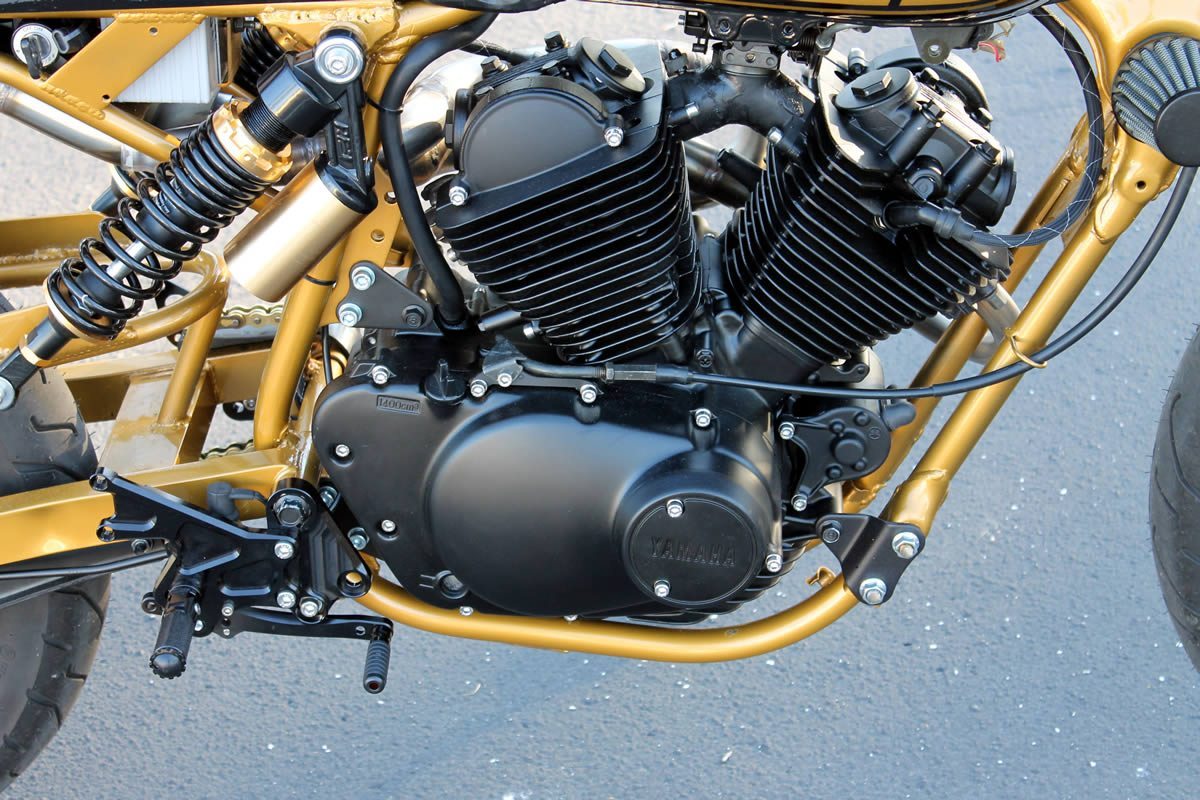 Matt enjoys painting, powder coating, and fabricating custom race bikes, and this love has translated into the custom builds that he's created.
This build started as a simple 1997 Yamaha Virago 250. It's a bike a lot of new riders fall in love with at the MSF training classes. The wheelbase was de-raked to 24.5 degrees and the wheelbase shortened 4″. The subframe and swingarm are one-off builds.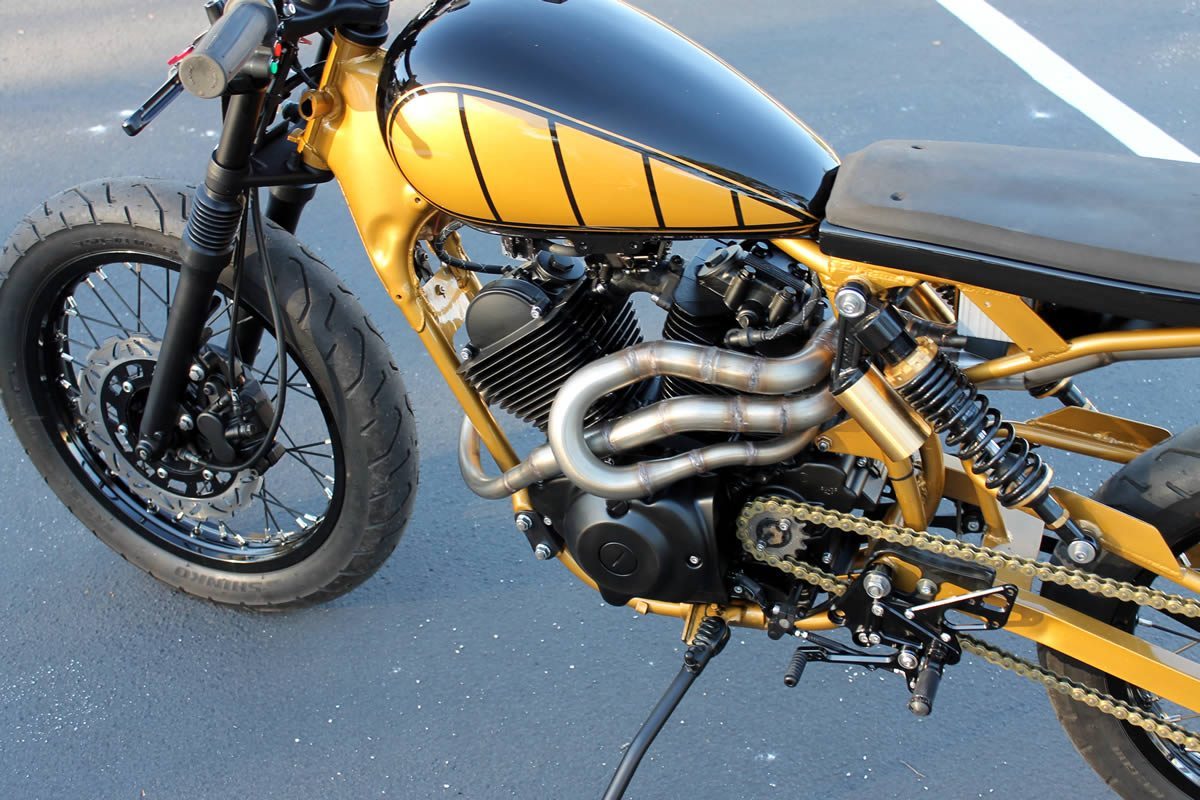 The sound comes from custom made exhausts and sounds "incredible." The bike breathes through a downdraft carburetor with a factory velocity stack. Matt used some "some less than boring factory camshafts and two fairly high compression ratio cylinders." Exhaust escapes out under the seat tail pipes.
The paint completes the retro Yamaha look, and the 18″ aluminum motocross wheels add to the pop that sets it apart. To maintain a proper riding stance, a pair of aluminum rear sets were modified from a street sportbike, and a set of flat bars were added too.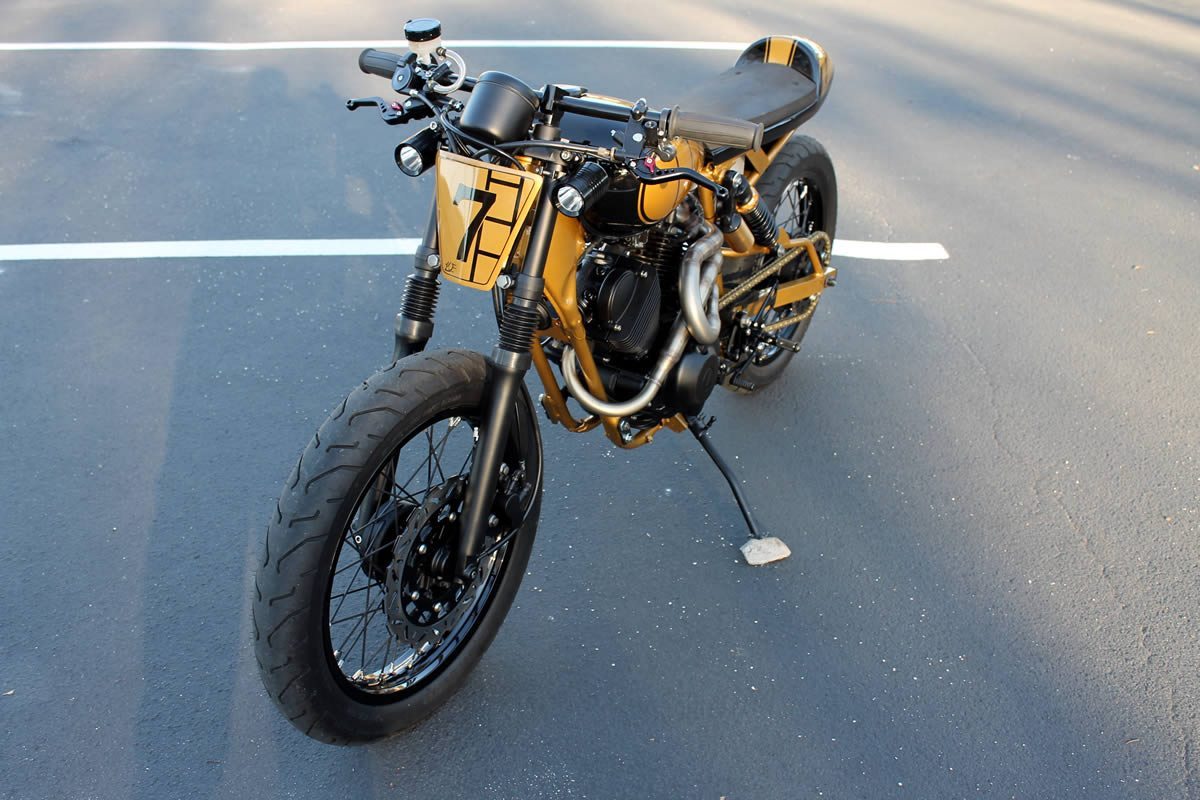 The concept behind the whole thing was to build a nice small displace v-twin. Racing supermoto and flat track meant that Matt has always been Yamaha. He's a shop foreman at a large Toyota dealership. "Toyota being a co-owner with Yamaha makes the Yamaha brand easy to understand, along with their constant quality standards."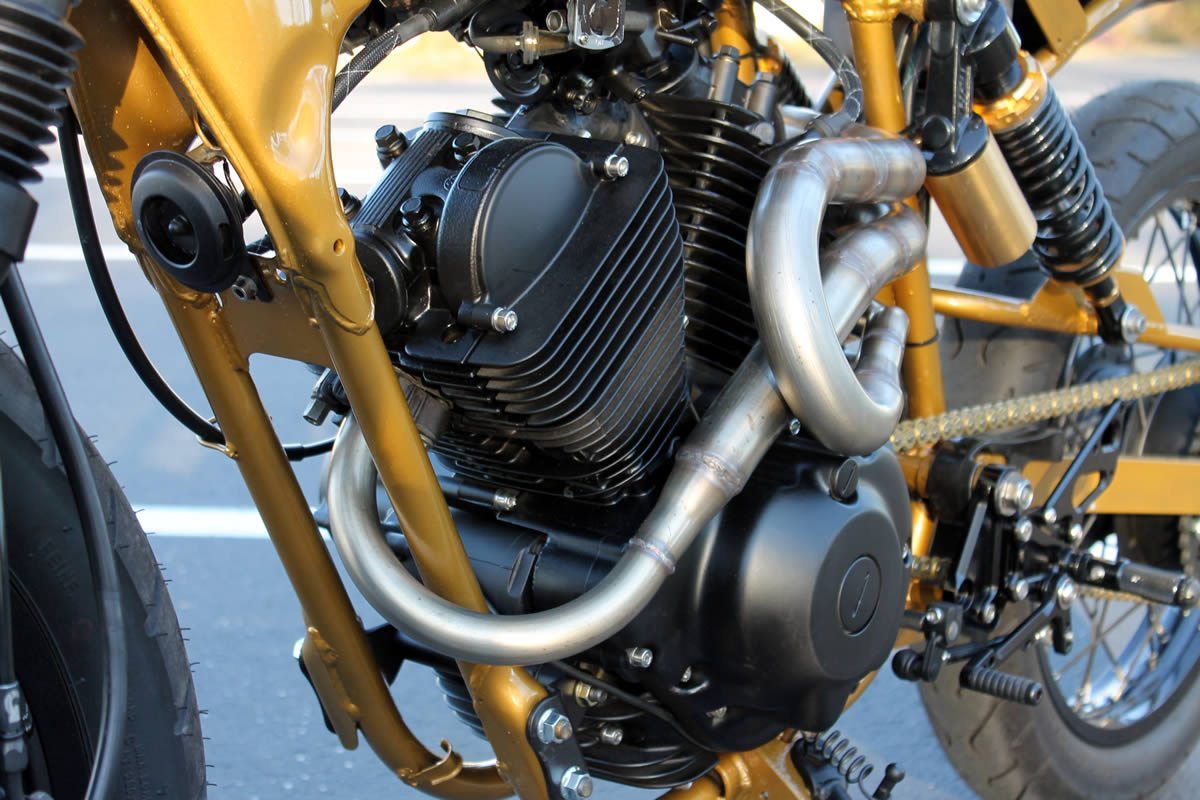 Part of the idea behind the build was the longing for the sound. "I knew I could get that v-twin sound that people love." But the exhaust is what he loves best, and the lines were the biggest challenge.
"The frame back bone is an air intake plenum under the tank. So the tank has to have at least a 4.5″ tunnel so either you build a tank or make the stock one look good." Matt opted to make the stock tank look good. "I matched a fiberglass tail with a custom subframe."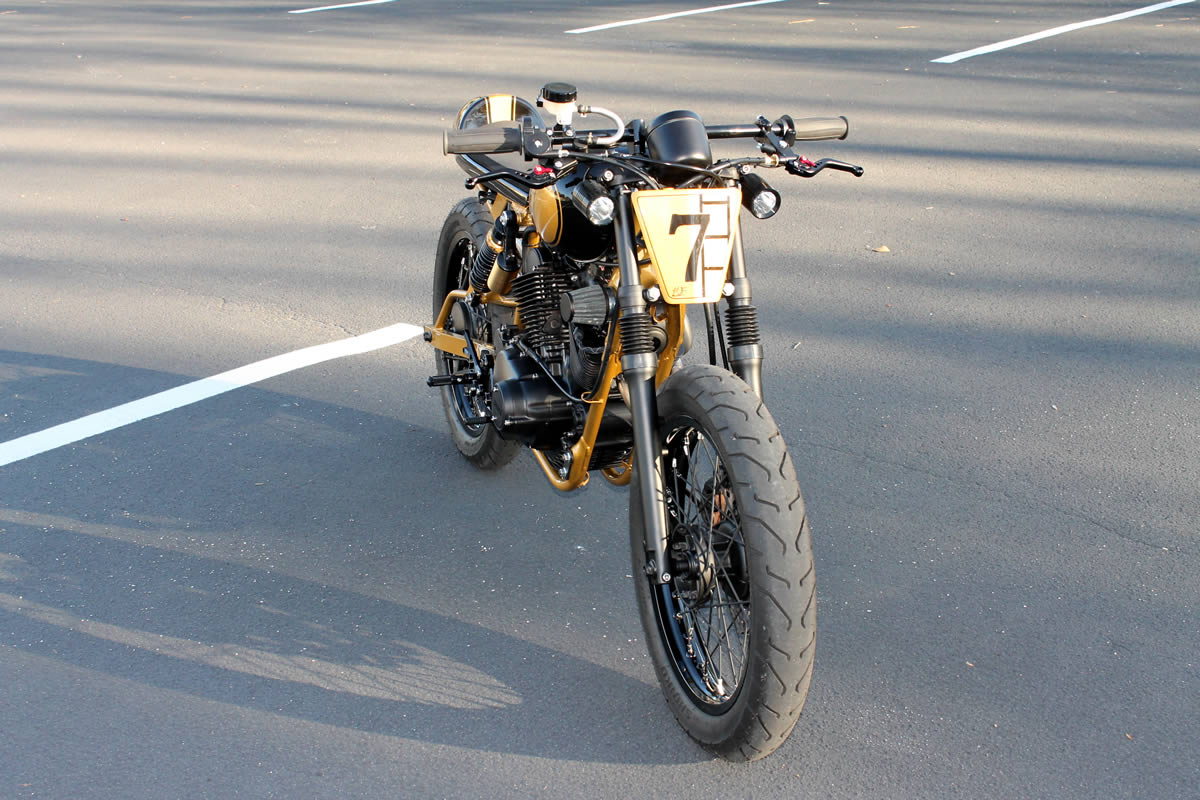 He didn't just do one build either. "I purchased two of these bike in great shape with low mileage in one day but from separate sellers." said Matt. "The second bike is completed also. It is a hard tail bobber with the fuel tank under the seat!"
Whether it's racing or building an affordable custom motorcycle, bikes are Matt's passion and always be. The custom yamaha vstar is currently for sale for $4500. You can contact Matt directly at 813-494-2663 or checkout Wildturkeyfab on Facebook.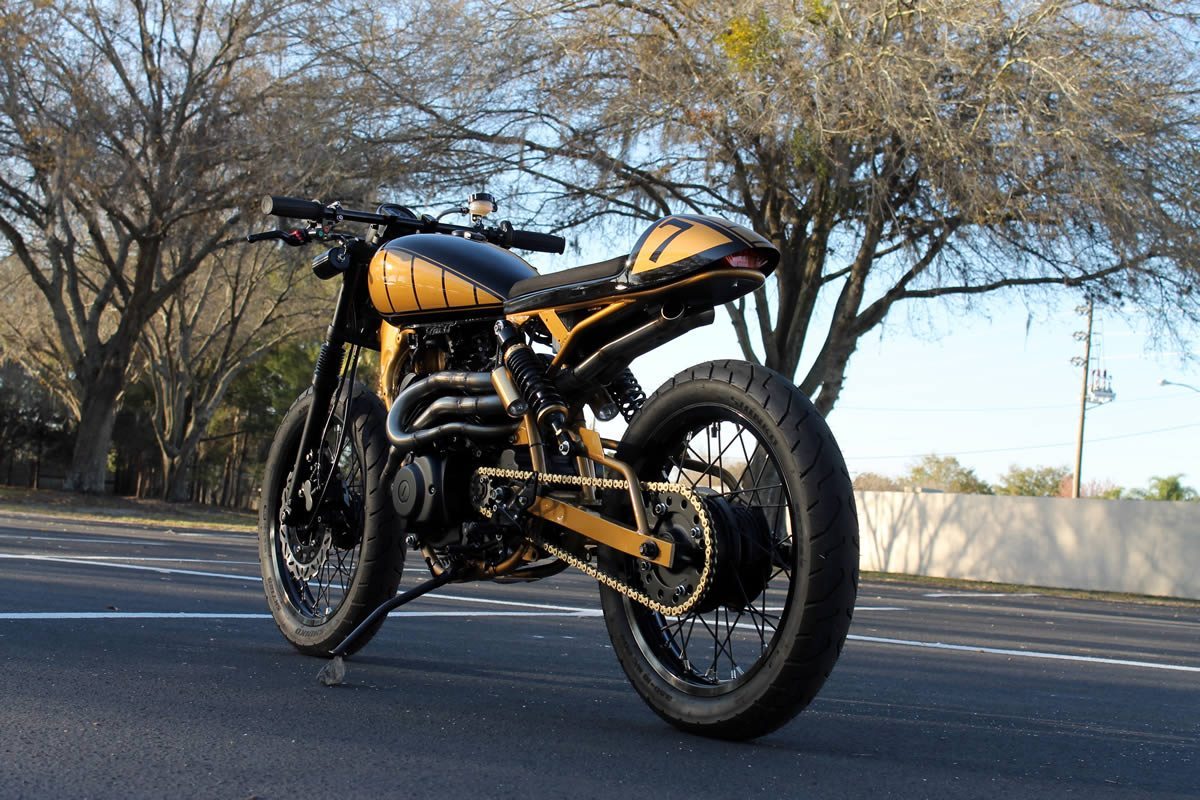 Get the best of

biker

Metric

directly in your inbox, once a week, every week.