Here's a long overdue post that I really should've posted a long time ago, but didn't. Sorry Francesco.
Warning: This post contains two of my favorite things in life. Motorcycles and Italian babes. If you can't handle that, run away now.
AdR Handcrafted Choppers House & MC is based in Rosignano, Italy. They've got a hella creepy website, with rain drops, the grim freakin' reaper, and red devil chicks that come out of chrome. Because why the eff not, right? We played a game of 21 questions with Francesco, Mr. Rosi.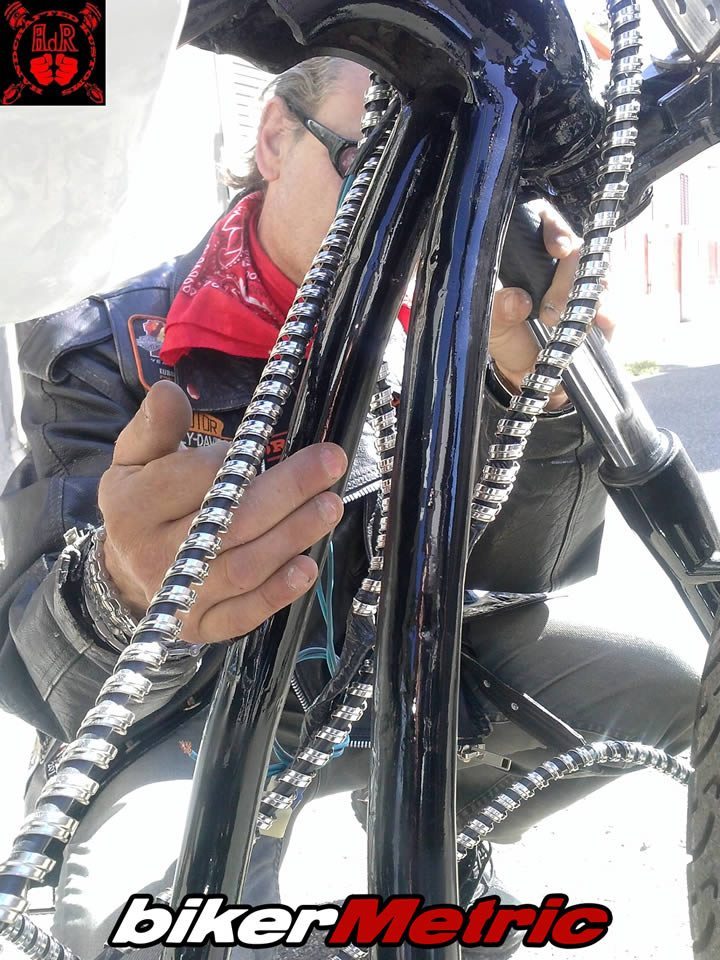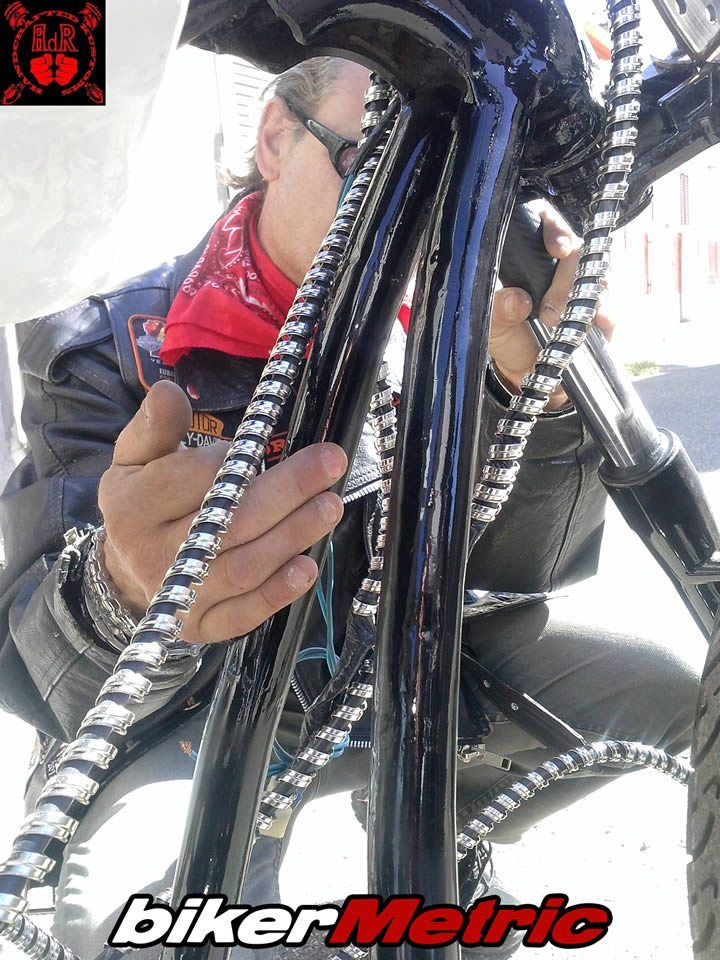 bikerMetric: What's your name, what's your story?
Francesco: My name is Francesco Rosi , my friends call me Mister Rosi , or "Archimede." For 34 years I worked on car engines and then racing bikes as a professional before doing this privately for fun. In the 90s I owned a workshop for sports cars then for the vicissitudes of life I left the professionalism to devote myself to something else. But the desire to build has never vanished, and with this desire and the help of biker friends who believe in my potential was born, ADRKUSTOM.
bikerMetric: What's the bike ?
Francesco: This Yamaha Dragstar Chopper is called " The Reaper " and was built in about four months. The base is a Yamaha Dragstar 650 (Yamaha V-Star 650 Chopper build). The bikes I build generally all have a custom seventies flavour. Look for the line or for painting or for their purpose. There are motorcycles that tell their own long forgotten stories, and I bring them back to life.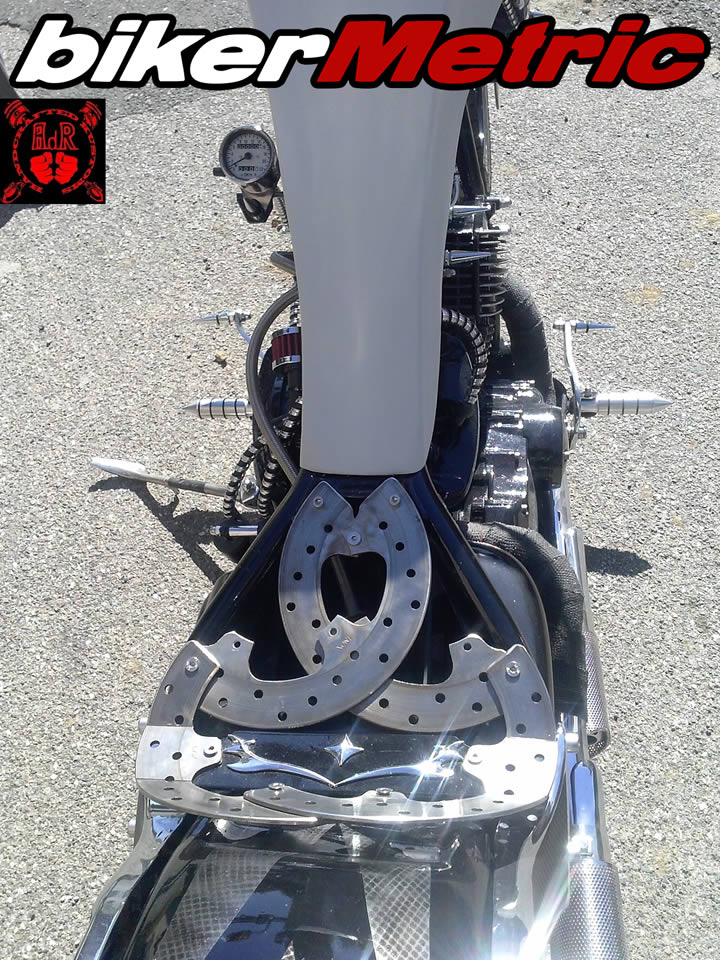 bikerMetric: Where did you get the idea for this bike from?
Francesco: The last bike we built participated in the contest "12°Rombo di Tuono" of Brescia and will be present in Lignano Sabbia d'Oro for the European Biker Week in 2014. There I have an appointment with the president of AMD. The inspiration came from the idea of a racing dragster. The height and distribution of the gritty center of gravity, low over the supply NOS, make this happen.
bikerMetric: What did you do with the bike? What modifications?
Francesco: All of the front of the chassis has been modified and redesigned with autocad and then reproduced in one-inch tubular by hand. The rear frame has been lowered to the maximum, thanks to the introduction of variable hydro-pneumatic suspension . Filter carburetors entirely hand-built to house sprinklers, NOS, electrics completely changed, as well as the drain and the front fork 10 centimeters longer than the original. The result was a much longer bike with the right proportions and background of the original and that easily gives of impression of the power that can develop.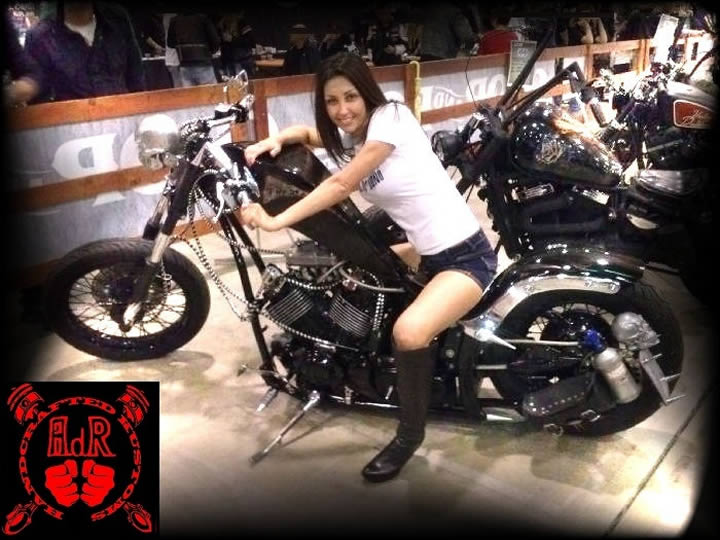 bikerMetric: What drove you crazy making this bike?
Francesco: By far the most challenging thing was the modification of the frame and the right curvature of the cradle obtained by bending by as many as 12 straight tubes shaped to make the curvature.
bikerMetric:  What other motorcycle builds have you done?
Francesco: I do not remember exactly how many bikes I've built over the years. There were many of Japanese base in particular Virago 535 and 750 and even on other Harley Moto Morini 350 , the bikes built in the last five years, however, all participated in the Italian custom championship.
The most beautiful and challenging, however, I think it was to build a 70 years chopper rigid frame by a Morini 3 1/ 2 sport.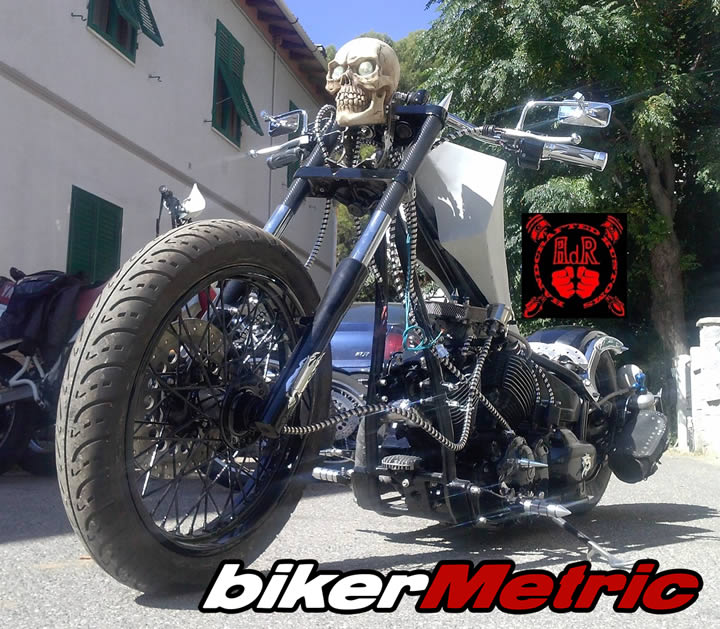 bikerMetric: What are you working on now?
Francesco: Now I'm working on a '82 Yamaha XJ 750 that Lorenzo has just bought, we're going to build a bobber … and see what comes out ….
Check out ADRKUSTOM for more.

Get the best of

biker

Metric

directly in your inbox, once a week, every week.