20 years ago Jonas Wickman was featured in Swedish MC Magazines with his antique fantasy knucklehead. Now he's at it again with an even more extreme "barn fresh" racer.
"Artfully applied wear and tear must be realistic and totally convincing."
Sub zero. The coffee is brewing and it's quiet in the house. Tip toeing in the kitchen I can see the first rays of sunlight across the lake. Cold and clear it will be a great day for taking pictures. Filling the thermos I hear a car pulling in the drive way; the distinct ticking sound of gravel and ice under rolling tires. As I open the door my cozy darkness is transformed by the brisk outdoors and Jenny the photographer dressed in brightly colored arctic attire.
"Hey, I've got the coffee. Are you hungry?"
"Yes, please. I see the bike was outside last night. It's totally frosted. So cool. It's gonna look great!"
Walking the bike down to the lake, the treacherous footing is a challenge. We reach the floating dock which is locked in the thick winter ice. Jenny loads her cameras and I pour the coffee. We take in the perfect level flatness of the frozen lake. White and expansive, a Nordic Bonneville salt flat. Thermos coffee has never tasted so good.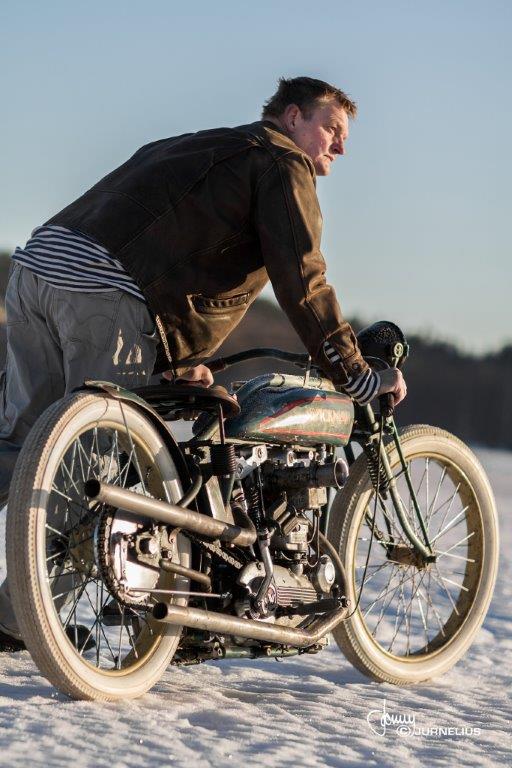 In moments of reflection, I wonder what it is that drives otherwise reasonable men to spend so much money, time and energy on an obviously impractical project. Traveling far and wide in search of the perfect detail that could make all the difference. Is it style, authenticity, a desire to recreate something lost? Who doesn't follow an interest that enhances everyday life and opens the way for new ideas? Strangely enough we all know what we're looking for, what it is that fits when we find it. Major actions and creations are really a self-portrait.
Food for thought.
On this sunny September day, in spite of resolutions to cease all unnecessary projects, I'm on the road again and headed for Sweden's machine industry capital, Husqvarna. I'm hoping to find the steel and parts for a motorcycle that could have been built in that same city in 1926. The image of a period board track racer is forming in my mind. I want to create a chopped bare bones machine that looks like a resurrected speedster from a bygone era. It has to be rough but elegant, somewhat fragile but very potent. A crouching tiger.
Really good colors and the painted finish are important from the very beginning.
Returning to Stockholm, the car loaded with hard worn art deco parts, I know that I'm not going to build something that's shiny and new. I'm after the "barn find." A grizzled prairie wolf. That will suit my own personality, not to mention the impossibility of actually attaining perfection. Patina? That's a no brainer. I've been supporting myself for the past 27 years as a scenographer and decorative painter. But it can't look faked. It has to bear scrutiny up close. Artfully applied wear and tear must be realistic and totally convincing.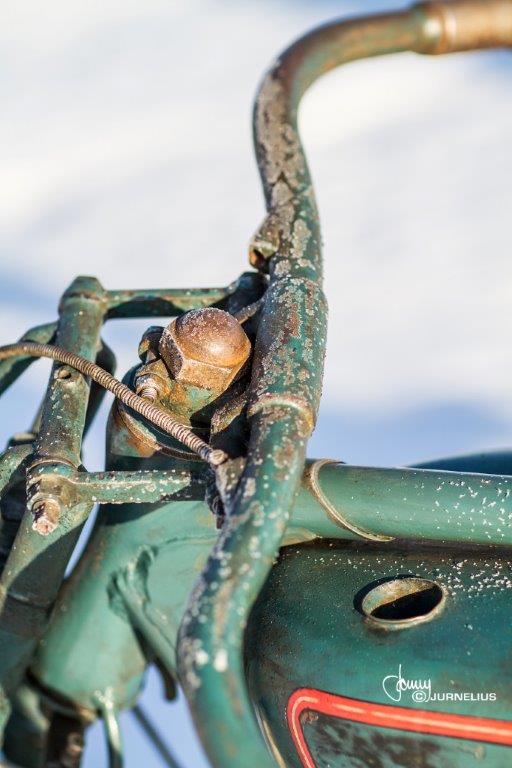 On the other hand, could it somehow not work out as I imagine? Could it be that my usual methods for distressing furniture won't work in a motorcycle? Could it fail with that false visual resonance so reminiscent of those phony blue jeans that get sand blasted in third world sweat shops? But when all is said and done, it's just paint and I'm going to paint it however I want.
The original engine was an 18 hp 550 cc Husqvarna. I realize that it wouldn't live up to the image of power I was after. So I left it with the dealer. The truth is I already had a 1450 cc stroked 1968 Sportster.
I did have a line on a Danish straight 4, 750 cc Nimbus. Who doesn't want to show off a little? But when the Harley motor showed up closer to home at a reasonable price I let the costly Nimbus in Copenhagen.
Now I needed a frame. After having placed the engine 10 cm over the floor, extended the tank 11 cm and replaced the spokes on the 23 inch rims I could mock it with gaffer tape. With the important parts in place the frame could obediently wrap itself around them.
The bike is named after its designer. The logo type is selected for its deco style, borrowed from New Yorker Magazine. Decals were made for the gas tank and the transmission housings were cast in aluminum.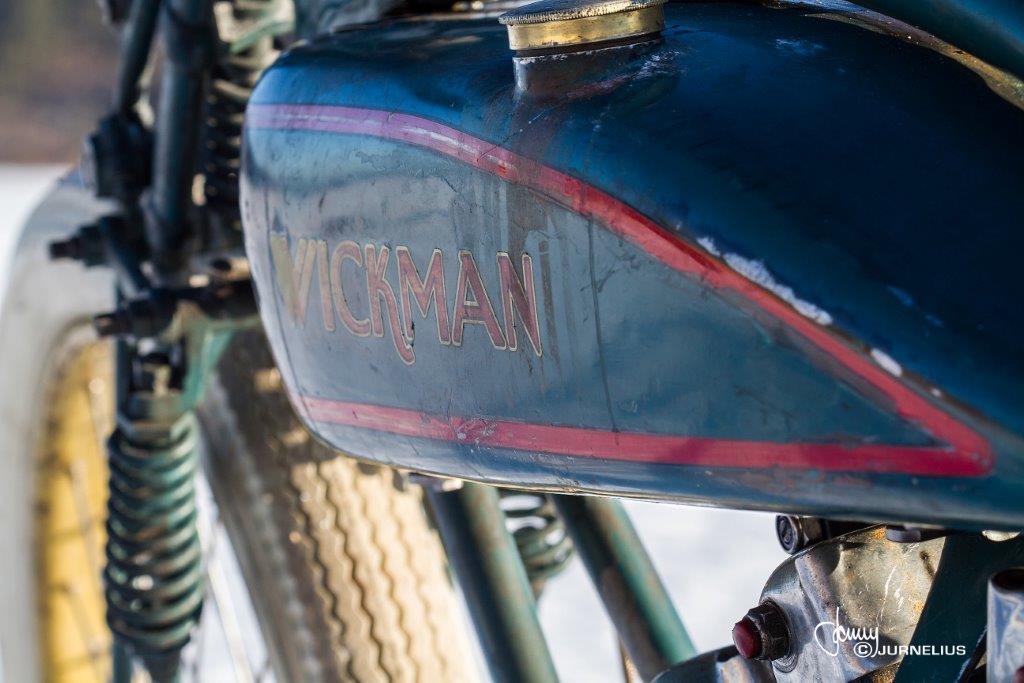 When it was finally time for painting the method was unconventional. The bike was primed in graphite gray, then hand brushed with furniture paint with colors that I found on a 1925 Dodge. The finish was blood red lining over deep sea turquoise with mustard yellow rims. I did not paint the places where rust would be showing.
To prevent real oxidation I used pigmented bees wax. The visibly distressed areas were wet sanded down to the primer. Then dents, rust, scratches, burns and splashes were added. Stained wax and baby powder gave it the right dusty finish.
For quality of construction, help was required. Wickman is no mechanic. I don't even try to compete with the real craftsmen. What I bring to the project is imagination and some notion of style. Is Anders Hedlund a welder? I am so grateful to him and all the others so highly skilled people I met during the course of this project. It is wonderful that they are so positive and willing to help. It is heartening to know that real craftsmen still exist in our digital world. Pride and skillfulness and the beauty in handcrafted objects are truly the greater part of my interest.
"Can you sit with the sun behind you so that I can see you breath?"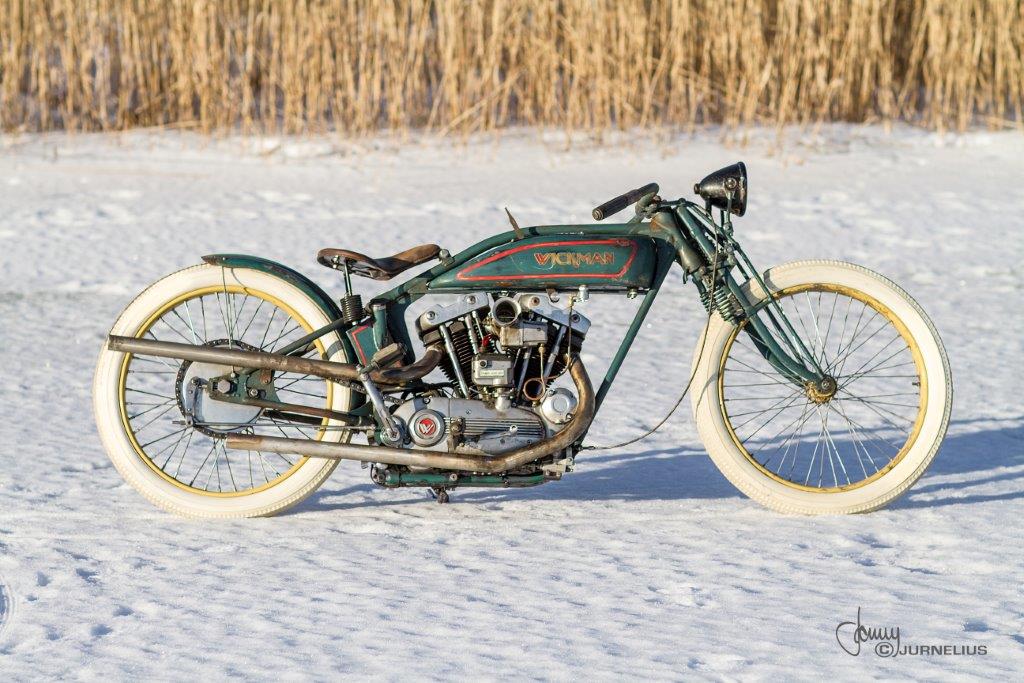 Crawling like a seal on the ice with her cameras, Jenny captures the sun, the snow and the steel as it must have been in those days when they were still racing on the lake. "The vintage racer that never was" is back where it belongs.
With a reverberating crack the ice expands and resettles. It may be a little scary but we know this ice can carry huge loads.
The big white Coker tires squeak as they roll over the crispy snow. My nose hairs are freezing with every breath. But the Russian navy sweater is doing its job. In my mind's eye I see images in black and white from a past era and I feel that the place, the bike, the whole project are a perfect fit. The spell is suddenly broken as the present regains its grip. It's time to wrap it up. Jenny puts away her cameras. Another day  begins.
May our sweet impractical dreams never die.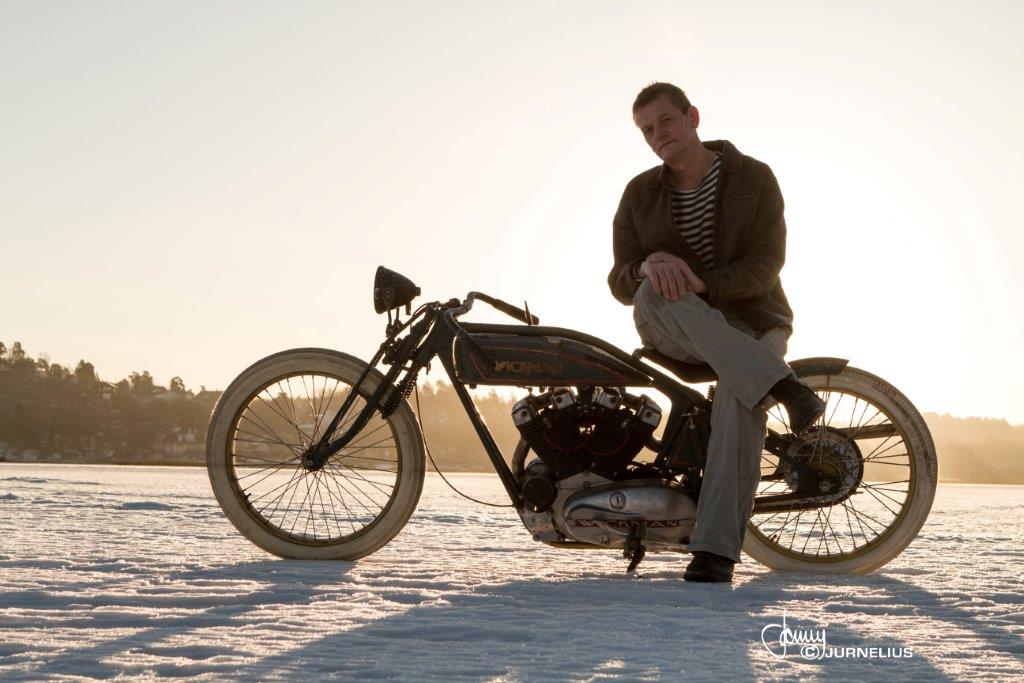 Quick Facts
Owner: Jonas Wickman
Builder: The owner and Anders Hedlund.
Frame: Homemade with cast iron original parts, 1926 Husqvarna
Rake: 38 degrees
Engine: 1968 Sportster stroker. 1440cc with sifton cams and s&s L carburetor.
Exhaust: Homemade stainless
Transmission: Hydraulic
Transmission housings: Cast in aluminum with Wickman logo.
Front end: Original Husqvarna 1926.
Front wheel: 28" coker tire
Rear wheel: 28"coke tire
Tank: extended original by 4"
Foot pegs: military bicycle
Headlight: Bosch 1924
Rear fender: Custom made.
Paintwork: Hand brushed with several patina methods

Get the best of

biker

Metric

directly in your inbox, once a week, every week.