My name is Eric Cerna. I am from Modesto Ca. I have a shop where I build choppers and bobbers. The shops name is Cerna Custom Motorcycles or C2M for short. The reason I separate myself from other builders, is that I am a show winning builder, with a walmart price. Meaning, I do some of the best builds, and someone working a minimum wage job can purchase, or have me build them a custom bike without making them bankrupt.
What inspired me to build this Honda Shadow 600 bobber was the fact that where i am from is riddled with Tbars and Fairings. Thats not me. Everyone hates on anything but a harley, however, all those haters take their bikes in to shops and point at parts they want to be put on (usually a SOA picture, hahahah). My style is more of the old school, small fenders, apes, 60-70s era.
There wasn't a line of people waiting for a japanse custom bike for me to build, so i went out and purchased a 2005 Honda Shadow 600 for myself to build. The bike was in great condition, 1,183 original miles. clean title. It was owned by an older lady that never rode the thing. My goal with the build was to do a show winning build with a TOTAL budget of $5,000. That includes the purchase of the bike, the paint, the parts, and the labor was free. I ended up coming in budget at $4,450 Total. So it goes to show you don't need to spend 40-50k to have a show winning bike.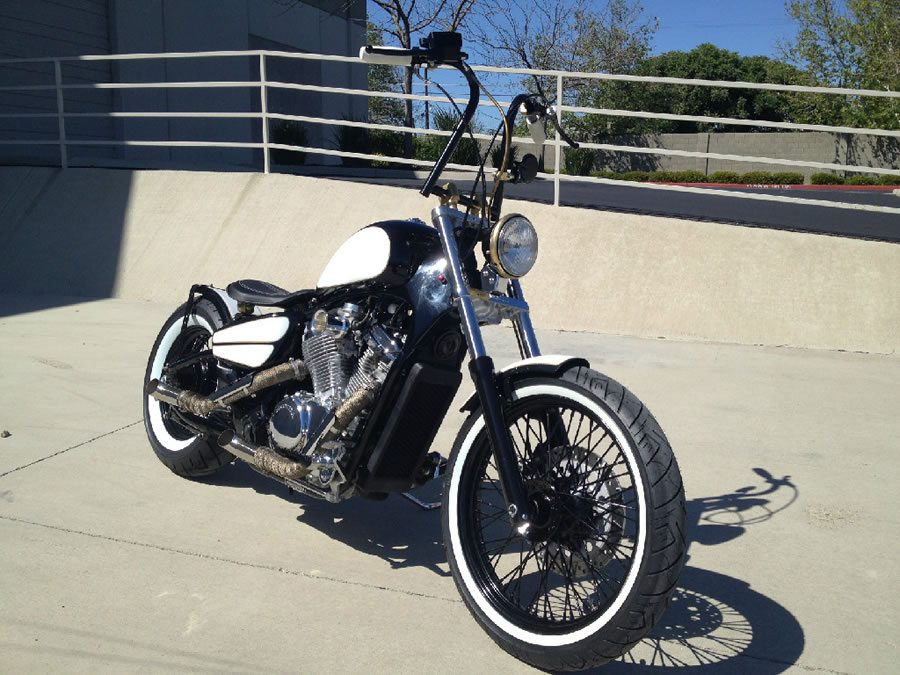 Honda Shadow 600 Bobber Modifications: Start from front to back. Stock front fender but cut 6″s of from both sides. Rims coated black, ww tires. Zombie performance bars. Relocated electric controls from bars. single pull throttle house. Removed stock air system. Rejet carb main and pilot, also shimmed needle. Custom 55mm velocity stack. Drilled speed holes in a bunch of covers through out the bike. Modified stock exhaust, wrapped, and chrome shields added. Custom foot pegs. Chopped rear frame. Built Seat mount, and seat plate to cover the electrical. La Rosa Seat. Gold chain. Rear fender made from trailer fender. Custom Strut for fender. Side mount plate. Lots of paint, I sent out the tank, fenders and side covers to be professionally painted, the all the rest of the custom paint i did myself (clamps,sprocket cover, headlight, taillight). Thats what i can remember, sure theres more.
These japanese bikes are very well engineered, so i ran into absolutely no problems with the build. Took me 2.5 weeks total, with parts and paint waiting included. My favorite mods turned out to be the fenders that i modified and built. Its not over the top, but they compliment the bike very well.
I am in the process of building bolt on solo seat conversion kits for about 6-10 most popular japanese models of bikes that people are turning into bobbers. I get a lot of emails out of state that want to know how i get these seats on my bikes. So i figured anyone can cut the rear frame off a bike, but it would take a little more skill to fabricate a seat mount and plate to mount everything up. So I've got about 3 done and working on a few more before I put them on the market for anyone to bob out their japanese bikes.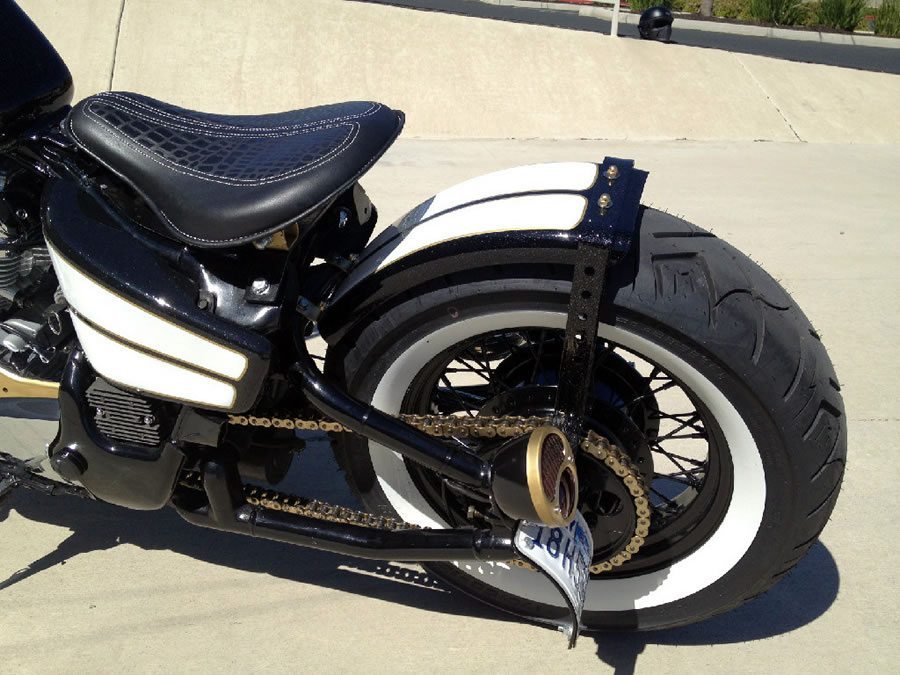 Theres no real stories about this build, although there is a rant that goes along with engineering compared with harley and japanese bikes. And it doesn't end well for harleys. haha.
This bike is not for sale, I use it as a showpiece to inform my local riders what a japanese bike can look like in the right hands. And its winning me trophies so that can't be to bad for business as well.
I've been doing these Japanese bobbers for a few years now, and I have been getting requests to do a cafe style bike. So I will learn what the essence of a cafe bike is, and hopefully put out one of those in the near future.
I don't have a blog, my facbook page is severely neglected, Im very behind in the twitter and instagram world (don't have either). But if someone wants to contact me they can visit my site www.c2motorcycles.com and my email and phone number is up on the site.

Get the best of

biker

Metric

directly in your inbox, once a week, every week.