Remember the world's fastest pizza bike, built in Dubai by VR Customs? Well that build took place last summer, its hard tail design inspired by the beautiful bike you see here, completed just days before the pizza bike build off commenced.  Referred to simply as "Project Bob", the base for the project, a 1980 Honda CB750 DOHC, had been imported from the U.S. by another owner, but his plans changed and VR Customs' Alan Boyter acquired the bike in 2016. "At some point the bike had been hacked up to have a café look, but the work had been poorly executed – by a blind welder I suspect. But somebody had clearly put a lot of effort into the bike, so the base was pretty good".
Rather than fix the poor welding where the rear shock mounts had been cut and re-welded, Alan decided instead to build his first hardtail.  "There really aren't that many hardtail options for the DOHC CB. Most options either bolt or weld to the rear part of the frame but Voodoo Vintage make a kit which is welded from the front end of the frame, giving the look of a custom hardtail but retaining the original chassis number." Life in the United Arab Emirates has its advantages – there's little need for any wet weather gear for sure – but registering modified bikes can be a real challenge, so retaining the chassis number made that difficult job, just a little bit easier.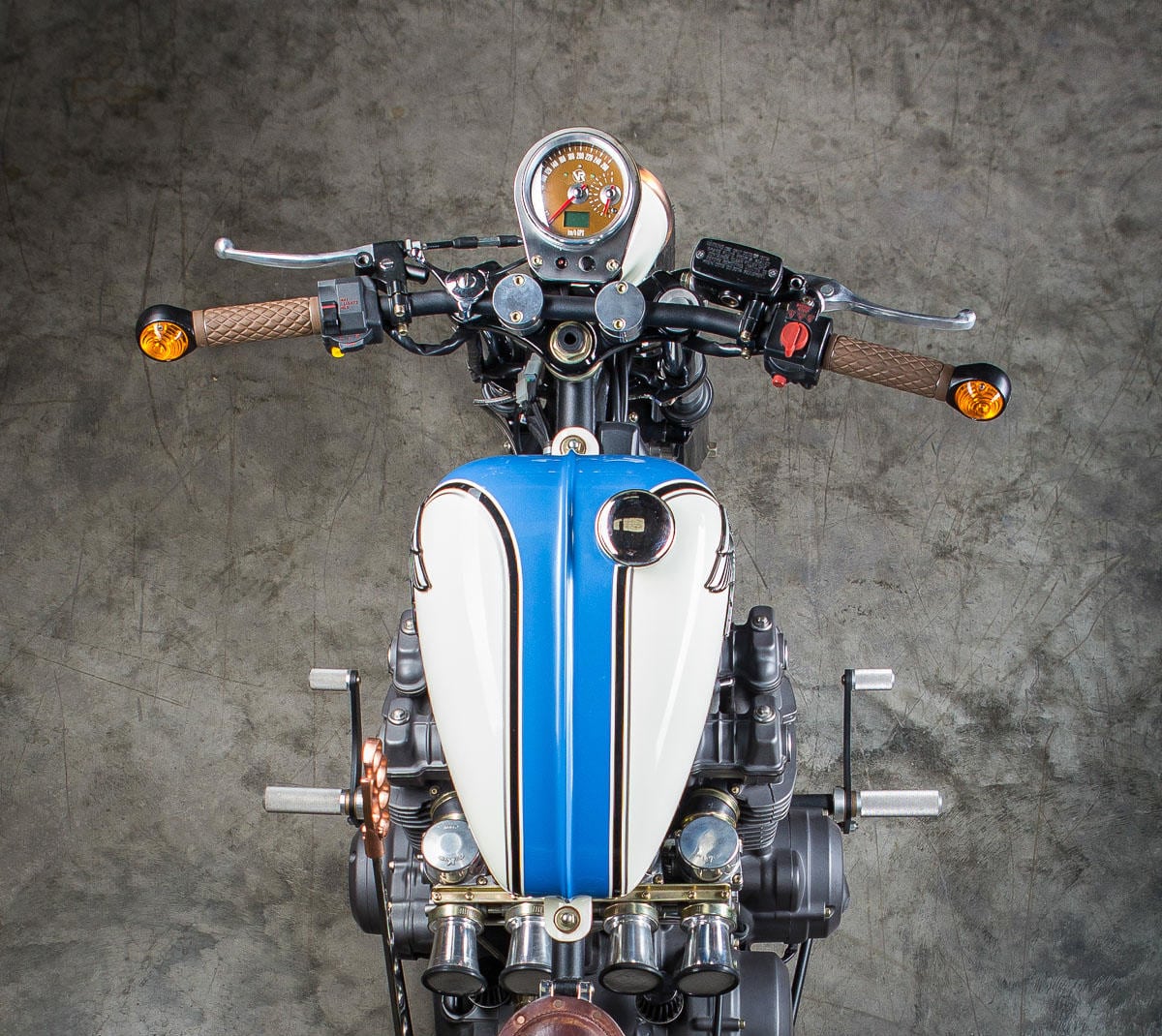 Looks more or less straight?
"The hardtail kit consisted of various pre-bent tubing, but actually lining it all up, determining how much of the original frame to cut away, and making it all true, meant going back to basics; measure ten times, mull it over and sleep on it overnight, cut once, weld everything down to the bench, measure again, get the wife to measure it again, weld once."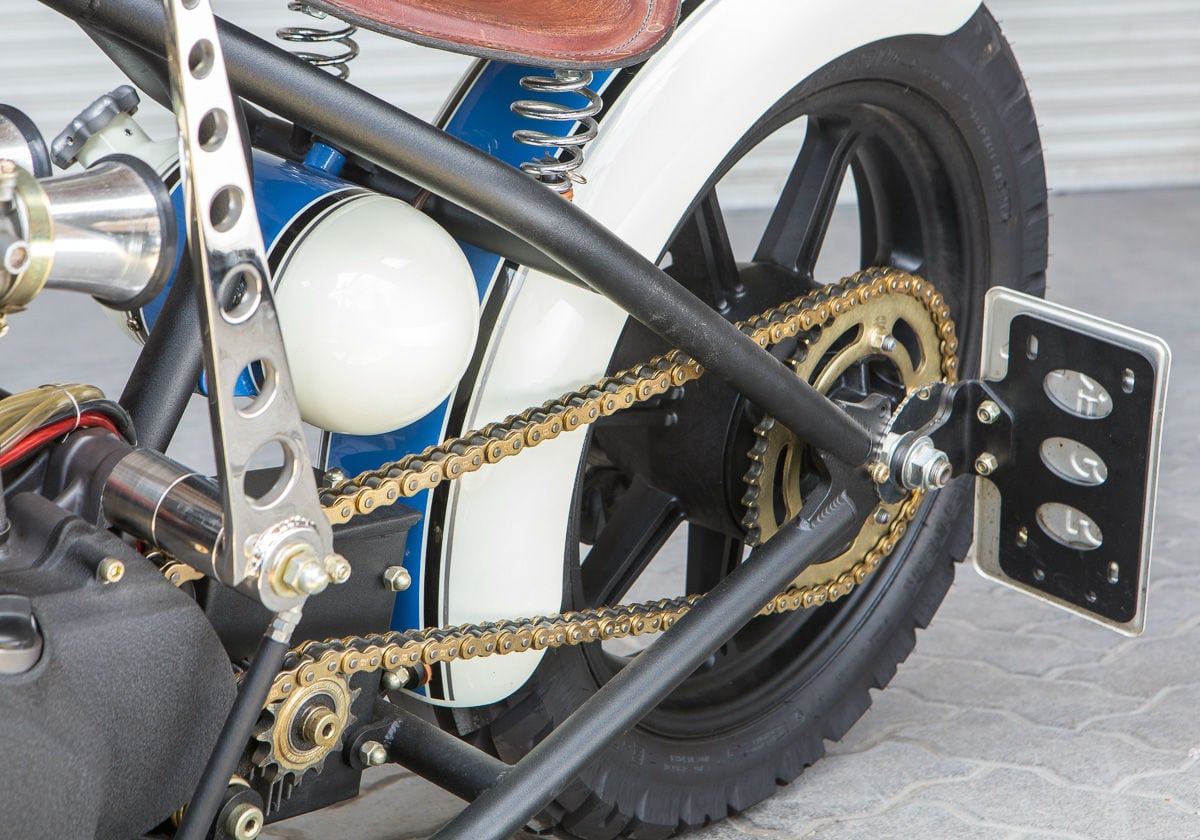 A complete front end and rear wheel from a new Triumph Bonneville became available locally so Alan utiised those; the front end was built using the original Honda stem, which was cut out of the Honda bottom yoke, spaced correctly then welded into the Triumph yoke. Next came the engine and rear wheel installation; a custom hanger was designed for the Triumph 675 Daytona disc and calliper, providing a better performance but with a smaller diameter.  On the other side a Triumph America sprocket carrier with wider spacing was mated to a Suzuki Hayabusa 530 sprocket (fitted in reverse), thus retaining the 530 chain and kept in trim with a 530 chain tensioner.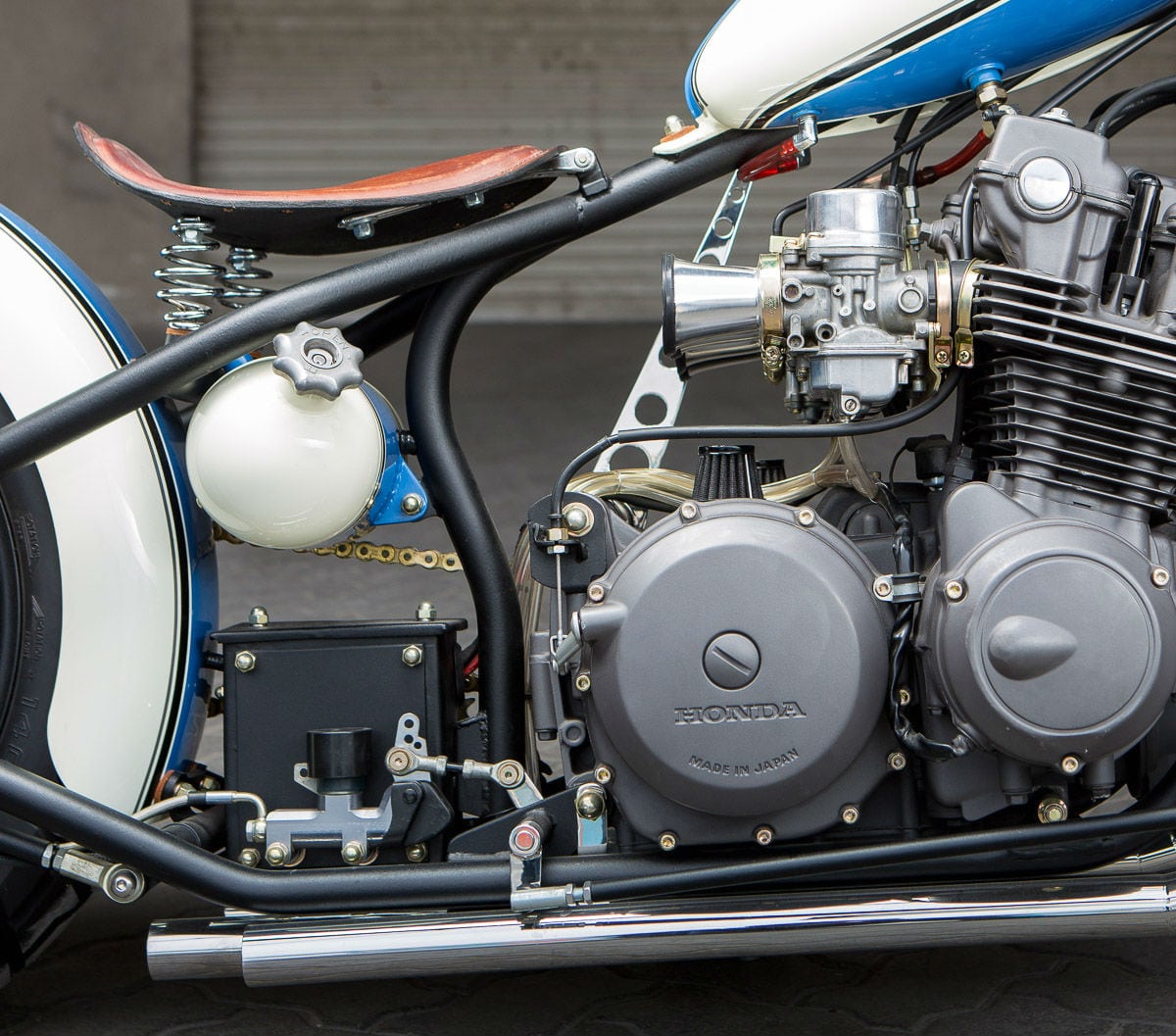 "Once the frame layout was finalised, all the ancillary items began to fall into place, though there were lots of 'do-overs' and re-works during the build, as always. The original plan was to have a fake oil tank to house the rectifier, coil packs, battery and wiring.  This was fitted in three different positions and orientations, until I settled on housing the battery and ignition key in a shorter version, with the remaining wiring sitting in a cut down ammunition box, which also doubles as the rear master cylinder mount. That's actually a go-kart master cylinder, installed using a custom made linkage. The dummy tank and box were positioned such that the wiring would run within the frame, so everything was hidden."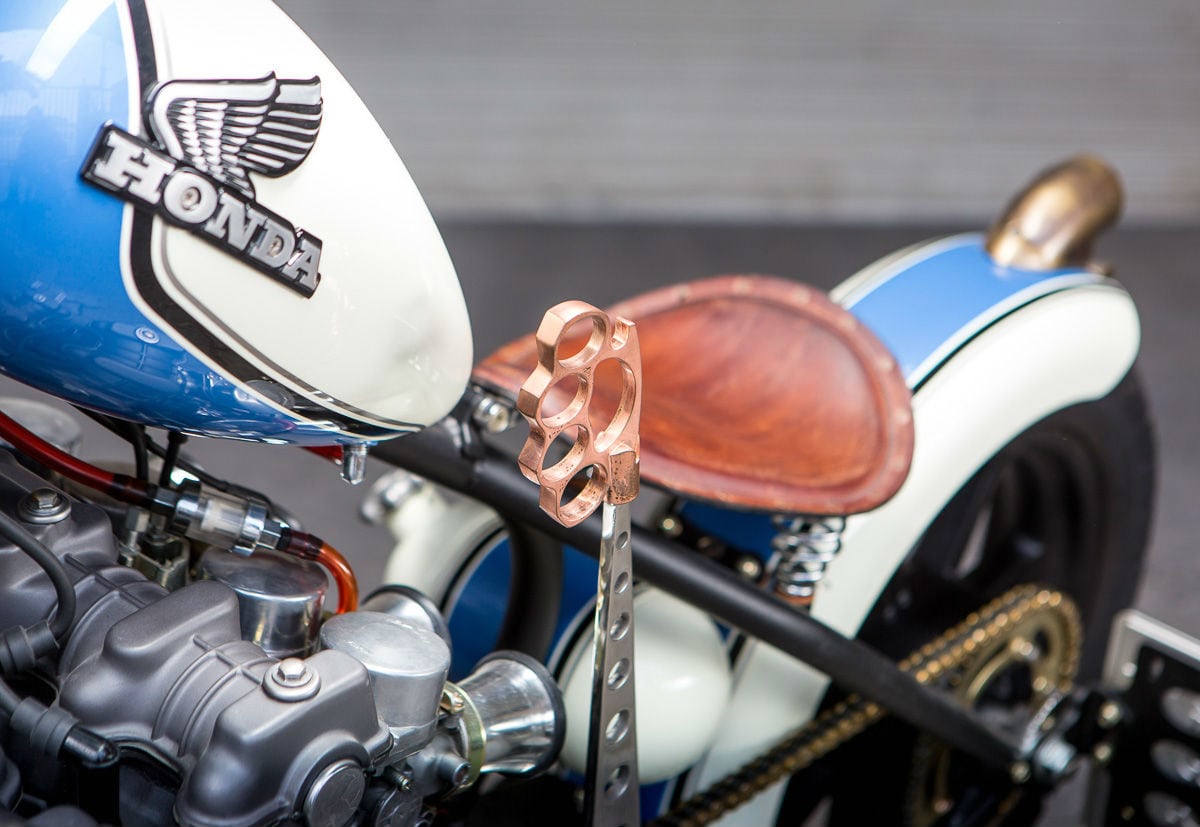 Alan felt that a suicide shift suited the radical design but he designed it as an addition to the foot control, rather than go the whole hog with a hand (or foot) clutch. "It means any future owner has the option to choose, and was also done with road registration in mind. I wasn't sure if the suicide shift would be permitted, so had to maintain the possibility of removing it. In the end though, it wasn't an issue."  In one of those 'well that's lucky' build moments, it seems the knuckle duster shift came with the same thread as a Triumph Bonneville front wheel spindle, and since Alan had one lying around, he repurposed it to fit. Reduce, re-use, re(motor)cycle!
Those stunning exhausts turn heads wherever the bike is parked, and are the result of a great deal of blood, sweat and toil. "I hunted high and low for off the shelf items but again was thwarted because of the DOHC engine – there were plenty for other CBs – plus of course, the length of the frame didn't help. So finally I opted to make my own". The end result, Four into Four pipes, are fitted with silencer inserts and mounted so that the outside pipe appears to be floating, maintaining a clean look. "They were an absolute ******* to make" as Alan puts it, "since the inner and outer exhaust outlets exit at different angles and then come together at different down angles". But if you look back at the pizza bike images, it's clear that all this practice means Alan's exhaust welding skills have been honed to perfection.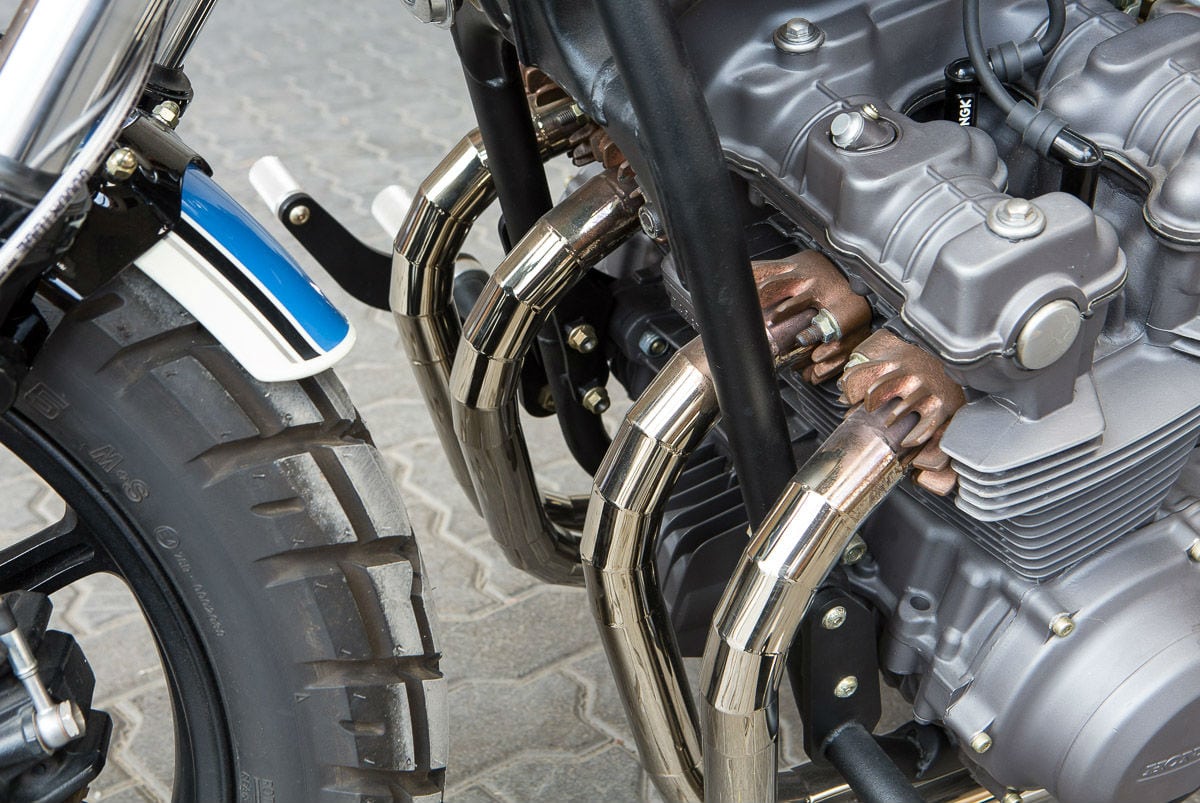 The front mudguard is a cut down alloy Moto Guzzi item fitted on a modified Bonneville mount to accommodate the larger diameter tyres, whilst under the rear, special loom mounts were made to support and hide the tail light loom, yet keep it protected from road debris. Alan decided it was easier to build a new wiring loom himself from scratch since the new bike length and electrical layout meant the old one was far from ideal. Bar indicators cut down the amount of visible wiring and the need for rear mounted indicators, whilst a custom designed clock mounted in a fabricated stainless steel mount and featuring the VR logo, has a GPS speedo, doing away with the mechanical drive and cam from the front wheel.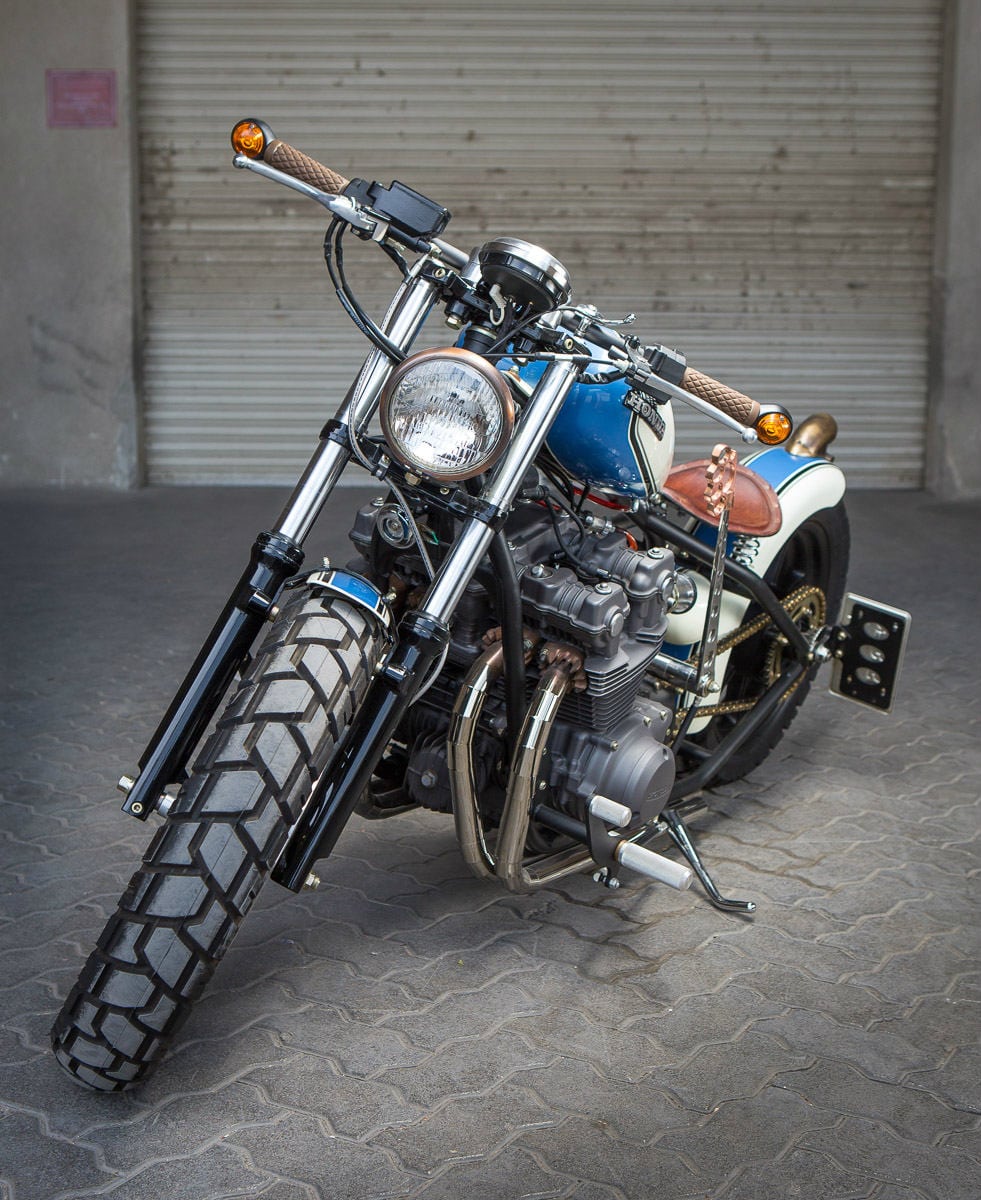 Cable selection was a matter of raiding the Honda dealer's parts bin!  The clutch cable is for a Honda CRF450, the throttles are for a later model CB and the choke, mounted on an old school timing lever, is from a Honda Unicorn. Alan wanted to maintain that old school look on the bars so stayed away from modern electrical controls, simply installing (new) 1980 CB750 controls with 90's model brake and clutch perch/levers. Prior to final assembly the engine and carbs were fully stripped and rebuilt, with every visible nut and bolt being cadmium plated, even the screws on the underside of the carbs, because of course 'detail is everything'. And naturally all parts were either powder coated (including even new parts like the foot controls, so as to maintain continuity of appearance) painted, plated or polished.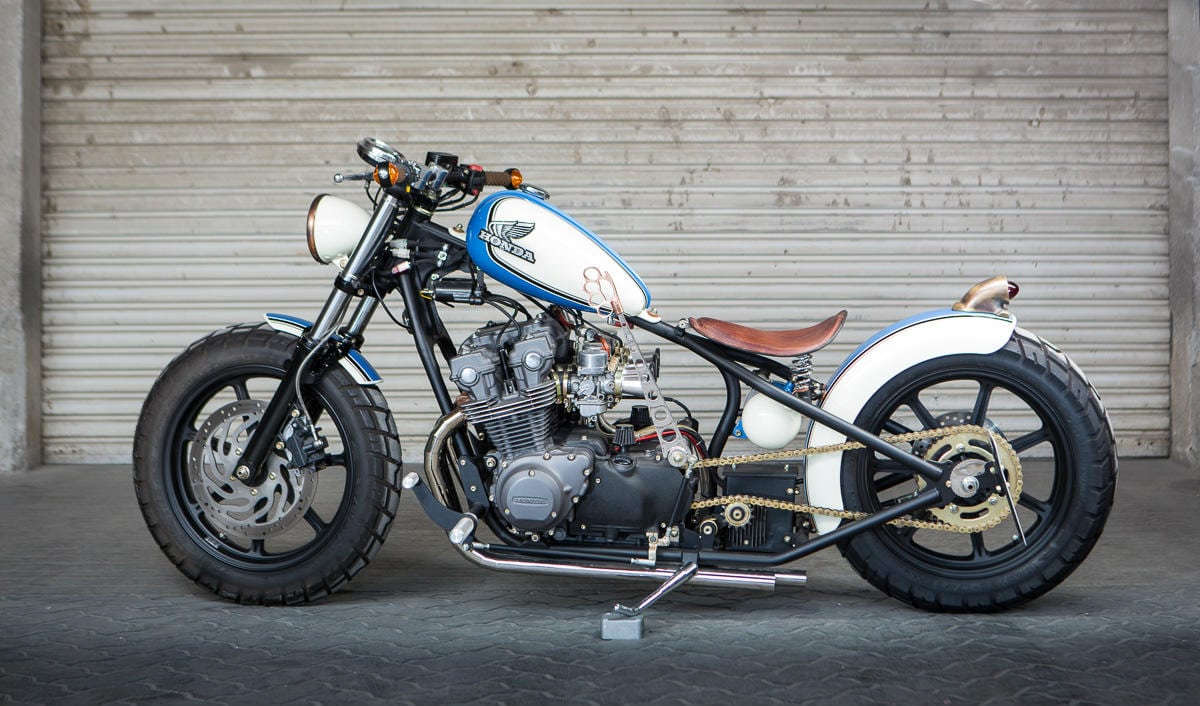 The quality of all this hard work is plain to see (all 520 hours of hard work) but like so many of his other builds, Alan has barely had time to enjoy this one and now Project Bob is up for sale. "You know how it is" says Alan "I've bought a handful of other old bikes in the meantime and have plans for those, so need to sell Bob to finance the next build". Which seems a shame, but look on the bright side – it no doubt means we'll be hearing from VR Customs once again in the near future.
Links:
VR Customs:  https:// www.facebook.com/VRcustomsdubai/
Photography by Tim Ansell ( www.timstraveltruck.rocks )

Get the best of

biker

Metric

directly in your inbox, once a week, every week.