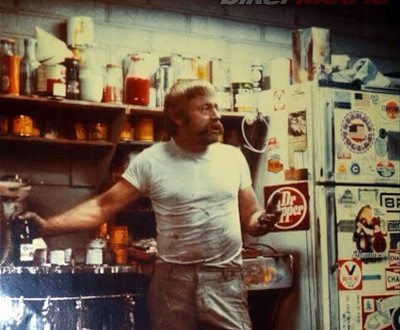 the von dutch project – a documentary review
Kenny Howard, a.k.a. J.L. Bachs, a.k.a. Joe Lunch Box, a.k.a. Von Dutch was that one-in-a-million man. He was that renaissance man. The one who didn't care much for money. Von Dutch was a pioneer who 70 years ago determined what new young motorcyclists would find cool today.
My first taste of Von Dutch, like many of my young generation, was in high school. It had nothing to do with the man of infinite talent, and everything to do with a "trucker style" baseball cap that all of the highschool jerks were wearing. Where did the name come from? How did this legend come to be?
read more >>

I was ignorant until my late teen years when I took up riding. That's when I got my first taste of what Von Dutch really meant. I saw it everywhere. Motorcycle shows. Swap meets. The pinstriping, the custom manufacturing, the flying eyeball. All that was missing was the smell of cigarettes and gasoline, and some empty beer cans on the floor. Actually, I'm pretty sure some of the Toronto swap meets did have a gasoline smell and beer bottles on the floor, but smoking was strictly prohibited indoors.
Fast forward to a few years later, reading about Von Dutch on bikerMetric and in talking to the Flake and Flame boys. I would come to realize that Von Dutch's work is as relevant now as it was when Steve McQueen was in his prime.
The Von Dutch Project
documentary honors a great man and traces tells his life through the stories of those who knew and loved him. They tell the story of a renaissance man of infinite skills and talent, and his share of eccentricities.
This wasn't a movie made by a bunch of white bearded motorcyclists and artists remembering a fallen comrade from their golden heydey. The film
teaches us who Kenny Howard, a.k.a. Von Dutch really was, from his childhood through to his last days.
The Von Dutch name came from Dutch's childhood. According to Virginia Reyes, Dutch's sister, the boys learned to speak German so that no one would know what they were saying. Dutch's sister recalls taking apart a Luger gun and putting it back together, blindfolded. More than just an visual artist, Dutch was also a gunsmith, a knife maker, a bike mechanic, and a musician.
Dutch once built a canon, and in order to be safe he fired it over open water so as not to risk hurting anyone. After a canon firing that felt it could've torn Dutch's boat apart from the force of the blast alone, a United States Navy Submarine surfaced. It had been under water. Dutch thought he was doomed. To the best of common knowledge this was the last time Dutch made a canon.
The film was full of great stories that would make you want to buy Dutch a Miller (his favorite beer). One story from his ex-wife Sheila Harlan winds up with a car in a ball of flame in a rear view mirror. These things happen when you're the originator of modern pinstriping.
Motorcycles had a special place in Dutch's heart. He took a lot of convincing before he would pinstripe a car. If you've read this far you're probably familiar with the Triumph that Steve McQueen rode in the Great Escape. Dutch worked on that. The "Mayor's Leg" rifle in McQueen's 1958-1961 TV series wanted Dead or Alive? Dutch made that. In fact, Dutch's bus was on every North American-filmed Steve McQueen movie set. Kustom Kulture icon and Von Dutch bus restorer Steve Kafka referred to the bus as "the most important vehicle of the custom hotrod and motorcycle movement."
The Von Dutch Project
retells the life of Kenny Howard, the good and the bad. It gives amazing insight into not only how the man worked, but why. Men like Dutch are heroes. Heroes never die. You'll find Von Dutch at every swap meet, motorcycle show, and hot rod show you ever go to. The memory and the kulture is alive and well.
Thank you to everyone who worked on this film. I really believe that films like these do our community a service.
Most importantly, thank you to Kenny Howard. Long live Von Dutch.
You can get the DVD here
.

Get the best of

biker

Metric

directly in your inbox, once a week, every week.