bikerMetric: Hey Jay, you might just be one of the youngest builders we've ever had on bikerMetric. What are you doing here?
Jay: My name is Jay D. Patel, a 21 year old guy from & based in Vadodara, Gujarat, India. I dropped out my engineering a year ago to start building custom motorcycles. It was my childhood dream to build motorcycles as well as cars. I got chance to work on my dreams after convincing my parents. It took two years to convince them and finally I made a short-film named "Towards your dreams" as I was doing photography & videography as hobby. After seeing that short-film my parents agreed to work with me on my dreams.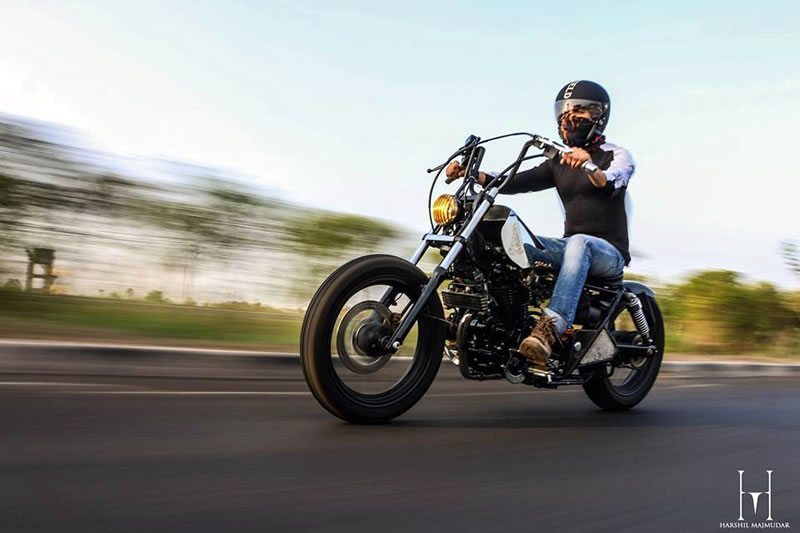 bikerMetric: How did they help you?
Jay: I started working on my father's engineering workshop. I learned some fabrications, sheet metal work, welding, shaping, grinding etc in two months & then I restored my 1986 Land Rover 110 as my first project & then started building my first bike two months later.
bikerMetric: Do you have any background in design?
Jay: I was good in designing from childhood & specially in designing cars & motorcycle, So customizing motorcycle scene started from there only. Back then there was only one TV-show on motorcycle customization telecasting in India: Orange County Choppers on Discovery. That show inspired me a lot in my childhood & gave me inspiration to work towards custom motorcycles.
Slowly slowly the Custom Motorcycle scene started growing up in India, because there were no concept like custom motorcycle builder or custom motorcycle workshops here. It was like if you want to do some modifications then you have to go to some experienced mechanic who is doing it part-time or you have to experiment it on your own. But then the custom motorcycle scene started growing up in India and some full-time custom workshop started. So it gives me a bit of confidence that I can survive building bikes, because passion towards something is one thing and surviving for life is one thing. Because after all you have to earn something for living. So that growing custom motorcycle scene encouraged me to work on my dreams, chase my creative ability & create something different which is one of its kind. So that's how its all started.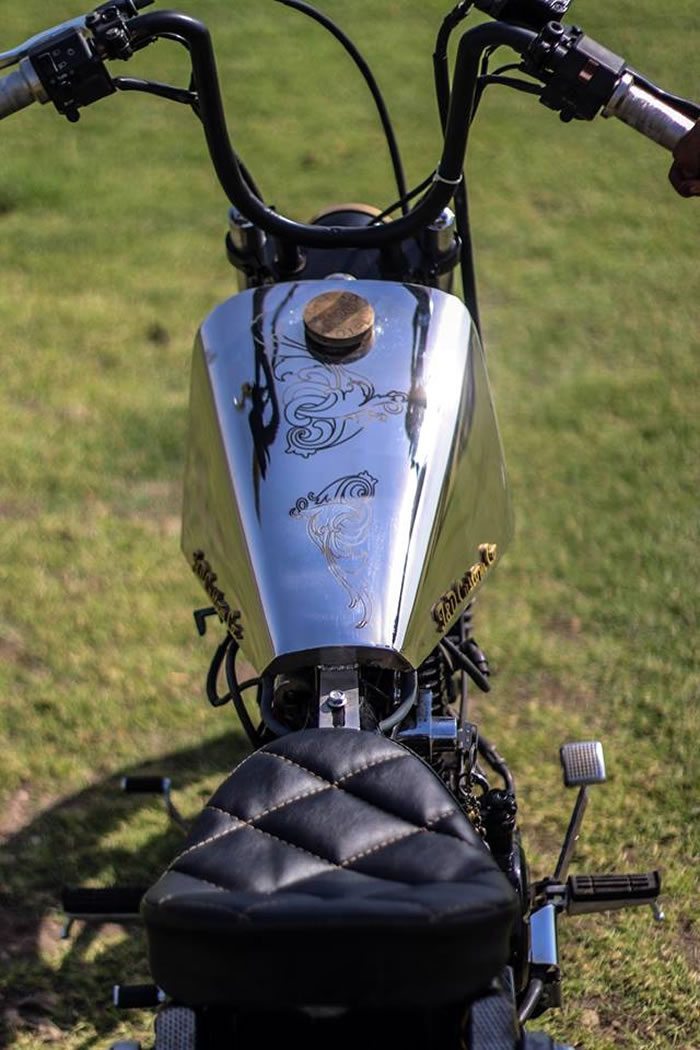 bikerMetric: What's your goal?
Jay: My goal is to build as many bikes I can build. I want to work on every motorcycle available in the Indian market, not just one particular class of motorcycle. The difference between the other custom builders in India and me is that I build my bikes myself, I don't have any workers, Here in India there are few good customizers but they all are just managing their business & doing only designs but not building bikes. They hire workers to do job for them. But for me building a motorcycle is a beautiful process. Its my life & passion to build custom motorcycles on my own.
bikerMetric: Tell us about this build specifically.
Jay: My client needed a bobber and he had a Bajaj Avenger 220cc. I stripped his motorcycle and looked at it for two days to gather my thoughts. In this project my client told me to do whatever I want to do with bike, just build him a decent bobber. And I did it.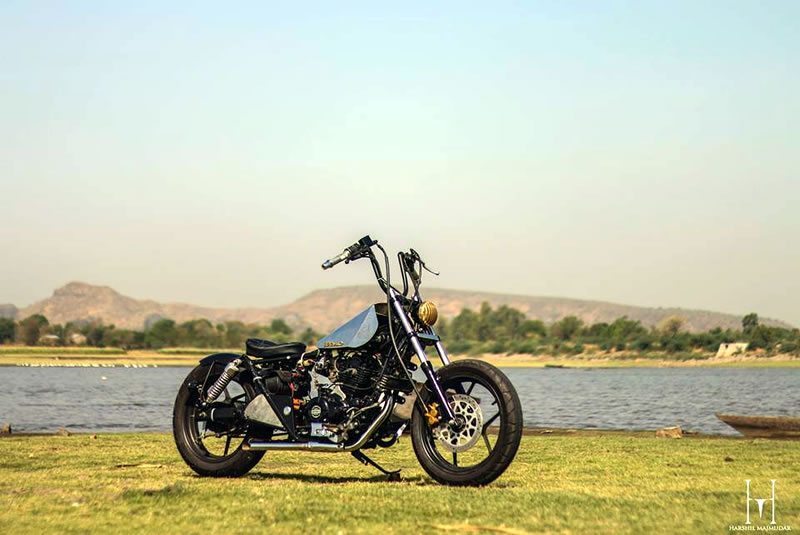 bikerMetric: How'd you do it?
Jay: The Bajaj Avenger 220 donor bike was stripped to its bare essentials, and its bobber-ification began. The frame was subtly fettled with and stretched to arrive at the desired stance. The stock gas tank was done away with, and what replaced it was a compact, shiny, stainless steel affair, engraved with some random murals. The tank's cap was fabricated out of brass and bears an engraved sailor symbol. The tanks's sides boast the J&D Custom Co. logo, which was finished in brass as well.
The Avenger's accommodating seat was shown the door, and made way for a custom made single seat, upholstered in leather and featuring a diamond shaped stitching pattern. Jewelling up the front is a rather small, round headlamp, hiding behind a brass grill, while the rear sports an asymmetrically positioned, round tail lamp, with an engraved STOP sign. Most of the wiring was shrouded in the leather bag below the seat. Ape hanger handlebars with chromed grips, new alloy wheels and a custom rear fender round things off.
Performance modifications include a slip on muffler for the exhaust, while the air-cooled, 219.89 cc, single cylinder mill now breathes better, courtesy of the K&N High performance air filter.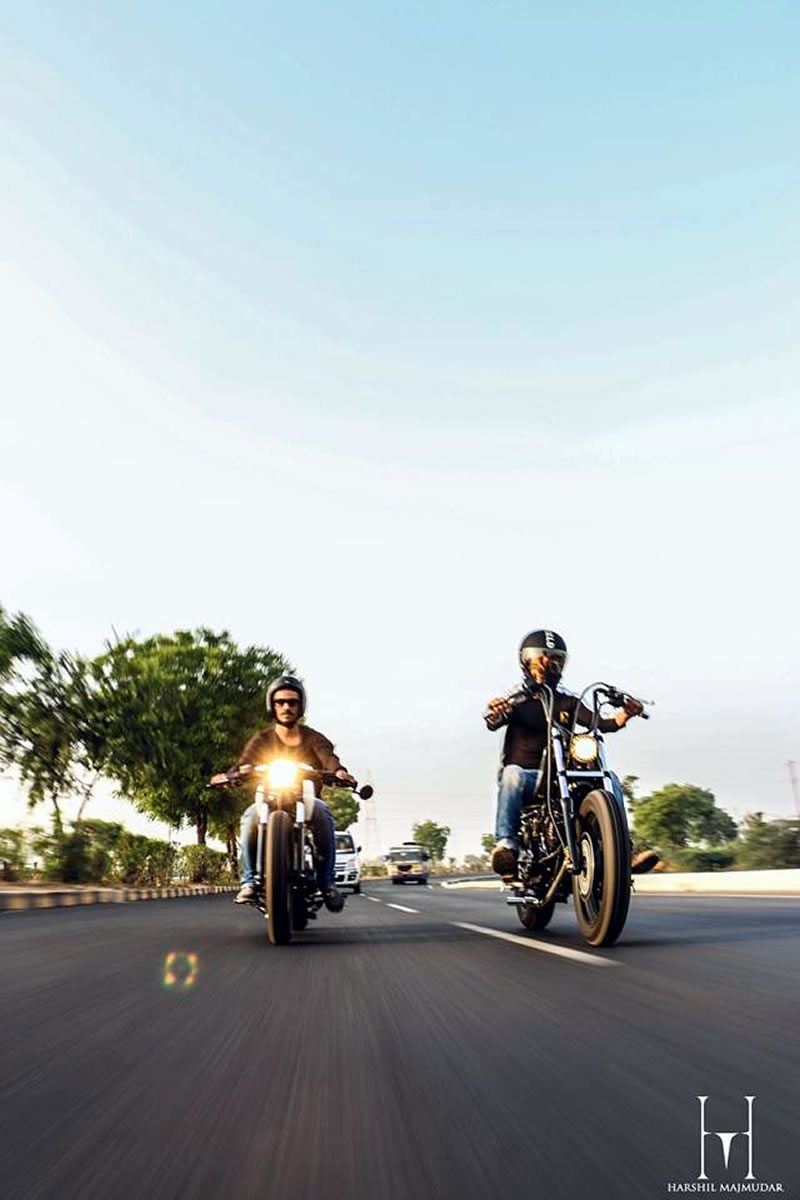 bikerMetric: What part of the build did you like best?
Jay: I wanted to make a stainless steel mirrorpolished gas tank with pure craftmanship & I did my best to get best result for the tank. And it came out really well.
bikerMetric: Did you really stare at the bike for two days?
Jay: Yes. Actually it happens in all my builds. I sit next to the bike everyday & just stare at my motorcycle. Lots of people passing from the street or who are visiting the workshop ask me what I'm doing. They ask me if I've gone mad. They tell me I'm wasting time. But it's part of my building process. I do not go ahead until I get pure satisfaction. That's my style of working & building bikes.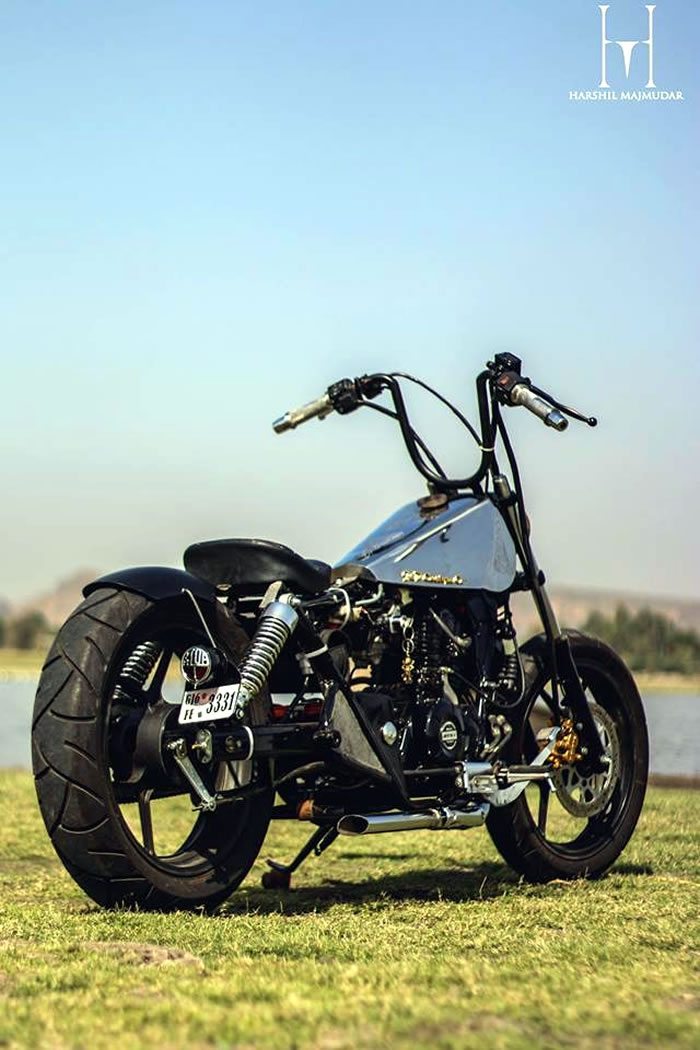 bikerMetric: What's your next build going to be?
Jay: My next build is in its last stage. The donor bike is Bajaj Pulsar 220cc. I am turning it into a Brat-Bobber. I think it is going to my best build till now. As I am focusing on pure craftsmanship & perfection day by day.
bikerMetric: Where can we see more from J&D Custom Co.?
Jay: bikerMetric readers can email me at janddcustomco@gmail.com. They can also follow my work on my facebook page, or they can follow my work on instagram as 'jdcustomco'.
bikerMetric: Thanks, Jay!

Get the best of

biker

Metric

directly in your inbox, once a week, every week.