bikerMetric: Howdy folks, how 'bout you guys go on and introduce yourselves.
Ackermann Cycle Performance: We are ACP (Ackermann Cycle Performance), located in Hamilton Ontario Canada; about 1 hour outside of Toronto.
We are a custom bike shop and we specialize in building un`ique machines for our customers. Our roots are in general motorcycle repair which gives us the necessary mechanical and electrical experience to complete any project. Over the years we have moved away from the repairs in order to dedicate ourselves to building customized motorcycles. We are a true one stop shop when you want a bike built. Aside from welding and fabricating our in-house services include CAD design, CNC milling and powder-coating; giving us the ability to make some really awesome parts.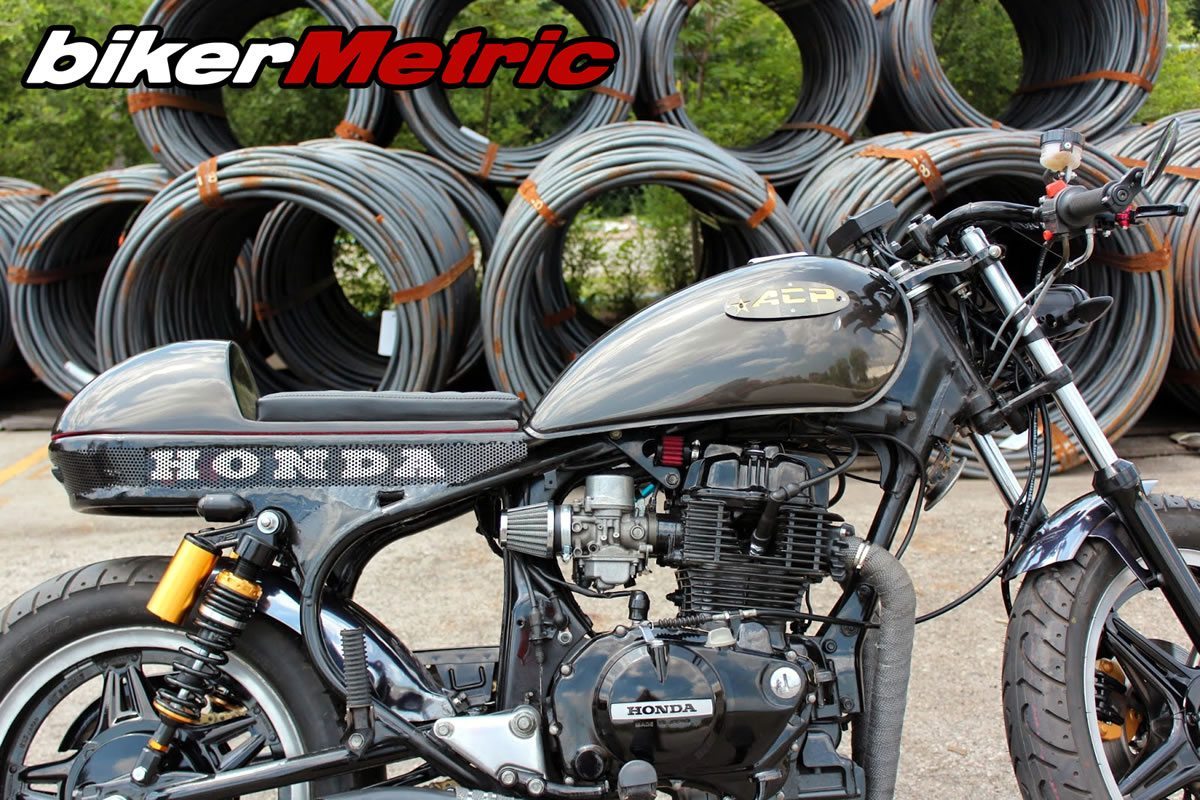 bikerMetric: Love it?
Ackermann Cycle Performance: We love what we do! We don't look at our shop as a place to turn out or flip as many bikes as possible; we are not assembly line custom motorcycle builders. We take each build as a personal goal to create a kick *** motorcycle. We won't be millionaires doing what we do, but we love doing it nonetheless.
bikerMetric: What was the look you were going for?
Ackermann Cycle Performance: The build initially started as being café racer inspired. After a buyer came forward half way during the build, the scope of the project grew to incorporate more styles.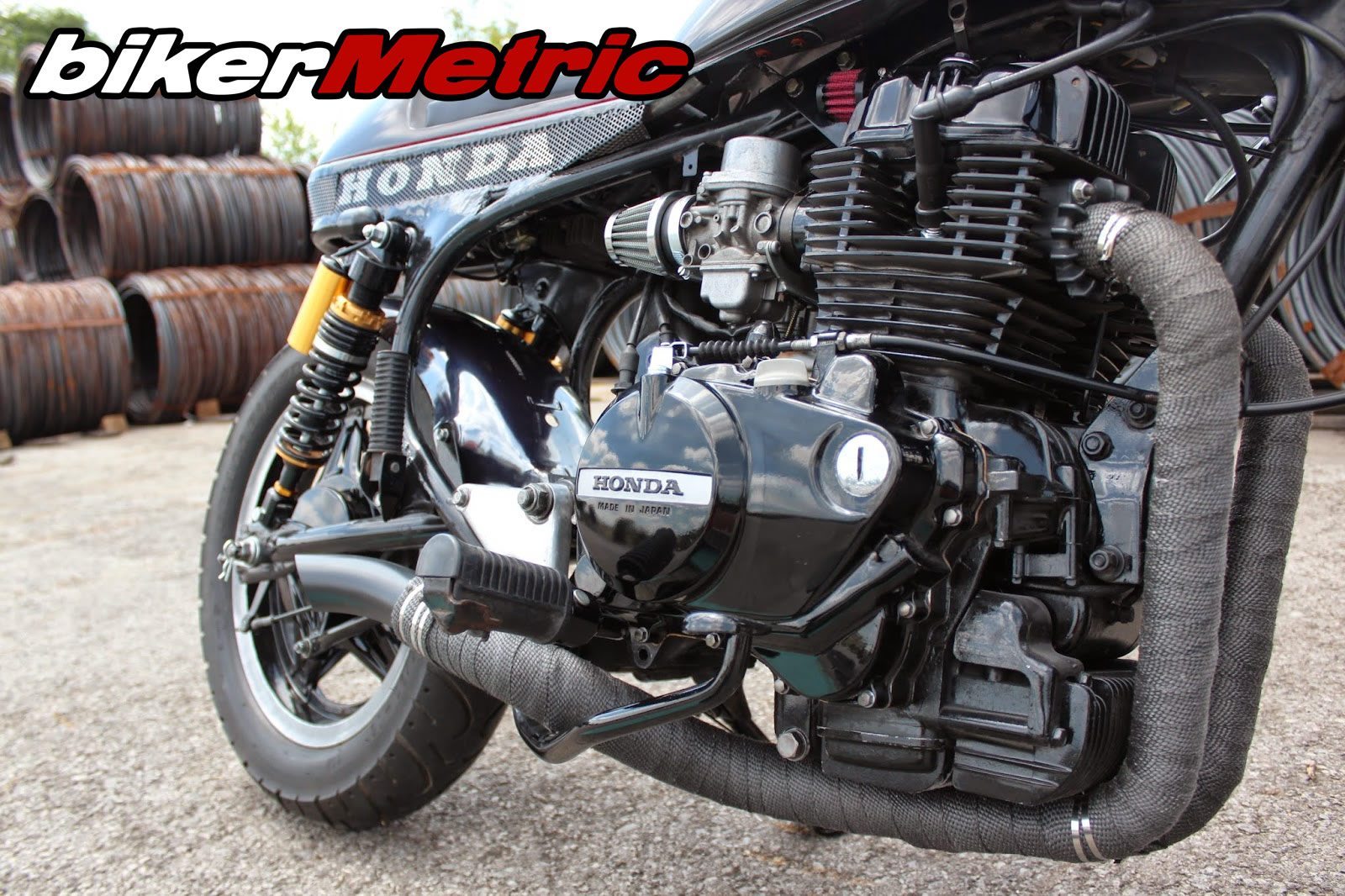 bikerMetric: What kind of shape was the old 1982 Honda CM450E in when you acquired it?
Ackermann Cycle Performance: The bike was a typical junker find. Tank was dented beyond repair, mismatched rims and blown out shocks. These engines are **** near bullet proof though, and it had a title – so we were good to go.
bikerMetric: You put A LOT into this built. Let's hear it.
Ackermann Cycle Performance: First thing was to make sure the engine is within spec and make the necessary adjustments. Since we were in the engine, we decided to powdercoat the side and valve covers in a super durable wet black.
The rims didn't match on the bike, so we used a set of comstars off a CM400 that we powdercoated in super durable wet black. This allowed us to do away with the 450 front end, in favour of a disc break system. It was a straight swap, so we rebuilt the forks and powdercoated the legs and upper triple. Caliper was rebuilt as well as powdercoated in super durable black and gold.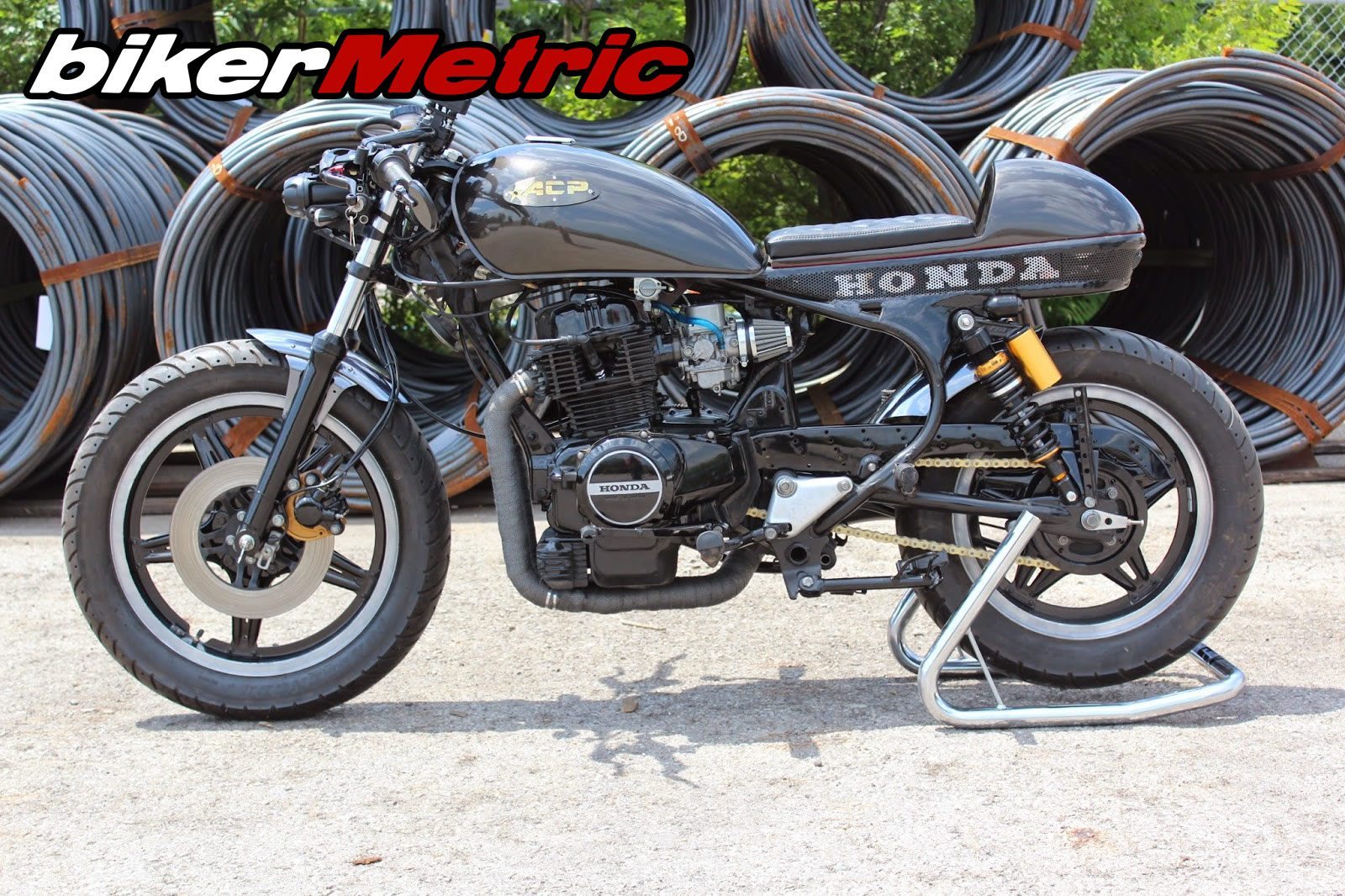 The tank was beyond repair, so we used a late 70s KZ1000 tank. It really beefs up the look of the bike. We made a set of custom tank badges, they were the first set we made and it was all done by hand. Tank was painted a custom green/gold.
Since the stock CM450 frames don't really lend themselves to the café racer look, the frame mods were a necessity. The fact that we make our own frame hoops made things easier. The first loop was welded along the stock seat mounting area; we mounted the second loop to ensure it was inline with the bottom of the new tank and finished it off with wire mesh. It also allowed us to hide all the electronics and extend the ride height of the bike.
OEM air box was removed, in favour of pod filters. Carb rebuilt and tuned to accommodate the modifications.
The stock fenders were chopped in the front and rear. We remounted the rear fender to the swingarm as a tire hugger. Both fenders were powdercoated in blackchrome.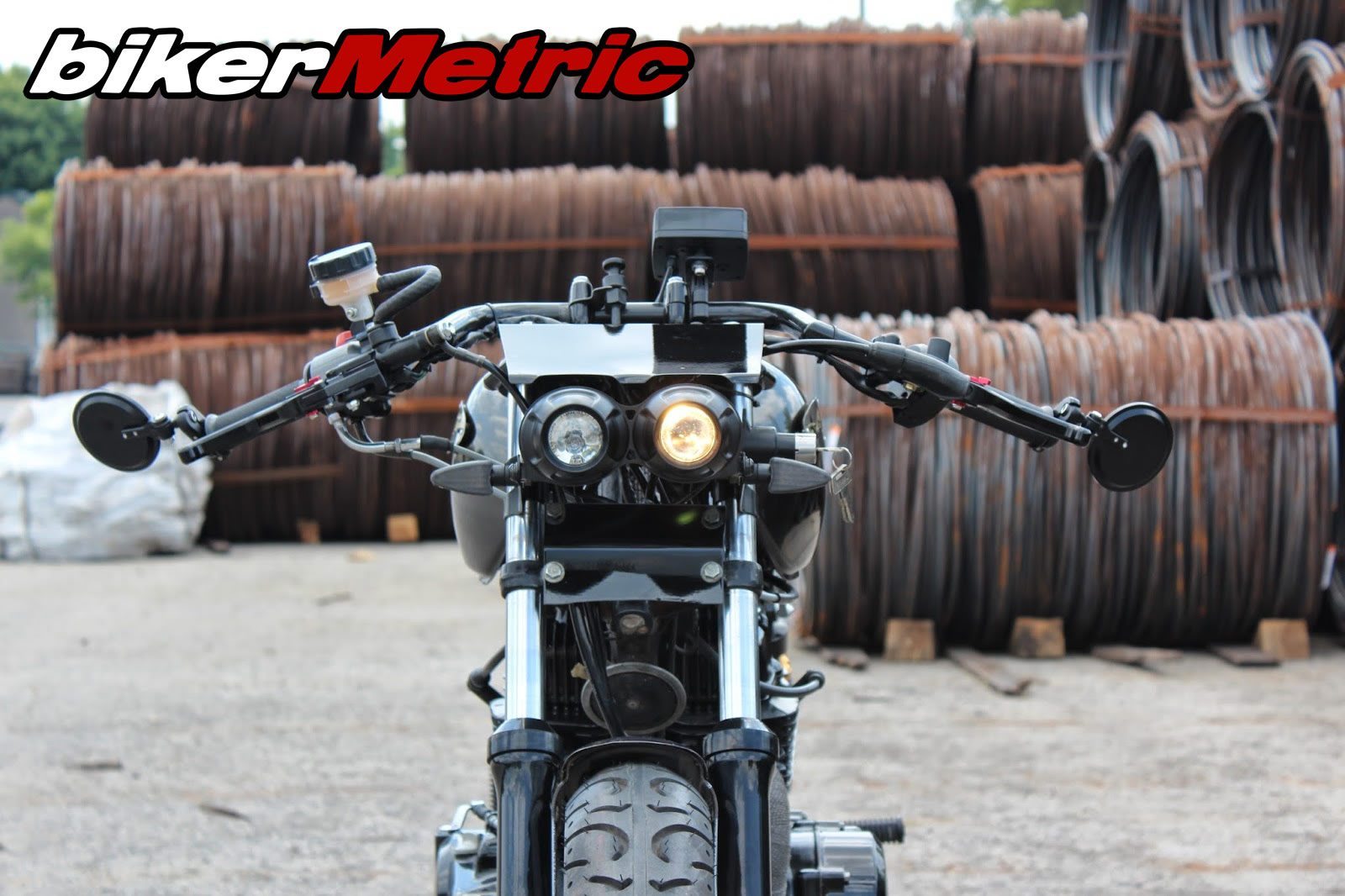 Custom fiberglass café racer tail fairing was made in house and painted to match the tank.
2 into 1 wrapped MAC header with open slash cut exhaust that we powdercoated in a high temp mat black.
We decided to run a Ballistics battery and aftermarket KOSO digital gauge. Aftermarket tail light, turn signals and headlight were all wired up to complete the look.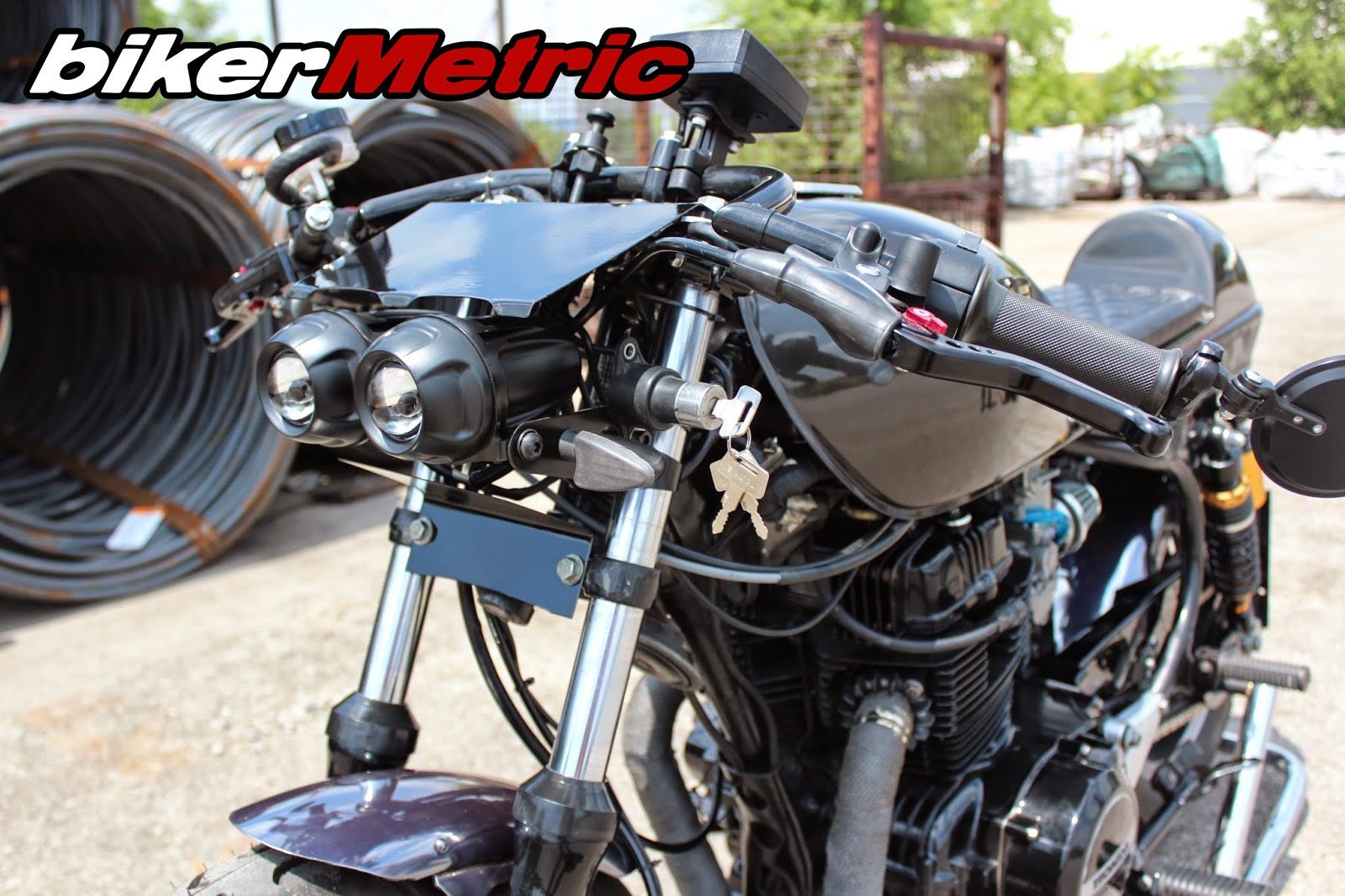 bikerMetric: any favourite, least favourite modifications?
Ackermann Cycle Performance: The headlights was a new addition to the bike at the end of the build. It really gives the bike a unique look and moves the bike out of the café racer style. It's a dual halogen headlight, with a custom spoiler.
The seat is something we are also very happy with. When the customer came on board for the build, he requested that we have a two-up seat and a solo seat. We managed to make the café racer cowl for solo riding, and used a brat style seat for two-up riding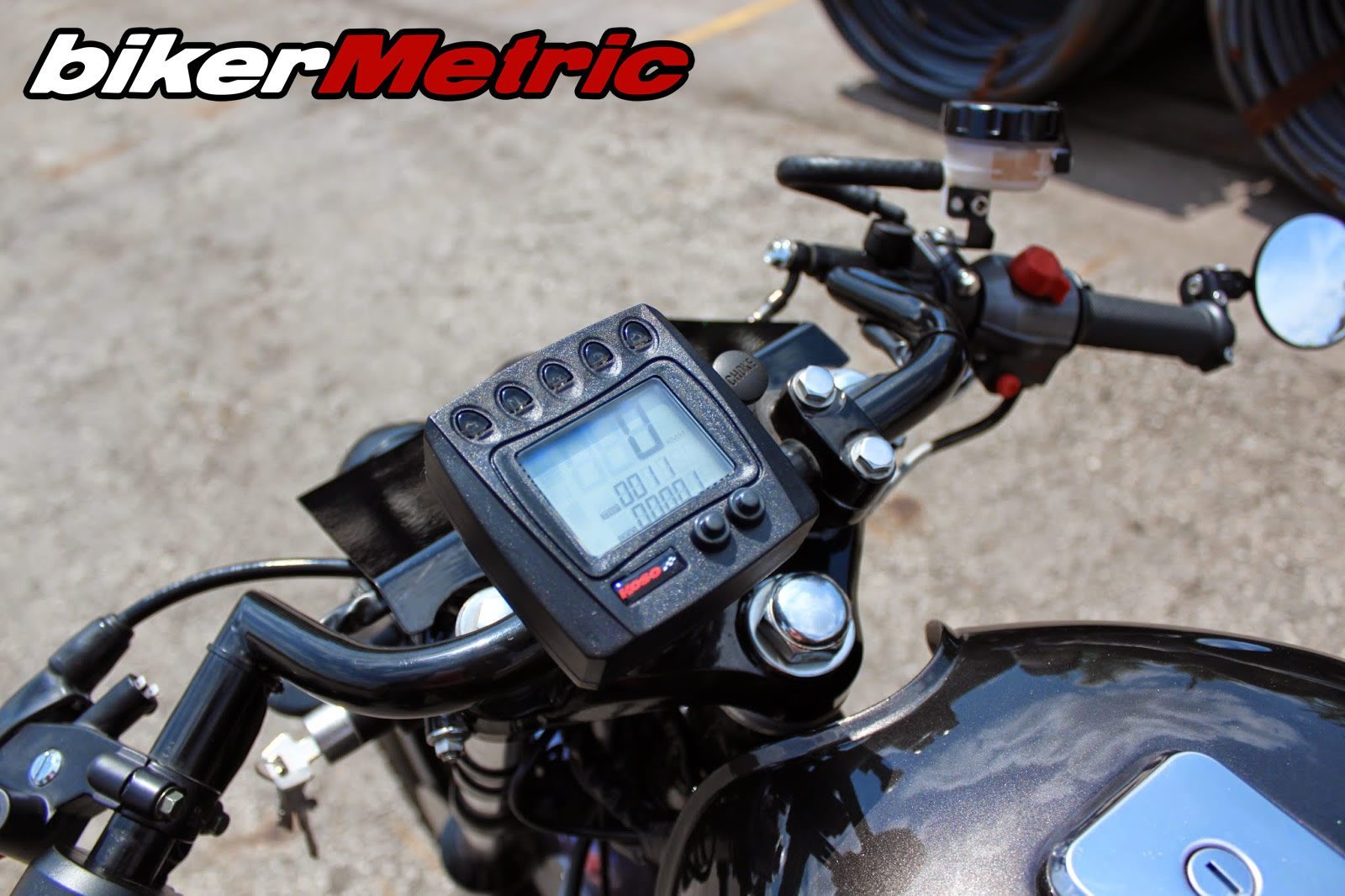 bikerMetric: what was most difficult?
Ackermann Cycle Performance: The fabrication work on the tail end of the frame was the probably the most time consuming.
bikerMetric: what's something that came out really nice in the build?
Ackermann Cycle Performance: The rear cowl was our first foray into fibreglass work. We are very happy with how it turned out.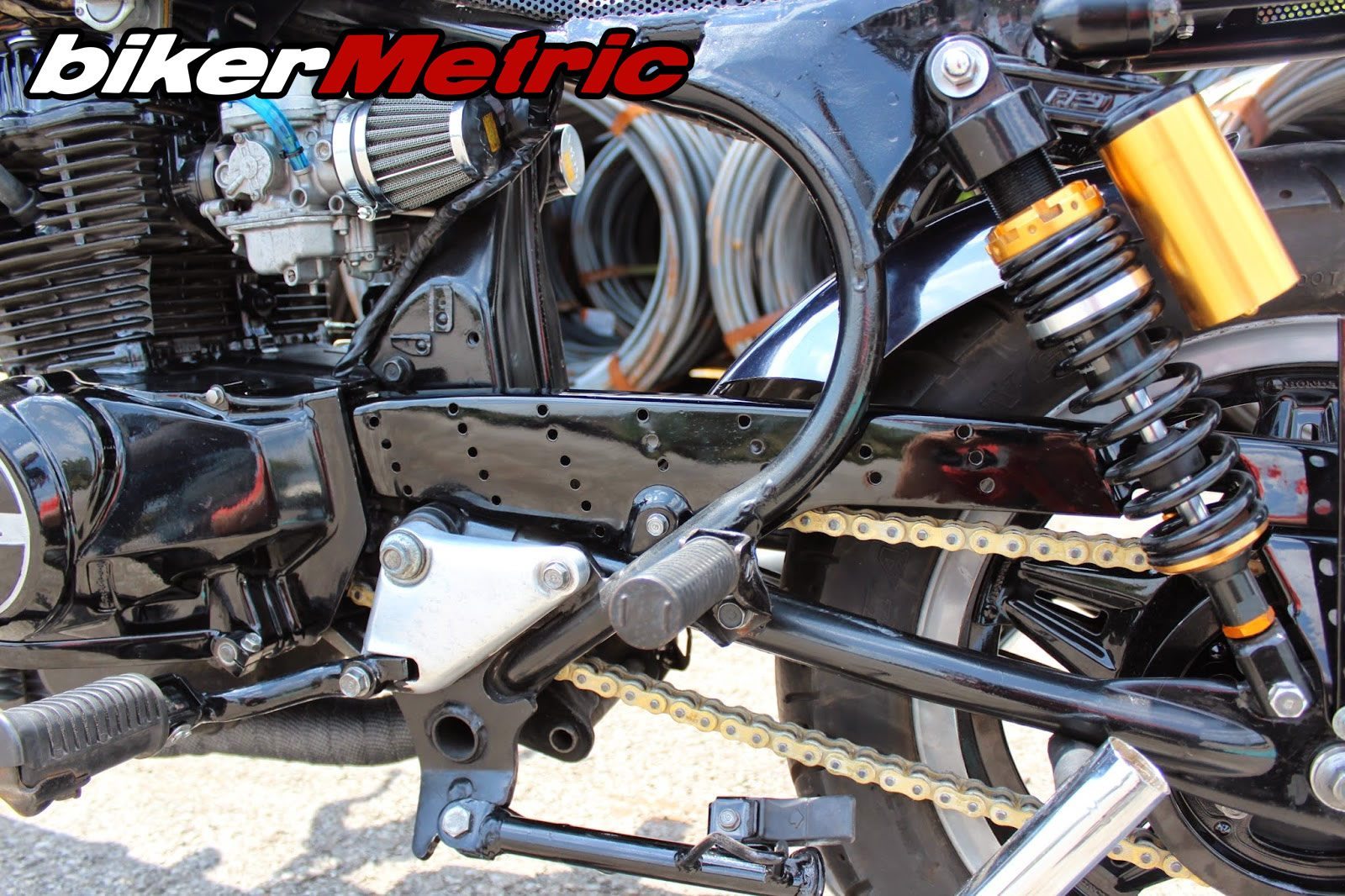 bikerMetric: any cool interesting stories related to this particular build?
Ackermann Cycle Performance: We initially bought the bike to use for parts for another build, but since the engine was in such good condition, we decided to use it for a custom build.
bikerMetric: are you selling the bike? how much?
Ackermann Cycle Performance: The bike was sold halfway into the build. We often get customers who give us a vague idea of what they would like to end up with, but they leave the creative end for us to design. This was one of those times and customer was stoked with the outcome.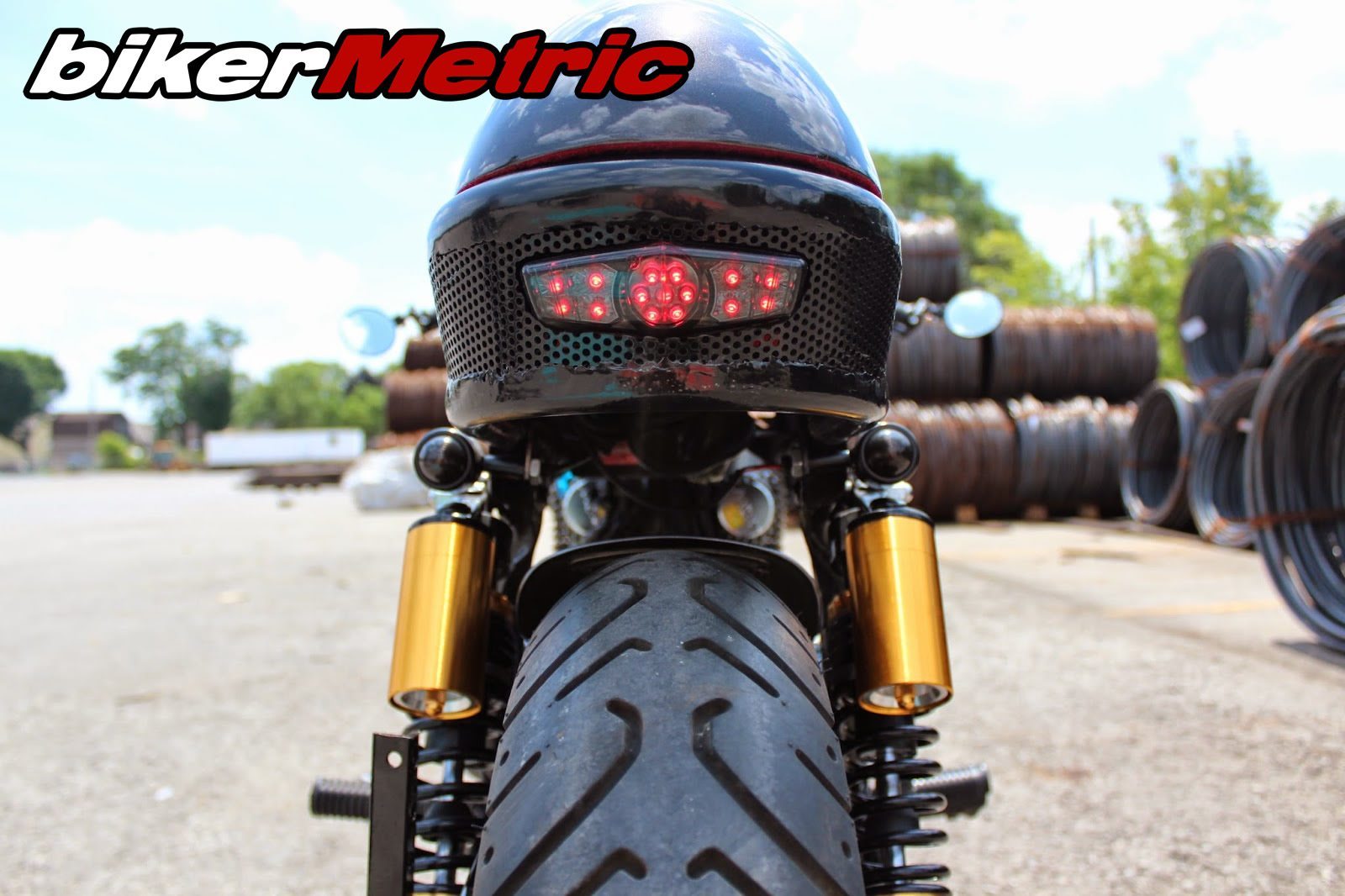 bikerMetric: what's your next build going to be?
Ackermann Cycle Performance: We have a few bikes on the go. Some shop builds that we hope to get to in the not so distant future: a couple CM400's, CB550. My personal 78 Honda CB 750f has been on going for a while; with an inverted front and custom swing arm.
Also working on a 1983 Suzuki GSX1100 S. This build will be extensive with some of the work being a custom swing arm, performance suspension, new rims and custom frame modifications. We are looking forward to the final product.
A 1968 Yamaha YM1 is one of the oldest bike we have worked on. It's a two stroke that is going the café racer route.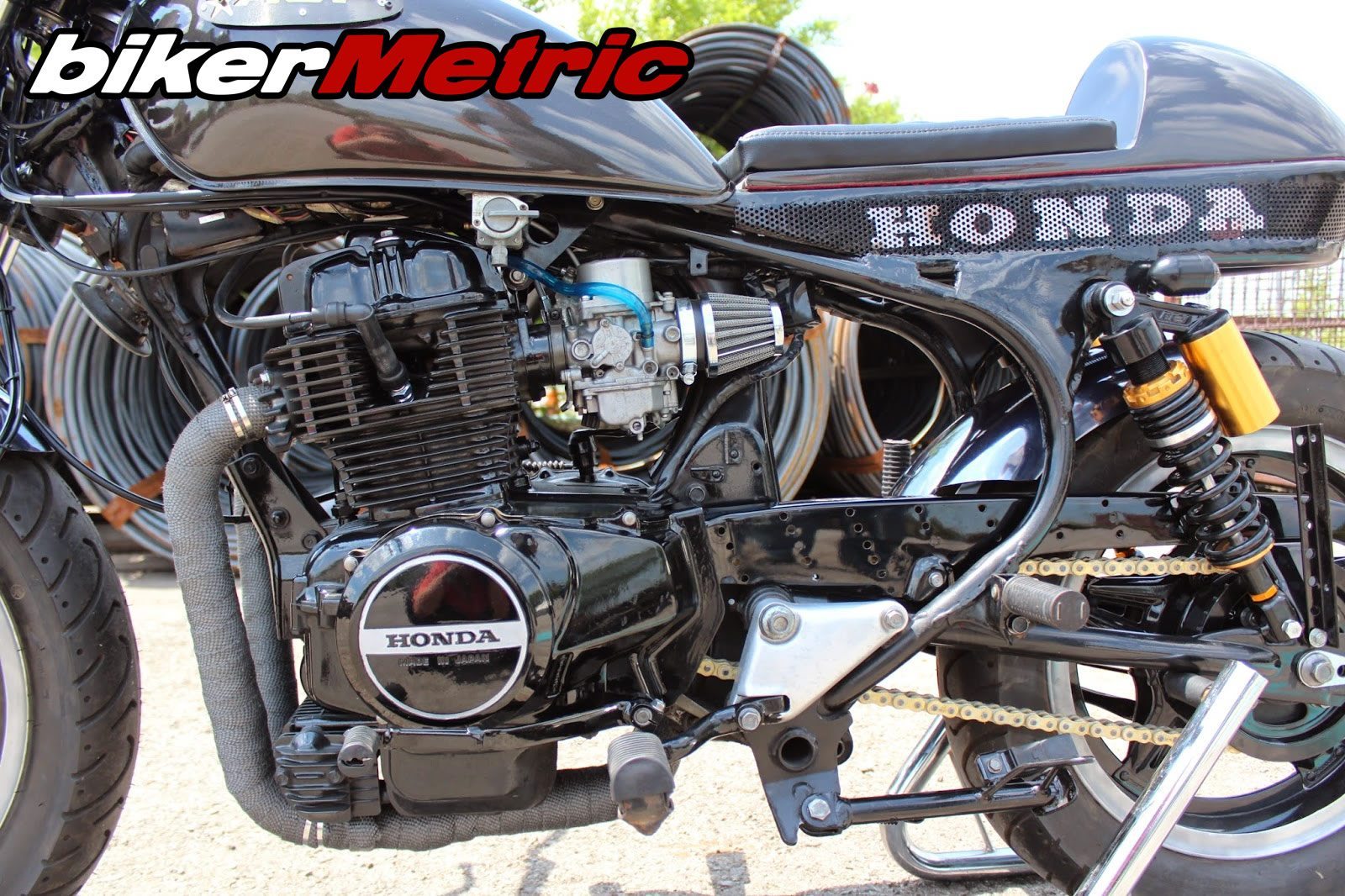 bikerMetric: wanna give a shout out to anyone?
Ackermann Cycle Performance: Alex Cristache helped out with the build. Martin's Autobody did all the paint.
bikerMetric: where can readers find you?
Ackermann Cycle Performance: Find us on Facebook, Google+, Blogger, and our Website.

Get the best of

biker

Metric

directly in your inbox, once a week, every week.