I went and had some patches sewn on my new cut this last Saturday. I made my pilgrimage to an old leather shop in San Jose that has been owned and operated by the same family for over 40 years.  I was welcomed with a cup of hot coffee some smiles and a hearty handshake by a very nice middle-aged man and women who seemed to be the owners. I was asked what I needed and where I was from. I told them I was prospecting with the San Jose Don's and I was told by my club they always took care of the members over the years with sewing problems. Which I was then told "No problem at all!".  After showing them my patches and location on my cut where I needed them. My cut was hastily taken off and whisked into an unknown room.
When I asked how long for the treatment the smiley man replied "Just a few minutes" to my dismay. I was then soft forced to walk around this time capsule of leather and customer service of San Jose for the last 40 plus years. What's cool about this place is that they are family owned, Biker friendly, and love selling American made products. The "support your local INSERT CLUB HERE" stickers where on proud display behind the counter of the who's who of the biker world and who they have done work for over the years. It reads like an FBI most wanted list with a dash of righteous biker awesomeness. Along the glass displays they had intricate displays of Skulls, leather products and jewelry. Anything to make your biker ensemble complete.
Within 20 minutes I was brought my newly patched cut with flawless craftsmanship in the sewing department. Pressed, fresh and ready to go. By then I had an arm full of "Things I Need!" ready to be checked out at the counter. I was told $6 bucks a patch and my other items gave me a total of under $60. What a deal! Not only was I given first class customer service, coffee, a history lesson in the San Jose Motorcycle biker community and USA made products. But I was also given a special gift. The feeling of the biker community you cannot replicate online or at a soulless AM/PM motor cycle gear corner shop with a fresh faced teenager behind the counter asking "do you ride bro?".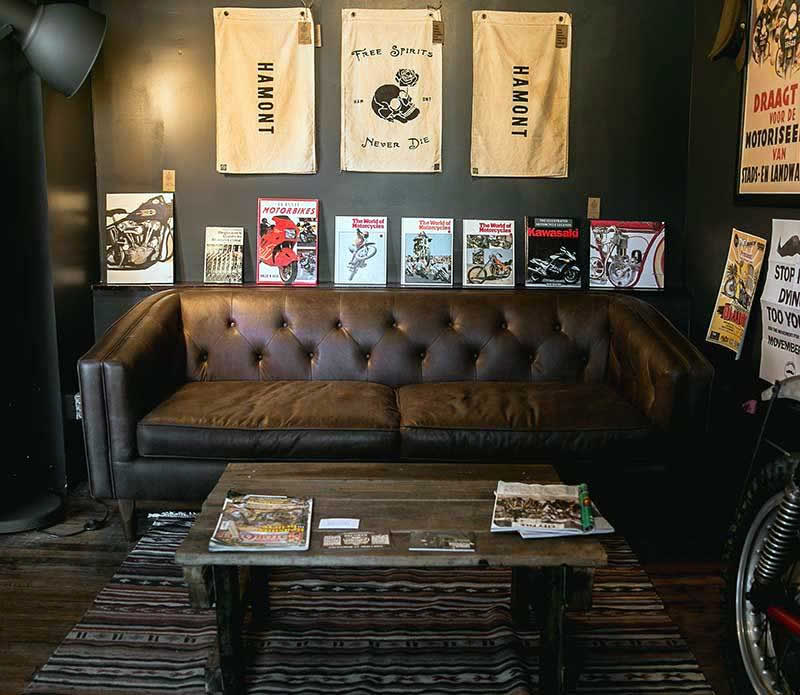 As I was getting my things together ready to leave for the ride home. Completely satisfied and happy to tell anyone I met about my experience at said shop. I was saddened by the owner's counterpart speaking to another client how times are harder for them.  That yes, they are more expensive. But that they felt the "experience" of their shop would outweigh the convenience of online. That customers would perceive value in their service. I spoke up and said there needs to be a good mix of both between online and local shops. That they are the reason why people will come in. That they should market themselves more online. But the double edge sword from what they tell me is that you can't sell history, and customer service online and still beat online prices. Is that true? Do you the consumer sell out all the above for an extra 5% -10% off and convenience being delivered to your home? I have struggled with this question for over 20 years since the industry was taken over online sales. My answer all this time for small owners is this. NO!!!!!!!!! Give them what they (customers) want and they will be yours's (shop/garage) forever.
Now I am not going to get into a ******* match with you owners who want to say I am wrong. Well news flash. Either get with the times or be passed and close your doors or shut down your site. Being a business owner, you always need to adapt to your consumer (no matter brick and mortar or online). Not the other way around. Bikers today want four things, Quality, Customer service, product selection and good value. Cover those four things as a land shop with an online showing and you will be cooking. Same with online owners- give your clients that feeling of walking into a shop and being a part of something. I hate being treated like a purchase #. Give your customer a reason not to go anywhere else. Again, both worlds need to work on "being the best" when it comes to clients. Either give 110% or just close. Seriously. You are wasting our time. The industry needs passion. Not numbers pushers. Number pushers are killing our industry not helping it. That is a fact. And frugal riders wanting the cheapest thing are no better. Actually…You are worse. You have no loyalty and do not want to educate yourself on motorcycles or quality. Just my opinion and would love to hear your view.
Keep it two wheels and support who supports you, your two wheels and your lifestyle.  Survival of the fittest kids. Or what we love and believe in will be a history channel special one day.
Pics from Steeltown Garage.

Get the best of

biker

Metric

directly in your inbox, once a week, every week.