What is "biker-friendly" accommodation? I've been a motorcyclist for eight years. It's not a long time, but it's long enough to have traveled all of the great lakes and beyond. Biker-friendly accommodation seems to have meant something different everywhere I went.
In Niagara Falls, biker-friendly accommodation meant the ex-girlfriend and I could share a parking spot for our motorcycles, rather than pay for two vehicles. In Ottawa, it meant not having to pay for parking provided I park under a tree that would drip sap on my motorcycle overnight. In Collingwood, Ontario it meant the red-eye clerk girl waking me up at 6:45 AM after her shift because she saw my Sportster (before I sold it) when I pulled in and she wanted to go for a ride. In a small town in rural Quebec it meant keys were taken away in exchange for more free drinks.
Everywhere I went I experienced different forms and different degrees of "biker-friendly" accommodation. The only thing the benefits of being a motorcyclist had in common, in my experience, was that they were spontaneous. They came at my request. They weren't premeditated or designed to entice motorcyclists. They might not even be privileges allowed to all motorcyclists.
I really can't complain. I always asked politely, and generally always got what I thought was a fair deal. But wouldn't it be nice if there was a business, or even a hotel chain, that really did treat motorcyclists as preferred customers, rather than simply treating us as a bunch of pains in the butts that they must bend the rules for?
Amigos, welcome to the Best Western.
Well, some of the Best Westerns.
The hotel giant developed a BW Rider Program back in 2006, designed to give additional perks and benefits to motorcyclists. These incentives include complimentary water bottles, motorcycle wash stations and wash cloths, free Gold Elite status upgrades, non-expiring points programs, and more goodies, available at 1,200 Best Western locations across the United States and Canada and participating in the program.
Additional details from YouMotorcycle.com:
From a more financial perspective there are additional benefits to staying at the Best Western when you're a motorcyclist. By signing up for program and booking hotels through the Best Western Rider Link you also get…

– 10 points for every dollar you spend. You could be eligible for a free night's stay once you've spent as little as $800 depending on where you're booking.

– Bottled water for riders upon arrival.

– Free upgrade to Gold Elite status, allowing you to earn an additional 10% in bonus points.

And if you're really digging the fancy stuff, there's more: Those who've ever bought a new Harley-Davidson (or know anyone who has) are familiar with HOG, the Harley Owners Group. HOG members are automatically upgraded to Platinum status. Platinum status gets you everything Gold Elite status does, but you make 15% in bonus points instead of 10% and you're guaranteed to get the best available room. You even get a free welcome snack.

Source: YouMotorcycle.com
Well la di dah.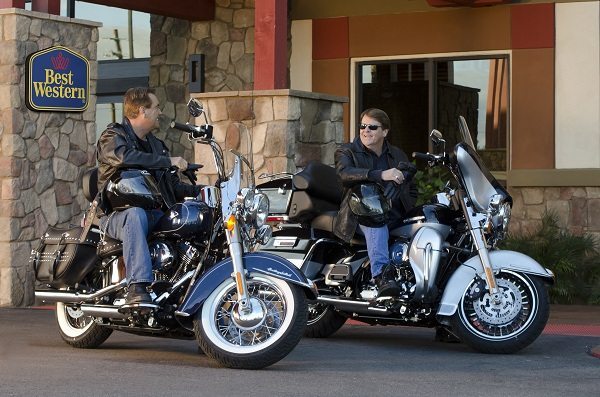 We don't cover a lot of Harley-Davidson specific content on bikerMetric, but Best Western's Partnership with 'The MoCo' is actually quite interesting.
Harley-Davidson's Ride Planner is designed to help riders use maps and other tools to plan rides, find Best Western hotels along their scheduled routes, and book hotels – many of which are "rider-friendly."
Best Western is also sharing motorcycle adventures that are part of a seven day motorcycle trip on their You Must Be Trippin': BW Rider blog. It's a neat place to check out for informative and entertaining blog posts on riding and travel.
If you're interested check out the You Must Be Trippin' Blog, Best Western's BW Rider / Trip Planner, or their various social media/Instagram/Twitter/Facebook/feeds for more info.
Full disclosure: I will be receiving compensation for this post, something I rarely ever (basically never) do… but I like the idea of businesses supporting motorcycling and motorcycle travel, and I'm sure you all do too, so I don't think anyone will mind.
And on a personal note, big props to BW Rider and their partnership with Harley-Davidson for actually taking a proactive approach to welcoming motorcyclists and showing appreciation for the tourism dollars we bring along with us. Respect.

Get the best of

biker

Metric

directly in your inbox, once a week, every week.